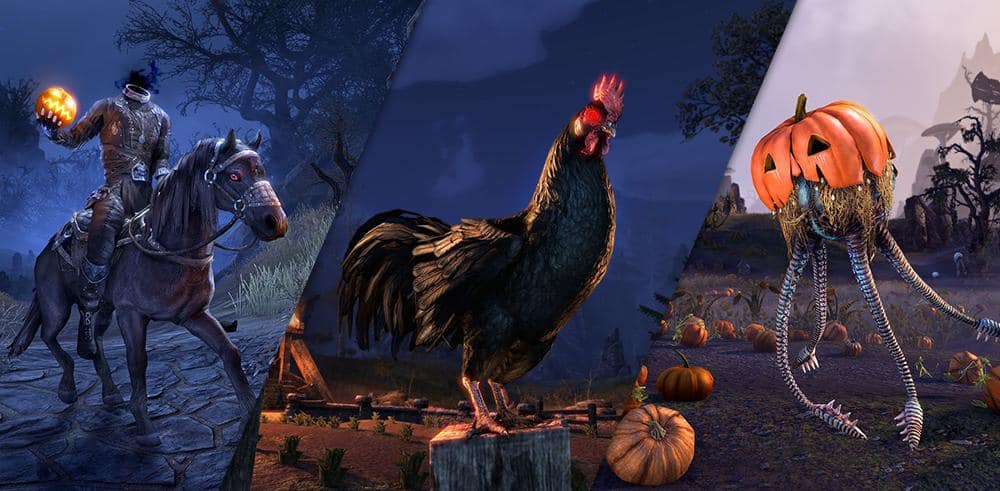 Fearsome spectres and monstrous daemons rise to plague Tamriel once more with the new Hollowjack Crown Crates, coming soon to The Elder Scrolls Online. Learn about these grim new Crown Crates and find out how you can earn up to three completely free in this preview article!
***
Lord Hollowjack, the Lord of Mortal Fears! Once a year the portals open between Nirn and Hollowjack's demi-plane of Detritus, and items ghastly and gruesome come on to Tamriel's markets. Though merchants and mountebanks jest about the possible contents of their Hollowjack Crates, their jokes can't hide the terrible truth. Dare you open these haunted crates to reveal and release their dreaded contents?
***
Earn Free Crown Crates
If you'd like to sample some of the ghastly items found in the new Crown Crate season, you can earn up to three free Hollowjack Crown Crates simply by playing the game! To acquire these new crates, log into The Elder Scrolls Online and defeat any enemy creature (monsters, bosses, or even enemy NPCs) every day, from Friday, September 14 until Sunday, September 16.
Note that for the purpose of this event, each day begins at 12:00AM GMT and ends at 11:59PM GMT (that means it starts at 8:00PM on Thursday, September 13, for those on the US East Coast).
You'll be rewarded with a new crate for every day you participate (up to a max of three), and you'll receive your earned crates by Wednesday, September 19. That's the day before they're available in the store. You will be able to find your free crate in your Crown Crates menu.
Bring Fear to Tamriel
The Hollowjack Crown Crate season officially kicks off on Thursday, September 20, and you'll be able to acquire these spooky new items within the Crown Crates section of the in-game Crown Store. Safely contained (for now!) within these crates is a fearsome collection of items, including new mounts, pets, costumes, consumables, and more.
Hollowjack Rider Horse & Daemon Cockerel Pet
Crested Reef Viper Pet & Hollowjack Flame Skull Furnishing
Should the fates will it, you may even receive one of the following extremely rare mounts, only found within Hollowjack Crown Crates.
Hollowjack Daedra-Skull Wolf & Hollowjack Flame-Skull Senche
Hollowjack Wraith-Lantern Steed
In addition to these dreaded items, for the duration of the Crown Crate season, you can pick up the Hollowjack Netch for 300 Crown Gems. Note that this item cannot be found within Crown Crates and must be purchased with Crown Gems. When the new season begins, it'll be available within the Limited-Time Offers category of the Crown Crates section in the Crown Store.
Hollowjack Netch
All these horrors and more can be found within Hollowjack Crown Crates and during the new Crown Crate season. For a complete list of every item you can acquire, check out this forum thread. You can also check out the departing Psjiic Vault Crown Crates right now on our Crown Store page. Don't miss out!
A Grim New Season Begins
When the new season begins on Thursday, September 20, a new selection of horrifying (but fun!) items await those who open a Hollowjack Crown Crate. You can open these new crates from the Crown Crates in-game menu.
Are you willing to unleash the Hollowjack Crown Crate items upon Tamriel? Don't forget, you can earn up to three of these gruesome crates free, simply by playing the game. Let us know if you'll be acquiring these new crates on Twitter @TESOnline and Facebook. Happy haunting!