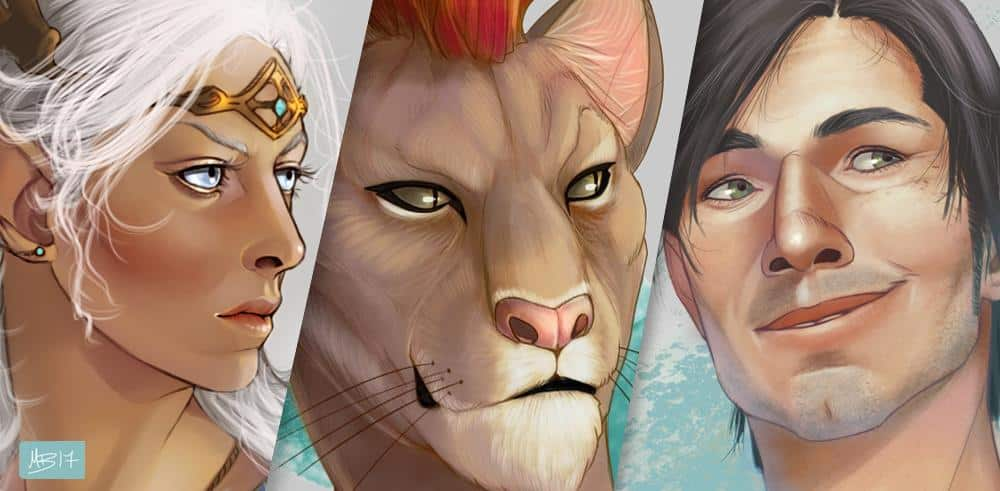 Maya brings The Elder Scrolls Online to life with colorful, detailed portraits of her favorite characters and creatures. Read about her inspirations and process in our latest Community Spotlight!
You love to capture ESO's characters in meticulous detail – what is it that inspires you to illustrate these different personalities?
I've been painting NPCs from The Elder Scrolls series for at least a decade now, and having got my feet wet, I would say it's primarily their personalities that inspire me. I'm also driven by the challenge of bringing them to life. Sometimes a character has such an emotional impact on me that I have to translate it into their expression.
Let me tell you about my take on Mr. Darien Gautier: This guy is fun-loving, he's chivalrous (blame his Pops), sarcastic, largely a Casanova, and has a penchant for being the buddy you want fighting at your side. It seemed like no matter how bad it got, I felt that he would have my back or offer some words of encouragement. I think I managed to capture that in the portrait.
Darien Gautier and Razum-dar
How would you describe your art style?
Yowza! Here, there and everywhere? My friends have told me that no matter what I draw, there's always something "impossibly mine" present, but I haven't the foggiest what that actually means. I guess my style is a bit Tetsuya Nomura and a little Burne Hogarth. I've been learning from them since I was a teenager.
I sort of go for technical lines coupled with swishy-swooshy ones to make something that's realistic but always laced with fantasy. It's been 20 years in the making, and maybe in another 20 years I'll have something more palpable to say about it. Ha!
When did you start playing ESO? Tell us about your favorite character!
Ah, memories. I remember that my spouse and I had been ridiculously excited about the prospect of our favorite series becoming an MMO. We pre-ordered two copies the moment the opportunity arrived. We were newlyweds, camped at my grandparents' place with rinky-dink machines on dial-up. Suffice to say, we've been playing ESO since the beta days and haven't really given it up since.
My favorite character? There are so many that it's hard to pick just one, so... I will have to say King Emeric! I can't get enough of his wit and morbid humor. Infinite props to the writers. Love that guy. I enjoy a King that supports his people and remains humble despite his rank. I also find him very relatable in the crotchety department, and I too have an uncomfortable chair [insert canned laughter]. Last but not least, Bill Nighy voicing his dialogue was the cherry on top of the magnificent Merchant-King cake. The two elements married well. Brilliant character.
Queen Ayrenn and Maya's own character, Tulsein
You've also illustrated some of Tamriel's more unique creatures, including a Welwa and Bantam Guar. Why did you pick these two beasts in particular?
Dear me, dear, oh, dear. I know the Bantam Guar has been proclaimed the cutest creature in all of Tamriel, and I must agree. I remember my first day in the beta I was in Khenarthi's Roost. It was there I saw my first Bantam Guar dashing along the coast, and I distinctly remember screeching to my wife "IT'S SOOOOOOO CUUUUUUUUTE!" She might have lost some hearing that day. I chased the Bantam Guar for a good ten minutes, declaring "I would prefer that little potato as a pet, and not this monkey."
I hope to one day have a flock of Bantam Guar in my house.
As for the Welwa, that's my wife's favorite creature and so, out of love, I drew her the Halloween Welwa. I do think they're very cute and so animate. I feel like they act more like dogs than the dogs do! I expect we haven't seen the last of me illustrating a Welwa.
The adorable Bantam Guar and Welwa
What is your process for your work from inception to completion?
Oof, that's loaded!
First an idea pops into my head, and that can come from many places like a conversation, something I've seen, heard, or even from a dream. Next is drawing it on a digital canvas with my tablet. I don't really sketch or do thumbnailing, I just slap it all down and fix things until it looks right - or just close enough to what I'd envisioned in my head.
Once that is all done and I am happy, I'll clean up the lines and then add in the flat colors. (At this point, I'll either finish it or toss it into the massively overstuffed "Work in Progress" folder!)
Finishing it means adding values to all of the colors, and often times I start with the skin. It's my favorite thing to render in my art. I go crazy with details sometimes, spending hours in one place. I suppose it's therapeutic.
Next, I'll go back over the polished image a dozen times, back and forth, touching up lines, blending values, and maybe adding EVEN MORE detail.
The last thing I do is sharpen it a bit and apply a Photoshop Action filter, just whatever I have at hand, et voila! Completion.
What kind of advice do you have for your fellow artists who are thinking about illustrating some of their favorite ESO characters?
I would say make sure their personality shows through in their appearance. Take Quen, for example, she reminds me of a kitten. Precious, gentle, but she's also a bit shouty and has needles for claws. I'd give her a sort of shy head position, slight smile, worried eyes, but maybe tiny pupils like she gonna pounce you for insulting the memory of her father.
Sometimes it's helpful to peruse celebrity photos for facial features to add more interest. In my latest Queen Ayrenn portrait, while subtle, I borrowed Cate Blanchett's nose and mouth and Nicole Kidman's cheekbones and eyebrows. I mean, it's fantasy. Go nuts!
Did that make any sense? Haha. Bring the character to life! That's your goal. Give us something we haven't seen in the game.
Where can people find more of your work?

My deviantArt gallery is the best place to look for the largest variety of my work. It's easily navigated, and it filters my more risqué art in case that's not your cup of tea.
Another place is my Facebook page. There I tend to share more of my processes, works in progress, tricks, doodles, and so on.
I think my Twitter is probably the easiest to deal with, though ESO is the dominant theme!
A huge thank you to Maya for sharing her work and story with us. If you love her portraits, don't hesitate to check out her work via the links above.
If you've created or enjoyed something amazing based on The Elder Scrolls Online, we'd love to see it and share it with the rest of the ESO community. Be sure to send it our way via Twitter @TESOnline, Instagram, Tumblr, or Facebook!