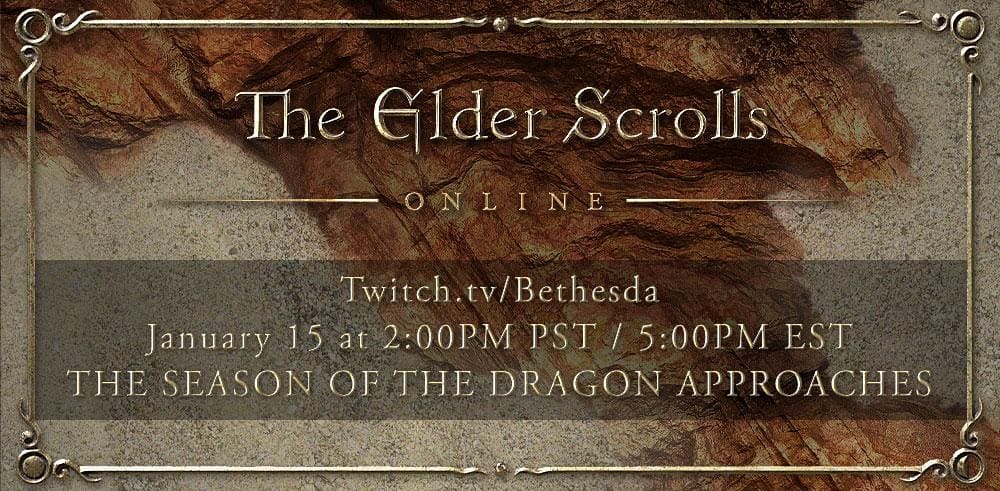 The cat's out of the bag! Ready yourself, adventurer. A massive announcement for The Elder Scrolls Online is on the way! Find out how you can learn about the upcoming ESO Chapter and what's coming to the game in 2019.
Update: Added information on how to qualify for the Hot Pepper Guar pet and when it will be delivered.
Tune in to Twitch.tv/Bethesda on Tuesday, January 15 at 5:00PM EST to be one of the first to learn about the next exciting adventure in The Elder Scrolls Online. Join us as Creative Director Rich Lambert announces what is coming to ESO in 2019 live to the world from the Twitch studio in San Francisco.
Want to earn some amazing goodies? In addition to Twitch Drops (PC/Mac only), you and your fellow viewers could unlock amazing rewards for all, simply by watching the stream. As the show hits certain peak concurrent viewer count milestones, the following rewards will be unlocked:
55k concurrent viewers: A unique Wallpaper based on the next Chapter's concept art
70k concurrent viewers: A Hot Pepper Bantam Guar pet for all ESO players who log in to the game between January 1, 2019 at 00:01AM EST and January 31, 2019 at 11:59PM EST
90k concurrent viewers: Rich will commit to getting an ESO tattoo somewhere (SFW) on his body!
Should it be unlocked, all qualifying ESO players will receive the Hot Pepper Bantam Guar pet by March 15, 2019.

The Hot Pepper Bantam Guar pet
However, that's not all! Drop in early to check out the ESO pre-stream show (full details coming soon), and be sure to stick around after the show as special community guests discuss the latest news with Rich and ESO Community Managers Jessica Folsom and Gina Bruno!
It'll be an amazing night of announcements, big-time reveals, and laughs, so be sure to join us on Tuesday, January 15 at 5:00PM EST for all the fun. See you there!