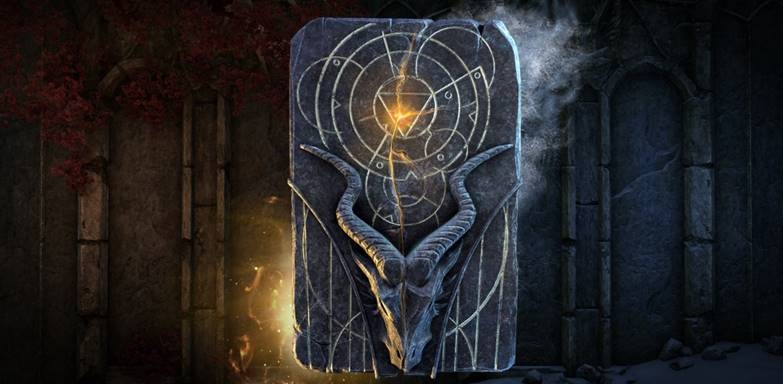 The Season of the Dragon starts here! Preview the exciting new dungeons arriving with the Wrathstone DLC pack and learn about the big base-game changes coming as part of Update 21.
The Wrathstone DLC game pack is coming soon, and it will be available free to all ESO Plus members and for purchase for Crowns from the in-game Crown Store. This new DLC dungeon pack sends you and your team deep into Tamriel's hidden past with two brand-new dungeons: Depths of Malatar and Frostvault.
Update 21 arrives alongside the new dungeon pack and brings a series of improvements and new features free for all players, including a new Battlegrounds map and PvP rewards, Passive Ability changes, a Guild Trader update, and much more!
Uncover the Wrathstone
As revealed in our Elsweyr cinematic trailer, the Imperial Chancellor Abnur Tharn, using the Wrathstone tablet, has opened the Halls of Colossus and unleashed a horde of merciless Dragons upon Elsweyr and beyond. But how did he get his hands on both halves of the powerful relic? These two new dungeons tell the first part of the Season of the Dragon story and show how you and the famous Redguard scholar Tharayya (returning for both dungeons!) discover these long-hidden relics.
The entrance to the Frostvault has been uncovered, and this previously lost Dwarven vault is open for explorers and treasure hunters alike. While your reasons for venturing deep into this frozen dungeon might differ from Tharayya's, you must both contend with a local Goblin tribe that has made the ruins their home. Be warned, it's still a Dwarven complex, and dangerous automatons and deadly traps await those who manage to delve into the heart of this ancient facility.
Beware the guardians of Malatar
What secrets lie within the sunken Depths of Malatar? In this dungeon, you, the ever-inquisitive Tharayya, and the spirit of her lost husband must venture into a secret Imperial fort and discover the ancient Ayleid ruin beneath it. You and your team, however, are not the first to try to uncover the secrets of Malatar. A Lost Imperial legion and shining Daedric agents stand between you and an ancient power that brought ruin upon its original inhabitants.
Both Frostvault and Depths of Malatar can be completed in Normal, Veteran, and Veteran Hard Mode difficulties, and should you complete these 4-player challenges, you'll be rewarded with powerful new item sets and unique collectibles, including a new skin and a non-combat pet! Finally, simply by entering either of these two new dungeons, you'll earn the Ayleid Royal Crown hat.
Fit for a king!
New Battlegrounds & PvP Rewards
Update 21 also brings a host of changes to ESO's PvP as part of its base-game update. Most notably, this includes an incredible new battleground: Eld Angvar. This new arena is located somewhere in a place between worlds, so be sure to watch your feet as you move between the map's platforms!
Fight in a world outside of Tamriel
This update also introduces new PvP rewards, including the Elinhir Arena Lion pet (earned with Arena Gladiator's Proofs) and weapon Outfit Styles that resemble the three Battlegrounds teams: Pit Daemons, Stormlords, and Firedrakes.
Base Game Additions & Improvements
In order to help you find and complete more of ESO's zone content, Update 21 introduces the new Zone Guide system. This new tool can be accessed from your Group & Activity Finder or map, and it allows you to see your progress in any of Tamriel's zones or beyond, tracking activities such as Zone Story Quests, Wayshrines, Delves, Striking Locals, Skyshards, and much more. You can even use this new tool to give you a quest marker to your next objective in order, starting with the zone's quests. With this new system, everybody that enters Tamriel can easily find their next adventure or help them finally 100% complete a zone.
Update 21 will also introduce improvements to the Guild Trader UI, giving you the ability to search for specific item names, see an item's price per unit, and view your previous searches. We've also overhauled the UI in general and reworded item categories to better reflect what people are looking for, making the overall experience much more user-friendly. Finally, this update also introduces a host of changes to Racial Passive Abilities. These Abilities have been updated to allow more playstyles to benefit from the bonuses they provide, as well as ensuring each Race has a unique gameplay advantage. For more information, you can read about the Combat Team's changes to Racial Passives on the forums.
There are tons more updates, fixes, and additions coming with Update 21, and both the update and Wrathstone are available on PTS (PC/Mac only) right now, so why not log in and test it all out for yourself?
Begin the Season of the Dragon
With the exciting new Wrathstone dungeon pack and a host of new additions and quality-of-life gameplay improvements coming in Update 21, the year-long Season of the Dragon begins to take flight. Are you ready to brave the dungeons of Frostvault and Depths of Malatar and acquire both parts of the Wrathstone? Let us know on Twitter @TESOnline, Facebook, and Instagram using the #SeasonOfTheDragon hashtag!
Part of the Season of the Dragon year-long adventure, the Wrathstone DLC game pack is coming soon for ESO Plus members and the in-game Crown Store. This new DLC game pack arrives with Update 21, a free base-game update for all ESO players.