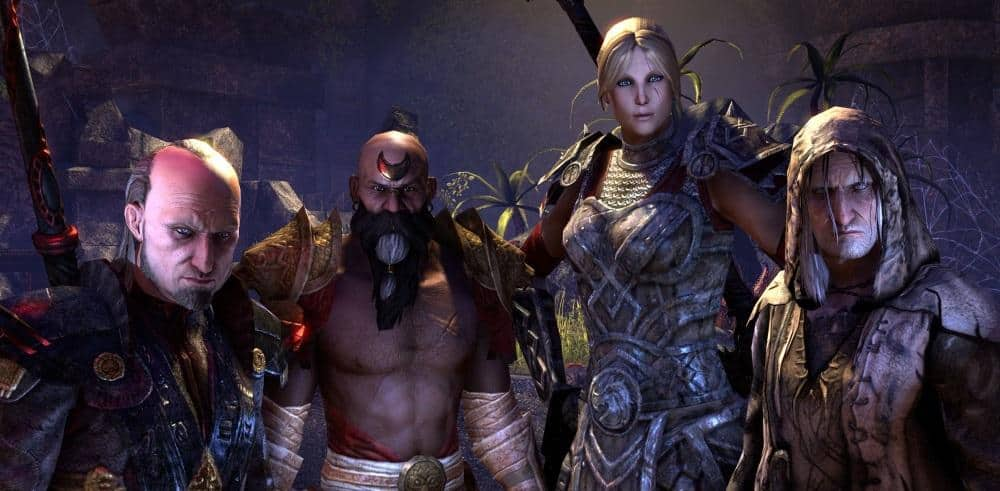 The Elder Scrolls Online is turning five! To celebrate this momentous milestone, we're running a five-week in-game event, featuring a ton of different activities and rewards. Learn all the details and celebrate with us!
5 Years Young!
The ESO 5-Year Anniversary Event begins on April 4 at 10:00AM EDT and will run until May 9 at 10:00AM EDT. To get started, pick up the Jubilee Cake Voucher quest starter from the Crown Store (it's free) and use it to find the renowned Chef Donolon. Complete his quest and gather the ingredients required to bake and then acquire the new Jubilee Cake 2019 memento.
When you place and eat a slice of the cake, you'll immediately receive a two-hour, 100% XP buff (and obtain your first 2 Event Tickets).
The XP-boosting (and delicious) Jubilee Cake 2019
During each week of the event, we'll be highlighting different types of daily quests, and you can participate in those daily quests to earn unique rewards. This is the only in-game event we're running in Q2 of 2019 and is the only time you can pick up the new Indrik Berries required to evolve your Nascent Indriks into the brand-new Luminous Indrik (more on that below).
5 Weeks of Fun
Each week for the first four weeks, you'll be encouraged to participate in a different activity for special rewards. Each time you complete one of the week's daily activities, you'll earn an Anniversary Jubilee Gift Box, containing rare crafting ingredients (even Aetheric Ciphers!), recipes, and on occasion, a Motif Chapter for almost any motif in the game, including Worm Cult. However, each unique week also has a chance to grant you a specific new Outfit Style. Finally, on the fifth week, all the previous activities and rewards are up for grabs, allowing you to catch up!
Dress like a companion!
Here's the different activities and rewards you'll earn each week of the event. Each new week begins at 10:00AM EDT.
Week 1
April 4 at 10:00AM EDT – April 11 at 10:00AM EDT
Do your writs! Complete daily crafting writs to earn Gift Boxes that have a chance to also include pages of the Prophet Outfit Style.
Week 2
April 11 at 10:00AM EDT – April 18 at 10:00AM EDT
Clear out Tamriel's Delves and monsters. Complete daily quests to defeat Delves and World Bosses to earn the Gift Boxes that have a chance to also include pages of the Lyris Titanborn Outfit Style. This includes Delve and World Boss dailies from all of the game's DLCs and Chapters in addition to the Delve daily offered by the Undaunted (note, not Pledges).
Week 3
April 18 at 10:00AM EDT– April 25 at 10:00AM EDT
Fight your fellow players! Complete Alliance War and Battlegrounds daily quests to earn Gift Boxes that have a chance to also include Abnur Tharn Outfit Style pages. This includes Cyrodiil Town dailies, all Board missions, the Cyrodiil dailies, the Battlegrounds dailies, and Imperial City dailies.
Week 4
April 25 at 10:00AM EDT – May 2 at 10:00AM EDT
Put your team to the test in Dungeons and Trials. Complete daily and weekly quests for any of Tamriel's Dungeons and Trials to earn Gift Boxes that have a chance to include the Sai Sahan Outfit Style pages.
Week 5
May 2 at 10:00AM EDT - May 9 at 10:00AM EDT
Your choice! Complete any of the daily quests found in Tamriel to earn Gift Boxes that can contain any of the above rewards (all four unique styles). This is your opportunity to catch up and choose your own adventure!
If you don't get lucky and get all the pages you want from your Anniversary Jubilee Gift Boxes, you can also buy the Outfit Styles for each week from the Impresario.
Earn Event Tickets & Acquire New Rewards
Throughout the entire event, you'll earn two Event Tickets the first time you use the Jubilee Cake 2019 each day, with the timer resetting at 2:00AM EDT. This means by the end of the event, you could have earned a total of 72 tickets!
Don't forget, you're capped at 12 Event Tickets per account, but you'll have ample opportunity to spend them with a huge select of new rewards. Here's all the new and exciting items you can spend your Event Tickets on at the Impresario's tent during the event:


Luminous Indrik mount berries
Each week, a new Indrik Berry will be added to the Impresario's stock, starting with the Luminous Berries of Bloom the first week, and then the Luminous Berries of Budding, Luminous Berries of Growth, and Luminous Berries of Ripeness in subsequent weeks. Once you've collected all four unique Berries (you only need one of each), you'll be able to evolve your Nascent Indrik into a Luminous Indrik mount!
Summon your own Luminous Indrik
Keep in mind that this five-week event is your first and only opportunity to pick up the Indrik Berries you'll need to summon the Luminous Indrik - don't miss out!


Companion Outfit Style pages
During the event, you'll also be able to spend event tickets on the weekly Outfit Style pages, with pages from the Prophet Outfit Style being available from Week 1, and the others coming available in their subsequent weeks. Note that while a specific week's Outfit Style pages won't be available in a week that features a different activity and style, during Week 5, ALL Outfit Style pages will be made available for purchase with Event Tickets again, giving you an opportunity to catch up. Finally, Outfit Style pages purchased with Event Tickets cannot be traded.


Shimmering Indrik pet
During Week 5, the Shimmering Indrik Pet will also be available for purchase with Event Tickets from the Impresario. This adorable companion can be acquired for 10 Event Tickets.
This adorable lil' Indrik is only 10 Event Tickets!
Phew! As usual, the Impresario will continue to stock all four Nascent Indrik Feathers (so you can get a new Nascent Indrik mount), and you can continue to buy Event Tickets from the Crown Store if desired.
Celebrate Your Way!
There's many different ways you can play The Elder Scrolls Online, but during our 5-Year Anniversary Event , you can take part in everything the game has to offer while earning brand-new rewards for doing so. Don't forget, there's also cake! How will you be celebrating this incredible milestone? Let us know on Twitter @TESOnline, Instagram, and Facebook! 
The ESO 5-Year Anniversary Event will begin on April 4 at 10:00AM EDT and will run until May 9 at 10:00AM EDT. Let's party!