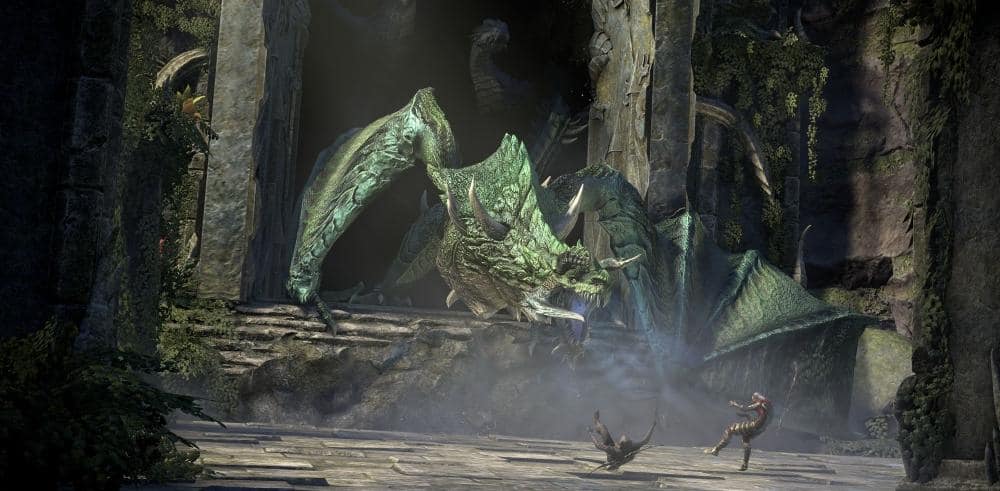 Explore Elsweyr and help us improve both the new Chapter and Update 22 on the Public Test Server. Read on to find out how you can join in and help us test this new adventure.
We are thrilled to announce that The Elder Scrolls Online: Elsweyr and Update 22 are now both live on the Public Test Server. This test includes the entire new Chapter and the Update 22 base game patch and is limited to PC/Mac players only.
If you've tested the game previously, either for the Morrowind or Summerset Chapter, you can get into this new test from the ESO launcher with no invite required. Just enable "Show Public Test Environment" from your launcher settings. If you haven't tested a Chapter for us before, but have played ESO this last year, you'll receive (or have already received!) an email invite with the details. Because this is such a large test, invites will be sent out over the next few days, so don't worry if you don't immediately get yours.
Please note that anybody can install and get into the Public Test Environment and check out the Update 22 base game content, but if they were not invited to this new test or were not a previous tester, they won't have access to the Elsweyr Chapter.
To avoid story spoilers, you must agree to a Non-Disclosure Agreement (NDA) upon login. This NDA is specific to the ESO: Elsweyr main quest and its story, but you are free to stream and talk about anything you experience in the new zone with the exception of the Chapter's main storyline beyond the first quest "A Rage of Dragons." You can share any side quests you enjoy, but please be careful when discussing things that might be considered a spoiler—don't ruin the fun! We'll let you know when the NDA is lifting in the future.
All PTS testers will have a watermark visible while playing. To reiterate: You can share almost all of your ESO: Elsweyr gameplay publicly, including side quests, the Necromancer class, the Sunspire Trial, open world adventures, Dragon Hunt Events, Delves, World Bosses, Public Dungeons, and anything in the base game, but please refrain from sharing any details related to the main quest beyond "A Rage of Dragons" and its storyline.
Your feedback is extremely important to us, and we truly value comments and bug reports when testing this new Chapter. Please note that we are guaranteed to make adjustments throughout the testing period, so keep an eye out on the PTS forum (you'll need to log into the forums in order to participate) for the latest patch notes.
Here's what you can experience when testing the Elsweyr Chapter:
A massive new zone, Elsweyr
A new main story quest (partly under NDA)
The Necromancer class
A new Trial, Sunspire
New Dragon Hunt Events
New World Bosses, Delves, Public Dungeons, and side quests
Powerful new item sets
During the test, you can also check out some of Update 22's new features, too:
The new Daedric Artifacts system in the Alliance War
A Guild Finder tool
Two new home to explore
And more!
Starting right now, you can jump into ESO: Elsweyr, see the new zone, test out the Necromancer class, and help us prepare this latest Season of the Dragon adventure for PC/Mac Early Access on May 20 and full release for all platforms on June 4! Will you be logging in to the Public Test Environment and taking your first steps into Elsweyr? Let us know on @TESOnline, Instagram, and Facebook!