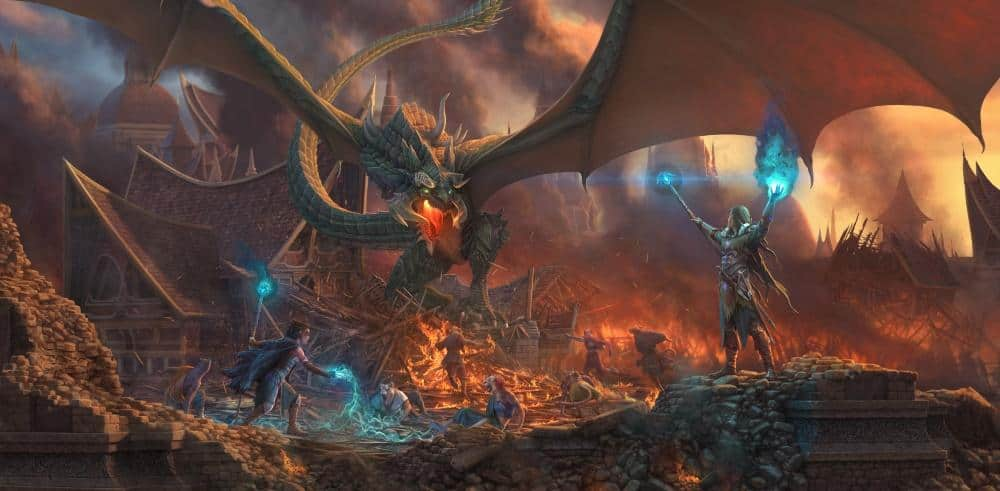 Continue your Season of the Dragon adventure with Elsweyr, the latest Chapter in the Elder Scrolls Online saga! Discover the new zone, story, and Necromancer class in addition to a massive free base-game update.
We are thrilled to announce that The Elder Scrolls Online: Elsweyr and Update 22 are both now live for all platforms, including PC/Mac, PlayStation®4, and Xbox One. This Chapter and free base-game update brings an exciting world to explore, captivating stories to experience, and a brand-new class to master.
Elsweyr Chapter

Dragons stalk the skies over Elsweyr, and the Khajiit struggle to defend their homeland from both invading Imperials and the monstrous beasts. While featuring a strong stand-alone story in its own right, ESO: Elsweyr continues the Season of the Dragon adventure that started with the Wrathstone DLC and continues throughout the rest of the year's updates.
This new Chapter includes:
A zone to explore: Elsweyr
A story detailing the efforts to protect the Khajiiti homeland from the Dragons
A class to master: the Necromancer
A 12-player Trial: Sunspire
A massive collection of side quests and stunning locations to explore
Item sets, collectibles, and more
Explore a New Zone
In the northern region of Elsweyr known as Anequina, discover a world made up of dusty canyons, fertile moon-sugar fields, tepid rainforests, and bone-dry grasslands. Within this diverse environment, you can experience the home of the Khajiit and discover the remnants of their ancient culture.
Anequina is not without its dangers, however, and in this zone, you encounter new World Bosses, Public Dungeons, and Delves scattered throughout the landscape, in addition to a host of side quests to complete and amazing locations to explore.
Save the Khajiit
The great northern city of Rimmen now lies under the control of the Usurper Queen Euraxia, and Elsweyr's scattered defenders struggle to contend with her Euraxian legions and ever-growing undead army. To make matters worse, Dragons roam the skies above Elsweyr, forming a troubling alliance with the Usurper Queen.
In this epic story, you must work with both local and foreign allies to remove Euraxia from her seat of power and break her hold over Elsweyr. Of course, your journey does not end here, as this story is part of the year-long Season of the Dragon adventure, continuing throughout the rest of 2019!
Become a Necromancer
Manipulate the souls of the dead to empower yourself and your allies with the Necromancer, ESO's first new class since ESO: Morrowind. With the Necromancer, you have access to three unique Skill Lines that allow you to assault your enemies, bolster your defense, and heal your allies.
To master this dread class, you must make good use of nearby corpses to boost the power of your abilities. But be wary, necromancy is largely forbidden in Tamriel, and should you openly practice the dark arts, you might attract the attention of the less-enlightened.
Fell Monstrous Dragons
With the Halls of Colossus opened, Dragons strike from above. Overwhelming the region's scattered defenders, these legendary monsters threaten to burn down the ancestral home of the Khajiit. When exploring Elsweyr, you can encounter Dragons in world events called Dragon Hunts, within the zone's Trial called Sunspire, and throughout the Elsweyr main story, as well.
Be warned: You're no Dovahkiin, and to defeat a Dragon in The Elder Scrolls Online, you must gather your most powerful allies and strike as one!
Free Sunspire
Three Dragons, one claiming to be the avatar of Alkosh himself, have occupied the great Temple of the First Cat. In this new 12-player Trial, you and your team must fight your way through the Dragons' disciples and put a stop to the false gods' plans. Challenging boss fights and unique rewards await those brave enough to stand up to the golden Dragon, Nahviintaas.
Purchase Details & Requirements
The Elder Scrolls Online: Elsweyr is available in multiple editions, including a Standard Edition, Collector's Editions, and Upgrade Editions for those who already own the ESO base game. Note that to run The Elder Scrolls Online: Elsweyr on PC/Mac, your machine needs to meet the game's requirements here: PC, Mac.
In addition to the Elsweyr Chapter, The Elder Scrolls Online: Elsweyr Digital Collector's Edition and Digital Collector's Edition Upgrade includes a host of unique digital items, including a mount, pet, outfit style, and more.
Finally, if you pre-purchase The Elder Scrolls Online: Elsweyr by June 4, you'll also receive additional bonus items, including a costume, pet, XP scrolls, treasure maps, a Baandari Pedlar Crown Crate, and Rahd-m'Athra mount!
For more information on the ESO: Elsweyr editions and pre-purchase items, check out our Elsweyr editions and pre-purchase rewards article. It's not too late to pre-purchase ESO: Elsweyr now and receive the above bonus items.
Traveling to Elsweyr
Once you purchase ESO: Elsweyr, there's a few ways you can travel to and begin your adventures in the ancestral home of the Khajiit. You can explore Elsweyr with an existing character or a new one, and there's no level requirements for this new zone and adventure.
Wayshrine Travel
Easy! You can instantly travel to Elsweyr with any of your existing characters by using the Rimmen Wayshrine. To do so, open your map, select the Elsweyr zone, and then select the Wayshrine icon (it should be the only one available).
Start from the Main Quest
You can pick up the first quest before even reaching Elsweyr by navigating to your Collections UI, selecting Stories, and then Chapters. From that menu, you can select Elsweyr, acquire the first quest titled "A Rage of Dragons," and begin your adventure. It will point you in the right direction.
New Characters
Any new characters created in ESO: Elsweyr can go through the new tutorial. Once complete, you enter the new zone. A world of adventure awaits!
Update 22
In addition to the new Chapter, we have also released Update 22, a new base-game patch that brings a host of new features, changes, and improvements for all ESO players (no Chapter purchase needed).
Guild Finder System
With Update 22, we have added a new Guild Finder tool to help you both join a Guild and find new members for one. As a Guild leader, you can use the Guild Finder to advertise your Guild based on its unique characteristics and what kind of players you're looking for. If you're looking for a Guild to join, you can browse open Guilds and filter your search to find one based on your specific needs.
Set your Guild Listing and choose from many options
You can filter Guilds by activities (such as PvP, Trials, Trading, or Roleplaying, and much more) and by play style (casual, balanced, or hard-core). Guilds can even set specific Alliances, Champion Point requirements, or roles. With this new system, Guilds can easily find like-minded players to join their ranks!
Weapons Artifacts Come to Cyrodiil
If you're a veteran of the Alliance War, Update 22 introduces a system that is sure to shake up Cyrodiil: Weapon Artifacts. Now, at random points during an ongoing Alliance War campaign (about four to five times a day), a powerful weapon will spawn in the PvP zone. The first warrior to reach the Weapon Artifact and use it gains a deadly new Skill Line.
Wield the mighty Volendrung
These new abilities come at a cost, however, because if you don't continually earn Alliance Points, it'll slowly drain your life away! You can find a tutorial for the first Weapon Artifact, called Volendrung, in each Alliance starter gate (near the quest boards).
Summerset Moves to the Crown Store
As of today, The Elder Scrolls Online: Summerset Digital Upgrade and The Elder Scrolls Online: Summerset Digital Collector's Edition will no longer be available in The Elder Scrolls Online Store and on Steam Store. Instead, the Summerset Chapter is being added to the in-game Crown Store as a DLC item. This means that if you are an ESO Plus member, you'll now automatically have access to the Summerset zone and story.
In addition to this, we're adding a separate Summerset Collector's Bundle to the in-game Crown Store that includes pre-purchase and Collector's Edition bonus items.
The Season of the Dragon Continues
Elsweyr burns as the Season of the Dragon heats up with this newest Chapter in The Elder Scrolls Online saga. The Usurper Queen and her army of the undead threatens the people of Elsweyr, and a rage of Dragons brings ruin from above. Warriors are needed to help defend the ancestral home of the Khajiit, and dark new powers await those who heed the call. Are you excited to enter Elsweyr and master the necromantic arts? Tell us on Twitter @TESOnline, Instagram, or Facebook.
The Elder Scrolls Online: Elsweyr and Update 22 is now live on all platforms.