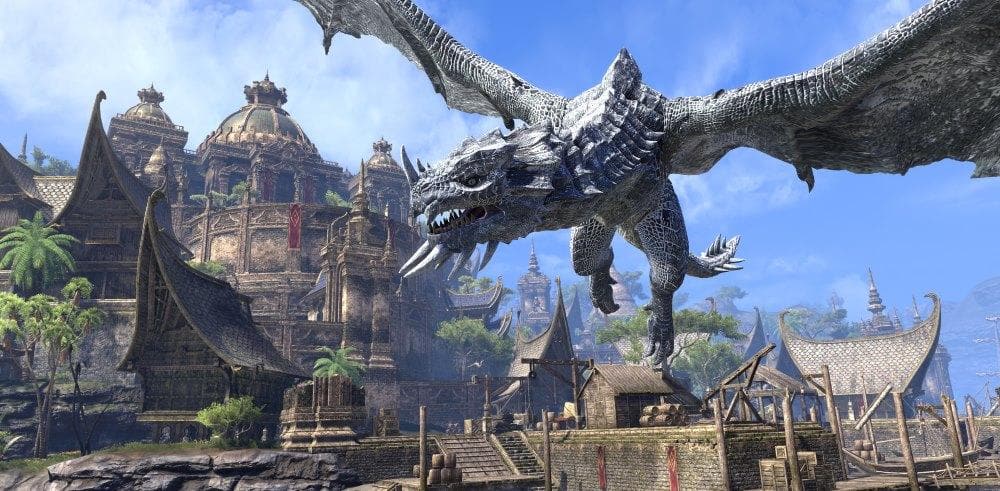 The Season of the Dragon continues throughout the rest of 2019 with two exciting new DLCs: Scalebreaker and Dragonhold!
With both the Wrathstone DLC and ESO: Elsweyr Chapter now live, the Halls of Colossus are open and Dragons rage across Elsweyr. You can experience the first half of the Season of the Dragon right now, but much more is still to come. In fact, we are thrilled to announce the final two adventures in this year-long adventure!
Dragons Hunted
ESO's next DLC game pack, Scalebreaker, is set to arrive in Q3 and brings two new dungeons for you and your team to conquer: Moongrave Fane and Lair of Maarselok. Both of these challenging new dungeons are part of the Season of the Dragon storyline, pitting you and your team against Dragons like the ones you faced in Elsweyr. However, not all want to destroy the legendary beasts, and the Halls of Colossus was not the only place that held Dragons.
Both dungeons showcase stunning new environments, challenging battles, and compelling stand-alone stories that tie into the Season of the Dragon. The battles ahead might appear daunting, but those brave few willing to face the challenges within Moongrave Fane and Lair of Maarselok will receive powerful new items and unique collectibles as rewards.  
Elsweyr in Ruin
Coming late 2019, you can experience the exciting end of the Season of the Dragon adventure with Dragonhold, the final DLC of the year. Dragonhold brings a whole new zone to explore in Southern Elsweyr called Pellitine, a lawless wasteland impacted by a deadly plague almost 20 years ago. There, you must gather allies (including fan-favorite Sai Sahan), reform the ancient Dragonguard order, develop powerful new tools and weapons, and put an end to the Dragon menace before it threatens to engulf all of Tamriel.
As a Zone DLC, the region of Southern Elsweyr will be filled with new quests, Delves, World Bosses, and, of course, Dragon Hunt events, too.
Both Scalebreaker and Dragonhold will be available in the second half of 2019. Keep an eye on elderscrollsonline.com and our Twitter, Facebook, and Instagram channels for more information on these upcoming DLCs. Don't forget, both the Wrathstone DLC and ESO: Elsweyr Chapter are now live on all platforms, meaning you can start your Season of the Dragon adventure today!