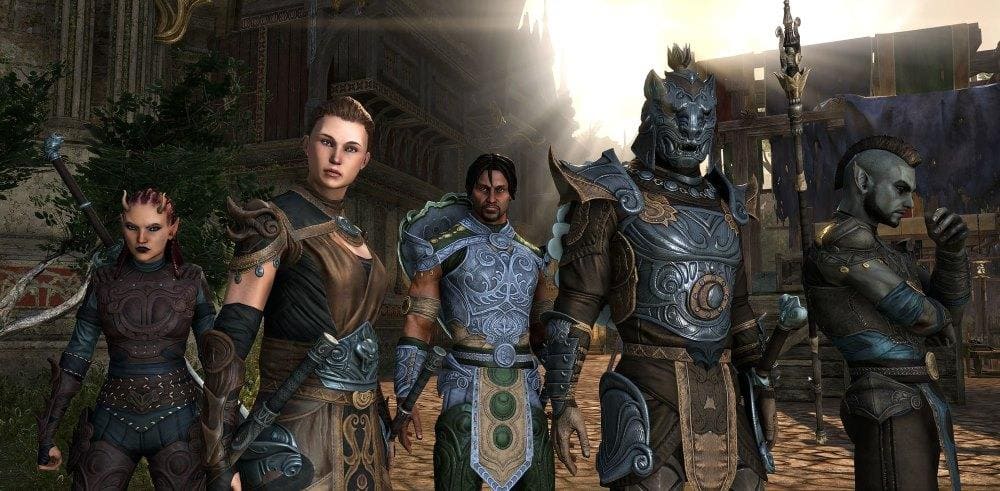 With the introduction of the Guild Finder and Guild Listings menus in Update 22, you can now easily find the perfect Guild and recruits.
In The Elder Scrolls Online, you can join up to five different 500-player Guilds. With Guild activities ranging from PvP to roleplaying to trading or simply helping newer players, there's hundreds of Guilds in game right now. This means that looking for and joining a Guild can be a daunting experience for some players, and this is what the team looked to improve with Update 22.
"A Guild is a great way to enrich your experience in ESO," says Bobby Weir, ESO's UI Design Lead. "A lot of our favorite memories in gaming are grounded within the Guilds that we've played with over the years, so we wanted to make finding and connecting with Guilds easier."
With the new Guild tools in Update 22's free base game update (meaning you don't need to buy ESO: Elsweyr to enjoy these new features), you can both find a new Guild and more easily advertise your own Guild as open for new applications. It even allows you to search and filter results to reflect different activities and experience requirements.
Joining (Great) Guilds!
To join a Guild, look for the Guild Finder tool within the Guilds UI menu. From there, select Browse Guilds. You can initially filter the list using the following activities:
Trading
Group PvE
Roleplaying
Social
PvP
Questing
Crafting
Although selecting one of these options gives you a solid list of Guilds to consider, you can continue to narrow down the list by selecting additional activities and your play style, including options for Balanced, Casual, or Hardcore.
Finding a Guild in the Guild Finder on console and PC/Mac
"We built the tool based on how Guilds have traditionally advertised themselves and how players looking for Guilds have done so," explains Weir. "Our hope is that we're not just connecting players and Guilds, but we're connecting compatible players and Guilds; those that share the same in-game interests, speak the same languages, have the same mindset, and play around the same times."
Once you've found an interesting Guild, you can select View Guild Info to find additional information and apply. Once you've sent an application, a Guildmaster will assess and (hopefully) approve your request!
Recruiting New Members
If you're an up-and-coming Guildmaster who is looking for fresh recruits, it's easy to create your unique Guild's listing. To do so, simply navigate to your Guilds UI menu and select the Recruitment option. From there, edit your Guild Listing and assess the Applications.
Creating a Guild Listing on console and PC/Mac
When creating a new listing, you can set your primary and secondary focus, in addition to additional activities, roles, Champion Point requirements (if any) play style, and more.
"Your Guild's focus plays a huge factor in how someone will discover it," explains Weir. "When looking for a guild, the initial categorization is based on guild focuses so that players can really zero in on the type of guild they're looking for. After that, your headline is then your next opportunity to stand out within the list of Guilds, so think about what the best way is to encourage people to dive into your Guild's listing."
No matter what your needs, the Guild Finder and Guild Listing menus help you put your Guild out there!
Take on Tamriel Together
Guilds are a fantastic way to get the most out of Tamriel, and a good Guild can help you learn how to play, conquer Cyrodiil and the Battlegrounds in PvP, take on some of the game's toughest PvE challenges, and so much more. Whether you're looking to trade, roleplay, or just chill out with some like-minded players, the new Guild Finder tool is a great way to help you find a community of your own in The Elder Scrolls Online, whatever your level or experience!
Are you going to use the Guild Finder to find or advertise your Guild? Let us know on Twitter @TESOnline, Instagram, and Facebook!