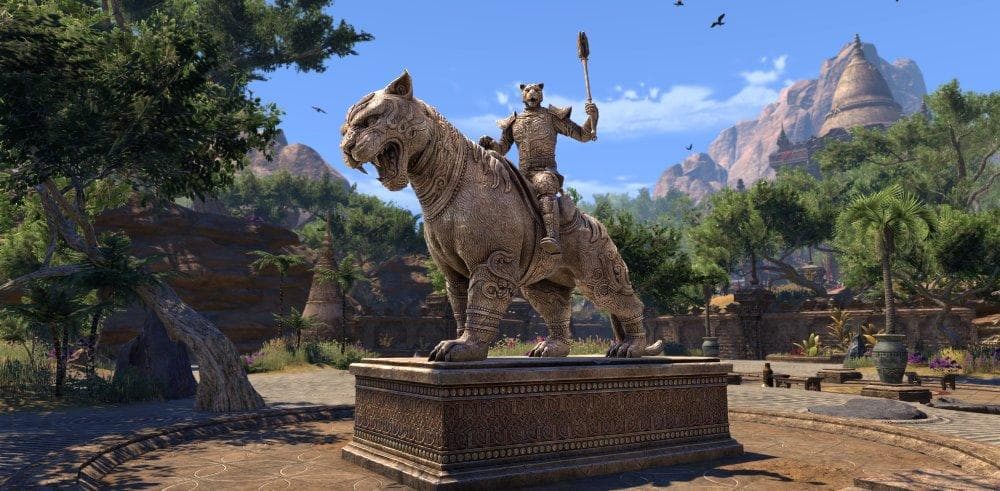 Gift furnishings to friends and Guildmates to receive an exclusive Senche-raht statue!
There's nothing like a fully decorated home to lift your spirits after a long day's adventuring in Tamriel. In fact, your home can serve many different purposes, including crafting hub, storage location, training arena, and of course, a hearth to socialize and relax.
A good home is important, so starting today and continuing until August 1, you can help your friends and Guildmates decorate their abodes by gifting fabulous furnishings via the in-game Housing Editor or Furniture section of the Crown Store. Gift a total of at least 1,000 Crowns worth of furnishings, split across at least two different individual accounts, and you'll receive the Senche-raht Statue, Battle-Bound as a unique collectible reward!
To ensure you qualify for the reward, here's what you need to know:
Gifting must occur between 2:00AM EDT today June 24, 2019, and 2:00AM EDT on August 1, 2019.
You must send a furnishings gift to at least two different individual accounts via the Housing Editor or the Furniture section of the Crown Store.
The total value of all gifts must be at least 1,000 Crowns or more on the same platform and region.

Note: NOT 1,000 Crowns per gift, but 1,000 Crowns total. Two individual gifts that are valued at 500 Crowns each would count, as would three gifts each valued at 400 Crowns to three different acounts. However, if you sent a gift worth 500 Crowns on the PC NA server and another worth 500 Crowns on the Xbox One NA server, it would not count.

You will receive your Senche-raht statue collectible by August 16, 2019
Perfect for guarding the entrance to your home
Gifting Housing Editor Items
You can find furnishings (and bundles!) in the Furniture section of the in-game Crown Store, and you can also gift individual items from a massive selection by using the Housing Editor. To gift a furnishing item from the Housing Editor, follow the instructions below:
Travel to a house and open the Housing Editor.
Select Browse to open the Housing menu and then select the Purchase tab.
Look for the item you wish to gift and select it.
Select the Gift option from the preview window.
Enter your recipients UserID, Gamertag, or PSN ID, depending on your platform, and personalize your gift with a custom-made or a pre-selected message.
That's it! All you need to do is gift 1,000 Crowns worth of items total to two or more friends and you'll be eligible to receive the statue.
In addition to the massive selection of items and bundles already available, we've also adding a new, limited-time bundle to the Crown Store: The Intrepid Gourmet Furnishing Pack. You can pick up or gift this bundle for only 700 Crowns, but be quick: it'll be available only from now until July 1. Update: We initially listed this item as on sale until July 7 in error and have corrected the date above.
The Intrepid Gourmet Furnishing Pack
This promotion has already begun and will run until August 1, 2019, at 2:00AM EDT. If you're interested in acquiring this amazing statue, or simply want to help your friend make their house a home, don't miss out on this special offer!
Are you planning to send some furnishings to your friends? Let us know on Twitter @TESOnline, Instagram, or Facebook.