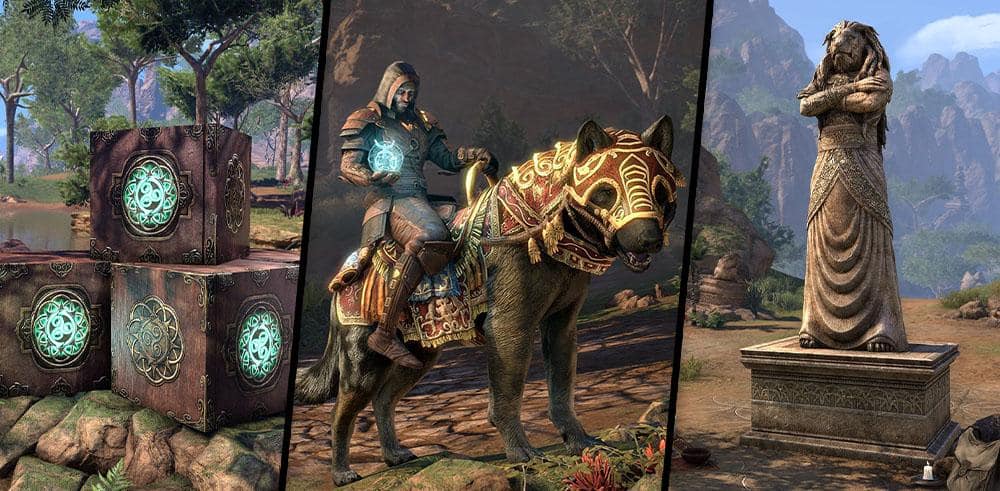 Acquire wares from the faraway land of Elsweyr with the Baandari Pedlar Crown Crate, coming soon to the in-game Crown Store. 
***
The rattle of trinkets, the hiss of a tambourine, and the creak of a wagon's wheels can mean only one thing: Baandari! These famed Khajiiti nomads travel the width and breadth of Tamriel, reveling in the freedom of the open road. While some regard these colorful wanderers with suspicion, others know that there's no better place to find unusual treasures than the back of a Baandari cart. So, step right up, walker, and have a look at these exotic wares!
***
If You Have Coin
Within the Baandari Pedlar Crown Crates, you'll find a vast selection of interesting and, this one assures you, completely legitimate items that are sure to delight discerning adventurers such as yourself. This includes consumables such as XP scrolls, research scrolls, potions, and more in addition to a selection of brand-new and returning collectibles. These collectibles can include, but are certainly not limited to, these exquisite items:
The Baandari Dwarven Spider and the Baandari Pedlar Brindle Wolf mounts
The Steed of the Afflicted mount & Baandari Pedlar Sword style
The Mane, Moons-Blessed statue & Baandari Lunar Compass furnishing
Baandari Pedlar Crown Crates also have a chance to contain one of these extremely rare mounts, not found anywhere else in Tamriel:
The Ebony Dwarven Spider & Anka-Ra Senche-lion mounts
The Anka-Ra Sandcamel
Finally, in addition to these fantastical items, the new crates also hold a selection of previously retired collectibles, including this delightful pet:
Ja'khajiit Raz pet
Elsweyr's Finest
Of course, this is just a sample of some of the fine wares you can get your paws on when opening a Baandari Crown Crate. You can inspect a complete list of items coming with this season in this forum thread, and don't forget to check out the soon-to-be retired Dragonscale items on our Crown Store page.
The Khajiit call Elsweyr home, but you can find their traders and goods all over Tamriel. You can acquire some of these wonderful items for yourself when the new Baandari Crown Crates come to the in-game Crown Store on July 3. Don't miss out!
Are you excited to check out the new Crown Crate season? Let us know on Twitter @TESOnline, Instagram, or Facebook.