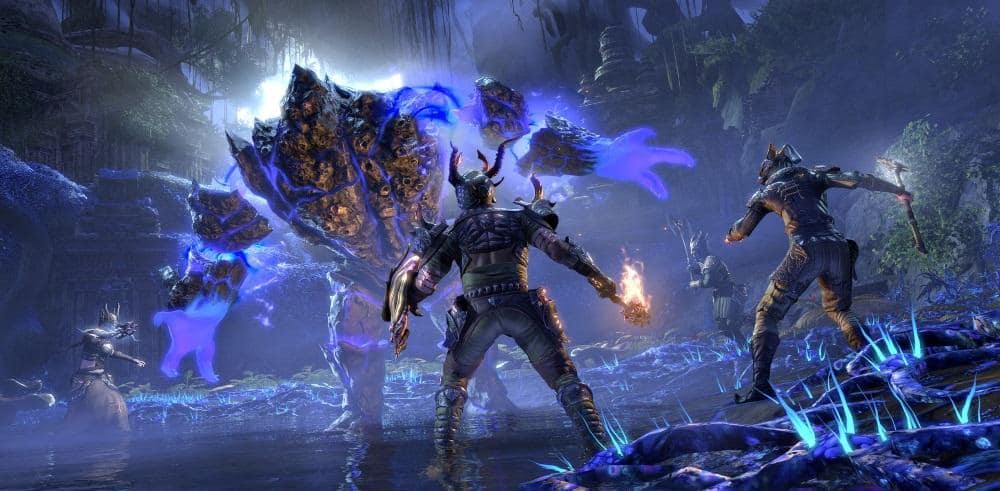 Tune into ESO Live at a special time this Wednesday for a preview of the upcoming Scalebreaker DLC game pack!
We're excited to give you a sneak peek of Scalebreaker, ESO's upcoming DLC game pack, during our next show on Wednesday, July 3 at 6:00pm EDT. Scalebreaker features two new dungeons – Moongrave Fane and Lair of Maarselok – and leading the tour will be Dungeon Lead Mike Finnigan and Senior Writer Randy Begel. Moongrave Fane takes you through the ancient ruins of a forgotten Khajitti faith, and Lair of Maarselok sends you into the jungles of Tenmar. If you want to be one of the first to see a preview of these upcoming dungeons, don't miss this show!
We'll also have the latest news and updates, plus Twitch Drops will be enabled throughout, so be sure to link your PC/Mac accounts. Don't forget, the show kicks off this Wednesday (not Friday!) at 6:00pm EDT on Twitch, YouTube, Mixer, and Steam. See you then!