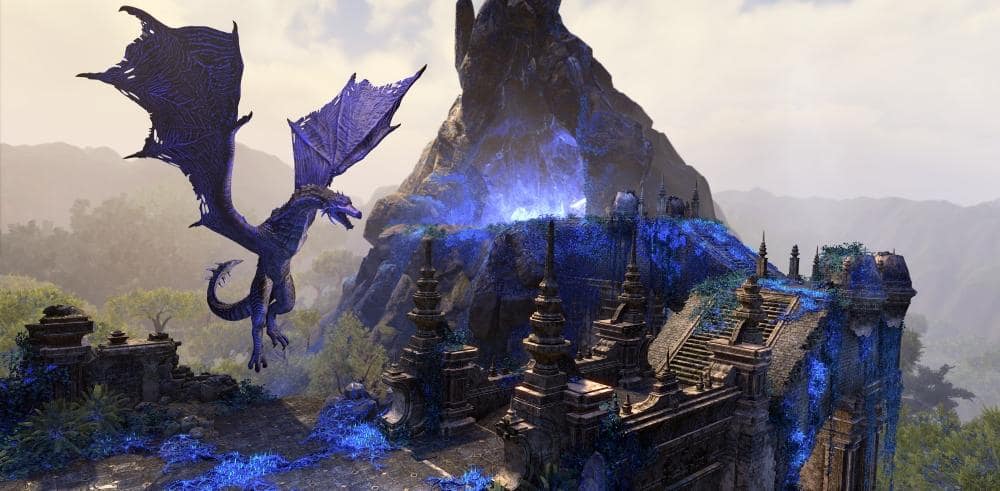 The rage of Dragons threatens beyond Elsweyr, and all-new Season of the Dragon adventures await Tamriel's heroes! Learn about the upcoming Scalebreaker DLC and Update 23 base-game patch.
The Scalebreaker DLC game pack is coming soon to the in-game Crown Store and ESO Plus members (who will enjoy free access). This new DLC features two challenging new PvE dungeons: Moongrave Fane and Lair of Maarselok.
Update 23 arrives alongside the new dungeon pack and brings a host of quality-of-life improvements for ALL ESO players (no purchase or ESO Plus membership required), including updates to Battlegrounds maps, multi-crafting, multi-Guild Trader bidding, a revamp to Undaunted keys and rewards, and more!
New Season of the Dragon Stories
With Scalebreaker, you can experience two new stories that explore the aftermath of the Elsweyr Chapter and the consequences of the emergence of Dragons from the Halls of Colossus. Both new dungeons feature adventures that are related to the epic year-long narrative, but they also stand alone as unique stories in their own right.
Deep within the ancient ruins of Moongrave Fane, a former member of the Dragonguard and his fellow vampires of the Hollowfang Clan have felled and captured a Dragon. However, they wish to do more than simply destroy the humbled beast, as the clan prepares a ritual to drain the Dragon of its blood and gain its terrible power!
All manner of beasts await within Moongrave Fane
Neighboring Elsweyr, Grahtwood's Elden Root tree is threatened by a deathly corruption that originates from the nearby jungles of Tenmar and the Lair of Maarselok. Grahtwood's protectors have tried and failed to destroy the Dragon at the center of the blight, so a truce has been called between the forest spirit Selene and her captor, the warlock Carindon. Together, and with your help, they must attempt to save the Elden Root tree before the corruption can spread.
Confront the corrupting influence of Maarselok

You can complete the Lair of Maarselok and Moongrave Fane dungeons in Normal, Veteran, and Veteran Hard Mode difficulties. Within these four-player PvE challenges, you can uncover unique rewards such as powerful new item sets and amazing collectibles, including furnishings, mementos, and a pet! In addition, simply by entering either of these two new dungeons, you earn the Dread-Aurelian Mask style page.
Update 23's Quality-of-Life Improvements
Arriving free in tandem with the new DLC dungeon pack, Update 23 features useful quality-of-life improvements in addition to the usual fixes and balance changes.
Multi-crafting
With multi-crafting, you can now craft, deconstruct, and refine multiple items at once. Simply indicate how many times you wish to perform the crafting action and it instantly does it all! This is great if you're working to quickly improve your crafting levels and clear out your inventory, and you can make fast work of stocking up on potions or completing writs.
Multi-bidding for Guild Trader Locations
With Update 23, you can have your Guild bid on up to 10 different Guild Trader locations each week. Priority is given to the location with the highest bid, and if you miss your first preference, the system checks your second, third, and so on. Once you win a bid on a Guild Trader, all other bids are refunded back to your Guild bank. With this addition, it is easier to ensure you get a Guild Trader location you like (as long as you have the gold to bid)!
Bid on multiple Guild Traders
Undaunted Keys & Rewards Update
This new update also makes it easier to manage your Undaunted Keys and provides more ways to spend them. With Update 23, Undaunted Keys are now listed as currency, meaning they are in the Currency section of your inventory instead of individual inventory items. Never again will you lose track of your keys! In addition, to acquire Monster shoulder items, you can now receive Undaunted coffers from the different Undaunted quest NPCs instead of using the chest in the middle of each camp.
These coffers contain the usual items you receive when turning in keys, but you gain new options, too. The Undaunted NPCs also allow you to spend more keys on specific coffers from paired dungeons. The pairings are based on the dungeons' release or relation. For example, you can spend additional keys to acquire a random coffer from the Imperial City DLC dungeons (in this case, you'd have a 50/50 chance to receive either a Molag Kena or Lord Warden shoulder). Another pairing includes the Monster shoulders from both versions of Fungal Grotto. This increases your chance of finding the Monster shoulder you want, but costs more and still has some risk.
Finally, the Undaunted NPCs also offer each month's Monster shoulder style page for a large amount of keys, allowing you to immediately gain the shoulder style you want (but you still need to venture into the dungeons for Monster Mask styles).
Ald Carac and Istirus Outpost Update
The Battlegrounds maps Ald Carac and Istirus Outpost also received new versions for specific game modes. Now, when you play Ald Carac in Team Deathmatch, Capture the Relic, and Chaosball, you fight in a smaller, more compact version of the map. For Istirus, we also made adjustments to the map for Deathmatch and Chaosball. These changes help ensure each map is better tailored to the different game modes, always making for an exciting and action-packed game!
Break Dragons
With the Season of the Dragon heating up, Scalebreaker brings two exciting new adventures to challenge you and your group. The events of the Elsweyr Chapter have left Tamriel reeling from the emergence of Dragons, but the fight is far from over. Now you can explore the dire consequences of the opening of the Halls of Colossus in this new DLC dungeon pack! Of course, this new content arrives in addition to a base-game update that promises to change the way you trade, collect powerful Monster gear, and battle your fellow players, and it's free for all!
Keep an eye on elderscrollsonline.com for more information on both Scalebreaker and Update 23 in the near future. Are you excited to check out the new Season of the Dragon DLC and base-game improvements? Let us know on Twitter @TESOnline, Instagram, or Facebook.