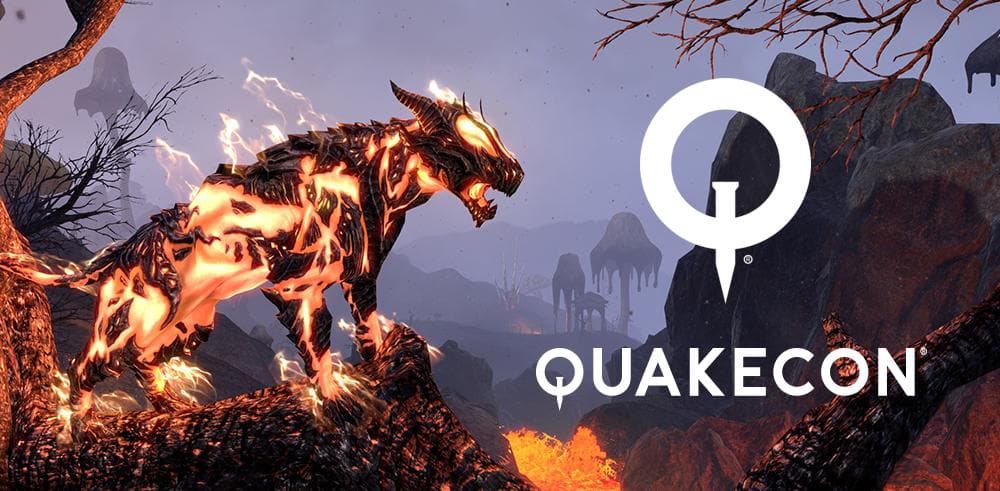 We're returning to Dallas and bringing the warm sands of Elsweyr with us! Check out everything ESO at QuakeCon 2019.
We are happy to announce that once again The Elder Scrolls Online will be at QuakeCon, hosted in Dallas, Texas, from July 25 until July 28. You can check out everything we're bringing to the massive convention this year below!
ESO Panel
Join ZeniMax Online Studio's Game Director Matt Firor and ESO's Creative Director Rich Lambert as they share a panel titled "Building Tamriel – The Evolution of ESO," to talk about the game, its development, and its bright future as the Season of the Dragon continues.
The panel will kick off in the Grapevine Ballroom (Main Stage) on Saturday, July 27, at 2PM CT (3PM EDT). If you can't make it, don't worry! You can watch it live on twitch.tv/Bethesda. Even better, if you watch the show with a linked Twitch account, you'll receive the Flame Atronach Senche-Jaguar pet and an Ouroboros Crown Crate (PC/Mac only)! If you play on console, don't worry, simply log in to the game and kill a monster on Saturday, July 27 between 12PM-7PM EDT to also receive the rewards. The rewards will be delivered after the convention, during the month of August. Keep an eye out!
Receive this never-before-seen pet!
Play ESO in the BYOC Hall & Main Exhibition Hall
Play with the Devs!
Throughout the event, you can join the ESO development team for daily play sessions in the BYOC Hall including dungeons, questing, and more! If you'd like to drop by and play with the devs, here's the schedule:
Friday, July 26 from 3PM-5PM CT
Saturday, July 27 from 10AM-12PM CT
Sunday, July 28 from 1PM-3PM CT
Duel Tournament
Face your fellow players 1v1 in our Duel Tournament, running on July 25 from 8PM-10:30PM CT (9PM-11:30PM EDT) in the BYOC Hall and live on twitch.tv/QuakeCon2. All duels will take part in the Elinhir Private Arena house with the traps on, so keep your head on a swivel! If you think you've got what it takes to beat the best, you can sign up for the event and check out all the rules and participants right here.
Take on all challenges 1v1 in our Duel Tournament
Explore Elsweyr in the Main Hall
You can explore the Khajiiti homeland for yourself and play ESO: Elsweyr at the Bethesda Booth in the Main Exhibition Hall. If you've yet to play Elsweyr, this is your opportunity to check out the new zone, try the new Necromancer Class, and take on menacing Dragons. We might even have some pet codes and collectibles to give away, too!
Chat and Relax with the Community
Community Meetup
Enjoy good food, drink, and company at our official ESO community meetup and enjoy a night out with your fellow developers and players. This year, we'll be hosting the event in the Yellow Rose Pavilion within the Gaylord Texan Resort & Convention Center on Saturday night (July 27) at 6PM CT. We'll also have some signed Elsweyr mini-posters to give away, but there's limited space available, so we highly recommend you RSVP here.
Elsweyr Recharge Lounge
If you need a break from walking the QuakeCon floor, you should visit the Elsweyr Recharge Lounge for some Khajiiti-themed relief. ESO's development and community teams will even drop by randomly for some surprise visits and giveaways!
Chat with the ESO community
Support a Good Cause
In addition to all the fun above, you'll be able to show your support for two great causes as ZOS and Bethesda sponsor both the Dallas Pets Alive! and Stack Up charities. Look out for more information on how you can help these amazing organizations during the event!
ESO @ QuakeCon Europe
In addition to QuakeCon in Texas, ESO will also make an appearance at the QuakeCon event in Europe, running from July 26 until July 27. There, you can find The Elder Scrolls Online: Elsweyr playable on the show floor, and you can check out Community Manager Kai Schober and German ESO streamer Shurjoka stream live from the convention via twitch.tv/bethesda_de, playing both Elsweyr and Scalebreaker on Saturday, July 27, a 6PM EDT.
The Khajiit Come to QuakeCon!
Of course, the above events and promotions are just some of the amazing things you can see and do at QuakeCon 2019. We'll even have special seating for ESO players during the Master Pancake show! Watch the keynote (focused on DOOM Eternal) and you'll even earn bonus ESO drops! Keep an eye out on quakecon.org and our social channels, including Twitter @TESOnline, Instagram, or Facebook for more information on all of the events above. We hope to see you there!