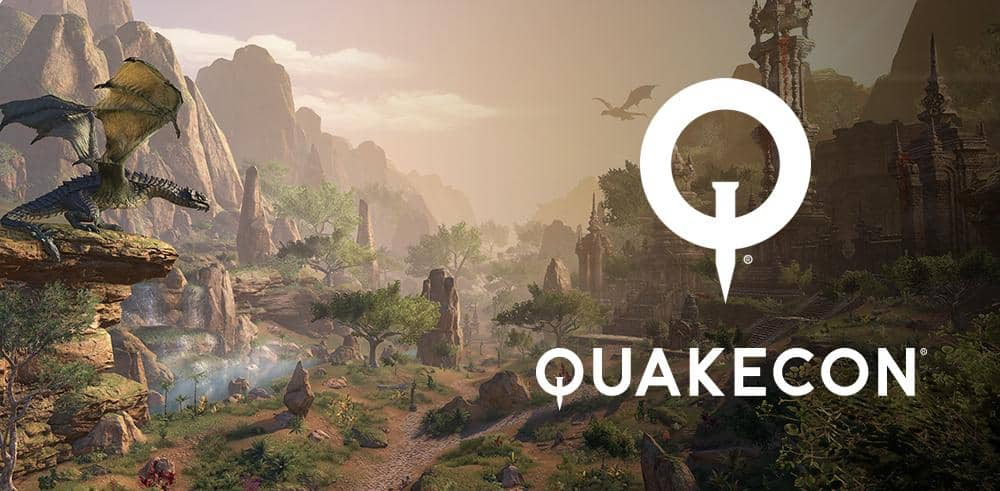 Save big on Crown Packs, The Elder Scrolls Online: Elsweyr, and The Elder Scrolls Online Standard Edition during the QuakeCon 2019 Sale.
QuakeCon 2019 is just around the corner, and to celebrate, we're putting a ton of ESO products on sale, including the Elsweyr Chapter (such as the Upgrades and Collector's Editions), select Crown Packs, and the ESO Standard Edition. Whether you're a new or veteran player, there's a deal for you!
Save Up to 40% on Crown Packs
Starting right now, you can acquire Crown Packs for all platforms at heavily discounted prices. Check out the different savings for each Crown Pack below:
21,000 – 40% off
14,000 – 35% off
5,500 – 30% off
3,000 – 25% off
1,500 – 20% off
Visit our Buy Crowns page to choose your platform and pack. With crowns, you can acquire items and collectibles from the in-game Crown Store, including a ton of unique mounts, pets, costumes, consumables, upgrade tokens, and much more. Check out what is currently available in the Crown Store on our website.
This sale continues throughout QuakeCon and ends on July 30, so don't miss out on your chance to stock up on crowns!
Explore Elsweyr On Sale!
During this sale period, you can also pick up The Elder Scrolls Online: Elsweyr for up to 35% off on all platforms. This includes the Elsweyr Standard Edition, Digital Upgrade, Digital Collector's Edition, and Digital Collector's Edition Upgrade. If you're an existing player who wants to explore the home of the Khajiit, the Digital Upgrade will get you access to the new zone, the Season of the Dragon story and questline, AND the Necromancer Class.
If you're new to ESO, the Elsweyr Standard Edition and Digital Collector's Edition include access to the base game, Elsweyr Chapter, and the Summerset and Morrowind Chapters, too! Perfect for those new to Tamriel. The above deals are only available until July 30, so pick up your copy now.
In addition to the Elsweyr Chapter, we're also putting The Elder Scrolls Online Standard Edition on sale for up to 50% off. This edition includes the base game and the Morrowind Chapter, making it another great jumping on point for new players. This sale lasts until July 30 for Xbox One and PC/Mac, and until August 6 for PlayStation®4.
Save Big During QuakeCon
Even if you can't make it to the convention itself, both new and veteran players alike can find a great deal during the QuakeCon 2019 Sale. Don't forget, you can check out all the deals for the game and Crown Packs on the official website—grab a bargain now!