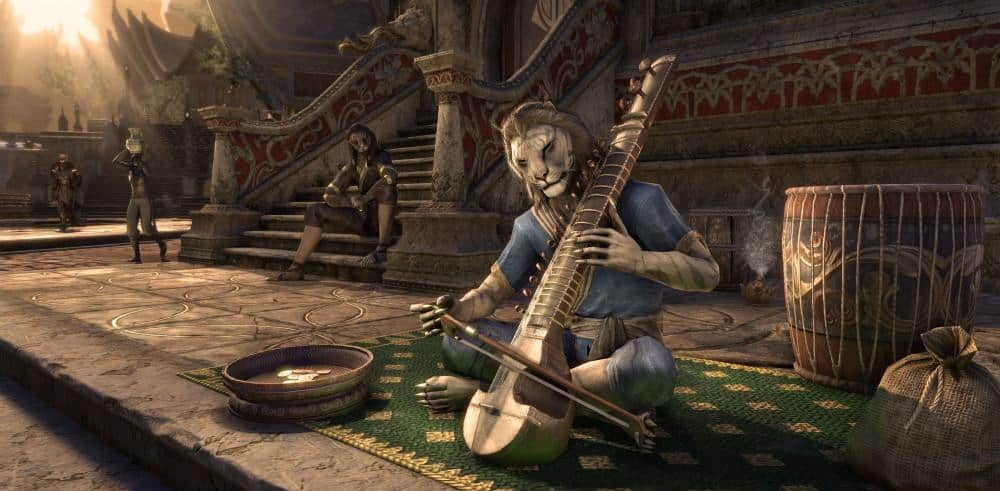 Enjoy the music of the Khajiiti homeland with the official soundtrack for The Elder Scrolls Online: Elsweyr.
Wherever you go, you can always walk on warm sands when listening to the ESO: Elsweyr official soundtrack, now available online.
To listen to the soundtrack of ESO's latest Chapter and buy it for yourself, visit the sites below:
When composing the Elsweyr soundtrack, the team worked hard to ensure the Khajiit had their own sound, distinct from the other cultures of Tamriel.
"I wanted something uniquely Khajiit sounding, while still fitting in with the rest of the ESO soundtrack," explains Brad Derrick, ESO's Audio Director. "So I started with the established ESO orchestral style, but composed all the music using a non-traditional scale that works as the basis for the musical language of the Khajiit."
"Some new instrumental textures were introduced as well to give this music a distinct identity. Qanun and Esraj players performed alongside the orchestra and choir, and they were also used as accompaniment for the bard songs and player emotes. Finally, solo vocal elements were brought to the fore to give the soundtrack a sense of intimacy and to emotionally connect the player to the game world of Elsweyr."
All of this results in the distinctly Khajiiti sound you experience when exploring the new Chapter. You can preview the soundtrack below, but don't hesitate to check out the above links to acquire the complete soundtrack for yourself!