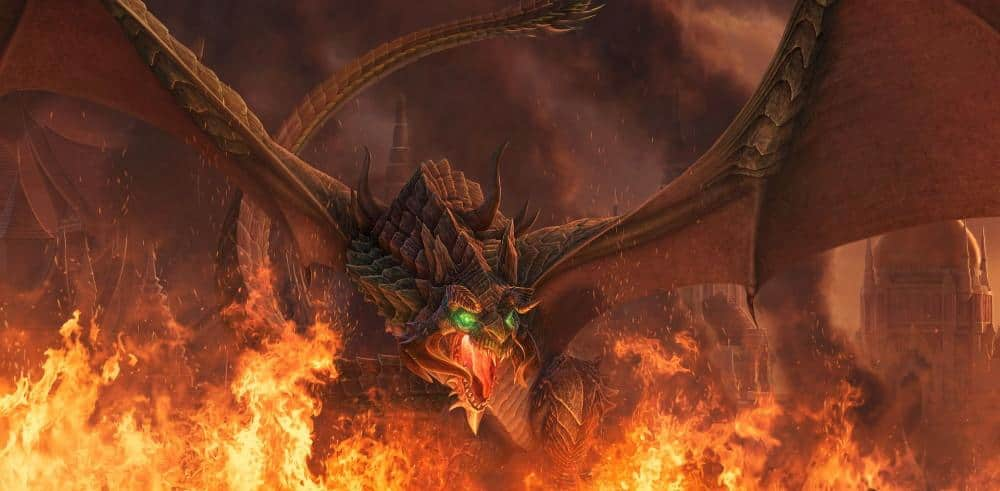 Continue your Season of the Dragon adventure with Scalebreaker, a new dungeon DLC pack for The Elder Scrolls Online. Discover two new stories that tie into the events of ESO: Elsweyr and the free Update 23 base-game patch.
Play on console? Don't worry, you can continue the fight yourself when Scalebreaker launches on PlayStation®4 and Xbox One on August 27.
The Scalebreaker DLC dungeon pack and Update 23 bring exciting new adventures and improvements to ESO:
Two new Season of the Dragon dungeons: Lair of Maarselok and Moongrave Fane
Eight new item sets and five new collectibles
Update to Undaunted Keys
Guild Trader multi-bidding
Multi-crafting
And more!
This DLC is free for all current ESO Plus™ members or available for purchase with crowns from the in-game Crown Store. You can read the patch notes for both Scalebreaker and Update 23 on our official forums.
Scalebreaker DLC Game Pack
The Scalebreaker DLC game pack brings two new Season of the Dragon dungeons, expanding upon the events of both Wrathstone and Elsweyr. The Dragons are free from the Halls of Colossus, and now you must deal with the fallout of their release. While these stories are part of the year-long saga, you can enjoy both without having completed either of the year's earlier content—enjoy!
Lair of Maarselok
For centuries, Maarselok slept deep in the mountains between Elsweyr and Grahtwood. However, upon the opening of the Halls of Colossus, this monstrous Dragon has awoken, and now threatens to spread his corruption into the domain of the Wood Elves. Only with the help of the Warlock Carindon and the forest spirit Selene can you defeat this terrifying new Dragon!
Hunt the great Dragon Maarselok!
Moongrave Fane
Hidden within a fallen Khajiiti temple, the vampires of the Hollowfang prepare to perform a terrible ritual. Joined by the former Dragonguard Grundwulf, they wish to drain the blood from a captured Dragon! You and your team must fight your way into the fallen ruin and put a stop to their plan before it's too late.
Both dungeons can be attempted in Normal and Veteran difficulties, with a Veteran Hard Mode option available for those looking for a challenge. Brave delvers can discover new rewards up for grabs in both dungeons, too, including new item sets, Achievements, collectibles, and more.
Finally, you can also earn a unique tablet collectible by completing both dungeons (on Normal or Veteran difficulty), allowing you to unlock an additional wing within the Hall of the Lunar Champion home.
Expand your mansion!
Don't forget, you can unlock the free Hall of the Lunar Champion home by completing the Elsweyr Chapter's main story quest titled "Two Queens." The third and final tablet required to completely unlock the mansion will be available with the upcoming Dragonhold DLC—stay tuned!
For more information on Scalebreaker's dungeons, check out our previews of both the Lair of Maarselok and Moongrave Fane.
Purchase Details
The Scalebreaker DLC game pack is free for all ESO Plus members and available for purchase for 1,500 crowns from the in-game Crown Store (listed under DLC).
Note that if your ESO Plus membership lapses, you will lose access to the DLC dungeons until you renew or purchase the DLC with crowns. You won't lose any items or rewards you earned while you had access.
Scalebreaker Collector's Bundle
The Scalebreaker Collector's Bundle is also available for 4,000 crowns. This includes access to the DLC game pack, the Ancient Dragon Hunter Horse mount, the Ancient Dragon Hunter Wolf pet, and five Crown Experience Scrolls. You can find and purchase the Scalebreaker Collector's Bundle from the Featured section of the in-game Crown Store.
The Scalebreaker Collector's Bundle
Enter a Scalebreaker Dungeon and Get a Free Hat
After you gain access to the Scalebreaker dungeons, you can explore the Lair of Maarselok or Moongrave Fane by the following methods:
By teleporting directly into the two dungeons from your map
By using the Dungeon Finder tool
By walking up to the dungeon entrances in the Grahtwood (Lair of Maarselok) and Northern Elsweyr (Moongrave Fane)
Upon entering one of the two new dungeons, you shall receive a Dread-Aurelian Mask, completely free.
The Dread-Aurelian Mask
To get the accompanying shoulders, you need to complete both dungeons on Veteran difficulty—good luck!
Update 23 Quality-of-Life Improvements
In addition to the DLC game pack, we've also launched Update 23, a free base-game patch for all ESO players. This update brings a host of fixes, ability changes, and improvements to some of the game's core elements, including crafting, Guild Traders, and the Undaunted.
Undaunted Keys and Merchants
With Update 23, Undaunted Keys are now a currency and are no longer stored within your inventory, making them easier to manage. In addition to this, you can now trade your Undaunted Keys to the three Undaunted dungeon quest givers to receive reward coffers. If you choose, you can spend more keys on specific coffers that give you a better chance at receiving the monster shoulders you want.
Multi-Crafting
This update also implements an improvement to the crafting system, allowing you to craft, deconstruct, extract, and refine multiple items at once. You no longer have to perform these actions individually, dramatically speeding up the process.
Guild Trader Multi-Bidding
Finally, Update 23 also introduces multi-bidding for Guild Trader locations. Guild Leaders can now bid on more than one trader each week. This change reduces the chance of missing a Guild Trader location each week and allows you to assign priority to the different locations based on how much you bid on each one. Don't worry, when you win a location, all other bids are refunded.
You can find more information on all of these new quality-of-life improvements in our preview article.
Dragons in Tamriel
The Season of the Dragon continues with the Scalebreaker DLC game pack, as Tamriel reels from the opening of the Halls of Colossus. Are you ready and willing to enter Moongrave Fane or the Lair of Maarselok to deal with the threats within? New stories await! Let us know if you'll be jumping into the two new dungeons or checking out the Update 23 improvements on Twitter @TESOnline, Instagram, and Facebook!
The Scalebreaker DLC game pack is now live on PC/Mac and is coming August 27 for PlayStation 4 and Xbox One. It is available free with ESO Plus membership or purchased with crowns from the in-game Crown Store.