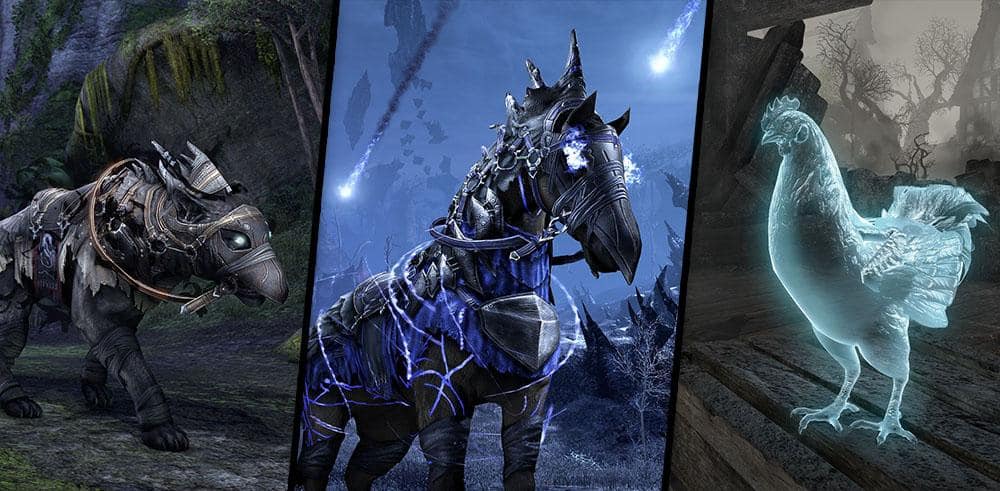 Seize the powerful relics and curios of a mysterious Dragon cult with the New Moon Crown Crates, coming soon to the in-game Crown Store!
***
Not all threats to Tamriel sail overhead on leathery wings. Some lurk in the crime-ridden alleys of Senchal and the charred remains of villages long forgotten by those in power. Beware, people of Elsweyr. The New Moon Cult rises!
This army of embittered outcasts pledged their lives to the ancient scourge, Laatvulon. In exchange, they received dark gifts in abundance. Now, you too can reap the spoils of this vile bargain!
***
Enigmatically Exclusive Items
Arriving this Thursday, September 19, within the New Moon Crown Crates, you can uncover a sinister collection of items to help you on your journeys through Tamriel. This includes useful consumables such as XP scrolls, research scrolls, potions, and more in addition to a selection of brand-new and returning collectibles. These collectibles can include, but are certainly not limited to, these wicked items:
New Moon Senche mount & Spectral Chicken pet
Drink from Skull emote & Grisly Horse Mummy mount
New Moon Crown Crates also have a chance to contain one of these extremely rare mounts, not found anywhere else!
Plagueborn Senche-Panther mount & Sanguivorian Howler mount
Planemeld Courser mount
Finally, in addition to all the above, the New Moon Crown Crates can also contain previously retired collectibles, including the much-beloved Wrath-of-Crows polymorph:
Don the dread visage of this fearsome Daedra
New Moon Novelties
This is but a taste of some of the mysterious and fantastical items you can find within New Moon Crown Crates. Check out a list of every item coming this season in this forum thread, and don't hesitate to check out all the items in the soon-to-be retired Baandari Pedlar Crown Crate on our Crown Store page.
The Order of the New Moon represents a dangerous new threat to Elsweyr and Tamriel, but some of their secrets and instruments can be yours to master when these new crates come to the in-game Crown Store on September 19!
Are you excited to pick up some of the new items coming with this new season of Crown Crates? Let us know on Twitter @TESOnline, Instagram, or Facebook.