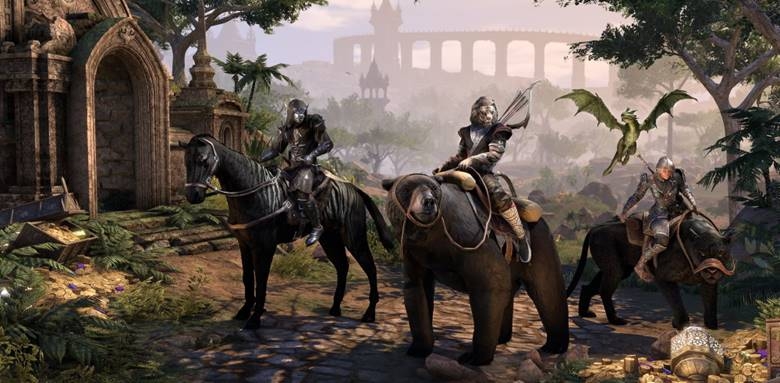 Explore Elsweyr, slay Dragons, and complete the upcoming Dragonhold Prologue quest and you'll unlock amazing new rewards for all Elsweyr players including collectibles, XP buffs, and more!
Dragons over Elsweyr
The Dragon Rise event kicks off on Thursday, October 3, at 10:00AM EDT and runs until Monday, October 14, at 10:00AM EDT. During the event, there are three exclusive rewards up for grabs:
Green Dragon Imp pet
Grim Harvester Costume
Dragon's Treasure Trove furnishing
A new pet, costume, and furnishing can be unlocked!
The final reward is more than an audacious display of wealth you can place in your home, however. It also features a series of lootable bags that provide all kinds of amazing items, including a new target dummy. However, that's not all, as during Dragon Rise you can also unlock bonus XP and gold acquisition for the whole Northern Elsweyr zone!
To unlock these rewards, all Elsweyr players must work together to complete different activities and fill the three Dragon Rise meters:
Explore Elsweyr and earn the Northern Elsweyr Pathfinder Achievement to unlock the primary rewards

Check your in-game Journal for help completing this Achievement

Slay Dragons to unlock a zone-wide XP boost (Northern Elsweyr only)

Since the Elsweyr Chapter's release, you've already bested over 1 million Dragons, so what's a few more?

Complete the Dragonhold Prologue quests (from October 8) to unlock a zone-wide gold acquisition boost (Northern Elsweyr only)
As you complete the different objectives, you can check everybody's progress by visiting the Dragon Rise page. If you've already unlocked the Northern Elsweyr Pathfinder Achievement, don't worry, it'll still count, and you can continue to do your part by participating in the other two objectives.
In addition to unlocking a zone-wide XP boost, slaying Dragons also help increase the donation amount for the #SlayDragonsSaveCats campaign. Help pets in need while you help yourself to bonus XP—a win-win scenario!
Finally, as you defeat Northern Elsweyr's Dragons and bosses, you have a chance to acquire a Nafaalilargus's Strongbox as a bonus reward, including items such as crafting materials, style pages, gear sets, and more!
Elsweyr Chapter Sale
If you've yet to explore the home of the Khajiit, now is the perfect time to grab the Chapter with a 50% sale on all editions of The Elder Scrolls Online: Elsweyr, including the Standard Edition, Standard Edition Digital Upgrade, Digital Collector's Edition, and Digital Collector's Edition Upgrade.
Elsweyr brings a massive new zone to explore, the deadly Necromancer Class to master, and continues the year-long Season of the Dragon adventure.
This sale is live now and lasts only until October 8 (October 16 if on PlayStation®4), so visit our Buy Now page to get started.
Dragonhold Prologue Quests
We are thrilled to announce that the Dragonhold Prologue quests will be live on Tuesday, October 8, at 10:00AM EDT. Because it's part of the base game, you don't need to have owned or completed any of the previous Chapter or DLCs to check them out.
In these two new quests, you must assist the returning Sai Sahan explore the lost histories of the Dragonguard in the hopes of acquiring an ancient relic to help turn the tides of battle against the Dragons that threaten all of Elsweyr. The Dragonhold Prologue quests lead you directly into the events of the Dragonhold DLC game pack, coming soon in Q4!
Join forces with Sai Sahan to find an ancient relic
As you complete the prologue questline, you'll earn rewards such as the Dragonhorn Curio memento and Dragonguard Banner furnishing, and as part of the Dragon Rise event, you'll be one step closer to unlocking the gold buff for the Northern Elsweyr zone. By the way, you can get your very own Horn of Ja'Darri on the Bethesda Gear Store right now!
Earn Event Tickets
During the Dragon Rise event, all regular monsters in the Northern Elsweyr zone have a rare chance to drop Event Tickets when defeated. However, should you slay a boss monster in the same zone, an Event Ticket drop is guaranteed! Because it's located in Northern Elsweyr, this includes the final boss in the Moongrave Fane dungeon! Don't forget to loot everything you defeat. You can earn two Event Tickets this way each day of the event.
During the event period, the Impresario will stock the following items:
Cadwell style pages
Abnur Tharn style pages
The Onyx Indrik Pet
All four Indrik Feathers
All four Onyx Indrik Berries (including the final one, allowing you to summon your Onyx Indrik!)
The Onyx Indrik mount
Finally, every time you spend Event Tickets you've earned by doing in-game events (and not purchased directly from the Crown Store), you'll earn bonus entries into the Season of the Dragon Sweepstakes, up to a maximum of 10! Check out the #SlayDragonsSaveCats page for more information on the Sweepstakes and its prizes, and view the official rules here.
Explore Elsweyr, Unlock New Rewards!
As you can see, you have a lot of reasons to explore Northern Elsweyr during the Dragon Rise in-game event, and this is only the start of the #SlayDragonsSaveCats end-of-year promotion! If you'll be touring the home of the Khajiit and slaying Dragons when the event kicks off this Thursday, let us know via Twitter @TESOnline, Instagram, or Facebook.
The Dragon Rise event kicks off on Thursday, October 3, at 10:00AM EDT and runs until Monday, October 14, at 10:00AM EDT.