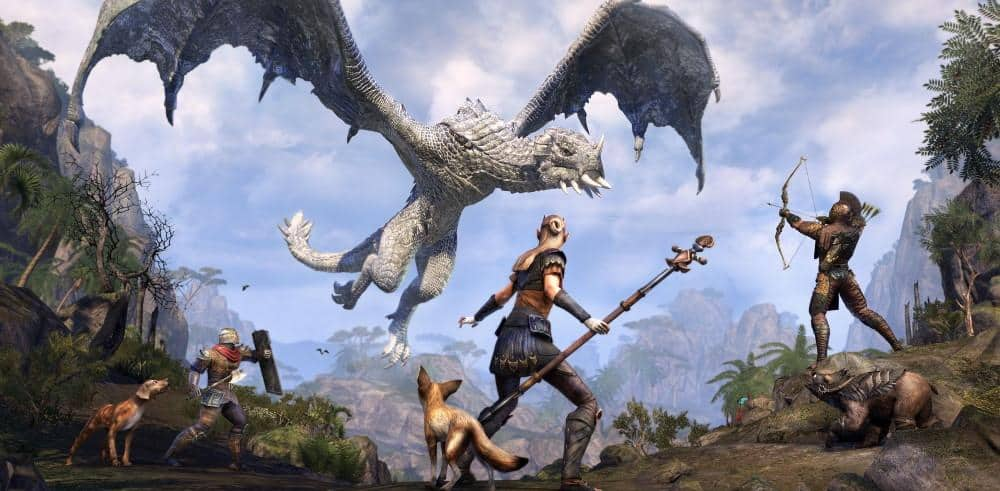 Help rid Elsweyr of its Dragon problem and support two amazing pet welfare charities during #SlayDragonsSaveCats. Learn everything you need to know about this end-of-year promotion including upcoming in-game events, sweepstakes, and rewards!
The Elder Scrolls Online has its fair share of heroes, both in and outside of the game, and during the #SlayDragonsSaveCats promotion, you and all of Tamriel's heroes can come together for a great cause by taking part in the following activities:
Slay Dragons to help raise money for two great charities: Best Friends Animal Society and FOUR PAWS International.
Enter a massive Season of the Dragon Sweepstakes that features multiple drawings and the chance to win amazing prizes.
Earn tons of new loot and collectibles with in-game events.
Share your stories of triumph and pet care with the ESO community.
Support a Noble Cause
We are thrilled to work with GlobalGiving to support Best Friends Animal Society and FOUR PAWS. Want to do your part? Become a Dragon slayer!
The ESO community has already brought down over a million beasts since The Elder Scrolls Online: Elsweyr launched in June, but from now until December 9, 2019, for every five Dragons slain, we'll donate $1 to the cause up to a maximum of $200,000!
You can find Dragons to defeat in the Northern and Southern Elsweyr zones (accessible via the Elsweyr Chapter or Dragonhold DLC) or in the Scalebreaker DLC dungeon "Lair of Maarselok." This includes the Dragons in the Sunspire Trial, too!
Help protect pets inside the game and out
Visit the #SlayDragonsSaveCats website to see the charity fund progress and donate directly yourself!
Earn New Rewards during In-game Events
Theis period also features a ton of fun in-game events, bringing new rewards for you and your fellow adventurers. Here's what's coming up from now until the end of the year:
Dragon Rise (10/3-10/13)—Explore the home of the Khajiit and complete the Northern Elsweyr Pathfinder Achievement to unlock new collectibles for all Elsweyr owners. Check your progress on the Dragon Rise website and find more info in the announcement article.
Witches Festival (10/24-11/3)—Tamriel's grim celebration returns with ghastly quests and spooky new rewards—boo!
Undaunted Celebration (11/14-11/17)—Take on ESO's challenging dungeons to receive reward boxes.
·Dawn of the Dragonguard (11/26-12/8)—Fell Dragons to earn bonus loot and earn double rewards from the Wrathstone DLC, Elsweyr Chapter, Scalebreaker DLC, and Dragonhold DLC.
New Life Festival (12/19-1/1/2020)—Celebrate the end of another great year and the beginning of the new one with fun quests and mud balls. Lots of mud balls.
Each event brings both new and returning rewards, including collectibles such as pets, costumes, styles, and furnishings. During each event, you can also earn Event Tickets, allowing you to purchase the Indrik Feathers and Berries you'll need to acquire the exclusive Pure-Snow Indrik!
Unlock this magnificent new Indrik mount
Even better, each time you acquire Indrik Feathers or Berries with Event Tickets earned via in-game activities (as in, not the ones you can purchase from the Crown Store), you'll get one bonus entry to the Season of the Dragon Sweepstakes (more on that below), up to a maximum of 10!
Finally, don't forget that slaying Dragons helps increase the donation tally on the #SlayDragonsSaveCats website, making the Dragon Rise and Dawn of the Dragonguard events the perfect opportunities to support the cause!
Enter the Sweepstakes
In addition to the charity support and events, you can also win in-game and real-world prizes with our Season of the Dragon Sweepstakes. We're giving away of ton of amazing loot this year, including ESO merchandise such as the Horn of Ja'darri drinking horn and in-game rewards such as pets, mounts, or Crown Packs.
We'll have multiple prize drawings throughout the next few months, culminating in a final draw for the grand prize: a wall-mounted Kaalgrontiid Dragon Head Trophy! The ultra-talented team at Volpin Props will craft this amazing real-world furnishing for the grand prize winner, forever celebrating their ultimate victory over the Dragons in Elsweyr.
There's tons of in-game items to win and unlock!
To enter the Sweepstakes and find a complete list of prizes, visit the official #SlayDragonSaveCats website. You can also check out the official rules. As mentioned above, you can earn up to 10 bonus entries by trading Indrik Feathers and Indrik Berries for Event Tickets, so don't miss out on your chance to win one of the hundreds of amazing prizes!
Share Your Stories
During the #SlayDragonsSaveCats promotion, we want to hear and share your tales of adventure and personal stories of pet welfare. Have you taken up arms and spells to slay a mighty Dragon solo? Do you have a beloved rescue pet? Do you yourself work with or for animals in need? We'd love to share those experiences with the rest of the ESO community via Twitter, Instagram, or Facebook, so don't hesitate to send them our way using the #SlayDragonsSaveCats hashtag.
Finally, we'll be running a ton of unique real-world events and livestreams during the promotion all over the globe to support the cause. If you'd like to join in on the fun, keep an eye out on our social channels for future announcements!
Slay Dragons for a Cause
During the #SlayDragonsSaveCats promotion, you can help the Khaiiti people rid their homeland of the Dragon menace while also supporting pets in need in real life! Do your part for this great cause and help raise up to $200,000 for Best Friends Animal Society and FOUR PAWS. Remember, there's also five amazing in-game events to take part in and a massive Sweepstakes competition to enter, too. Phew!
Are you going to take part in ESO's end-of-year fun? Let us know via @TESOnline, Instagram, or Facebook, and don't forget to use the #SlayDragonsSaveCats hashtag!