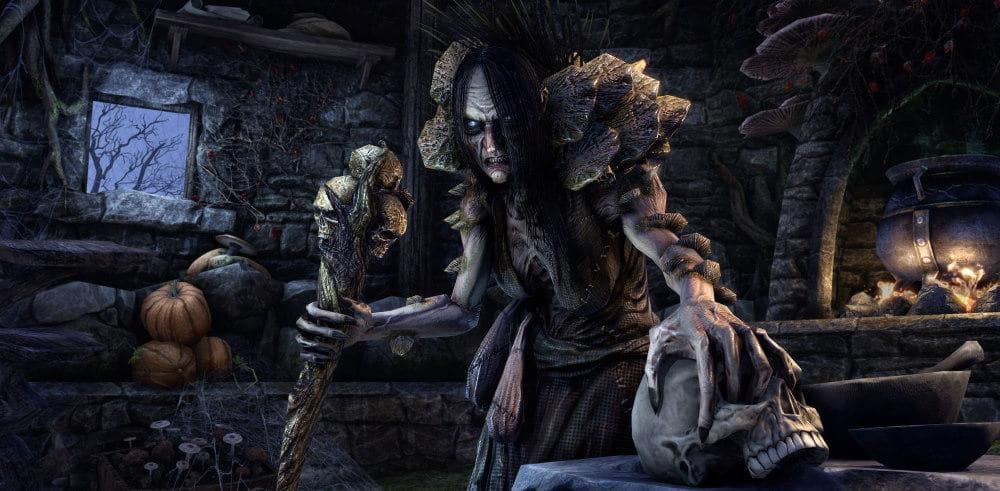 Boo! Battle Tamriel's monsters, get double XP, and earn creepy new rewards during the Witches Festival in-game event! Learn everything you need to know about the frightening fete here.
The Witches Festival Returns
Update: The Witches Festival has been extended and will now continue until Monday, November 11 at 10:00AM EST.
Tamriel's Witches Festival returns from Thursday, October 24 at 10:00AM EDT, and runs until Monday, November 11 at 10:00AM EST. During this chilling celebration, you can enjoy a 100% XP boost, receive creepy collectibles, and acquire Event Tickets!
To take part in this scary soiree:
Navigate to the Holiday section of the Crown Store and acquire the free quest.
Complete the quest "The Witchmother's Bargain" to receive the Witchmother's Whistle memento.
If you completed the quest in previous events, you don't need to acquire the Crow Caller or complete the quest again, and you can use the whistle already found in your Collections menu.
Use the whistle to summon the "Witchmother's Cauldron," which grants you and your party a two-hour 100% XP buff that stacks with all other XP bonuses.
Use the Witchmother's Cauldron to transform your character into one of the undead. Spoopy!
Note that you do not have to use the Witchmother's Cauldron to gain the XP buff, just the whistle. The Cauldron cannot be summoned in Cyrodiil.
Earn Horrifying Honors
During this freaky festival, you can earn some frightful Witches Festival-themed items, collectibles, and more, simply by defeating boss monsters and looting Plunder Skulls.
When you tear open a Plunder Skull, you have a chance to snatch up some of these items:
NEW pieces of the Skeleton Marionette memento

Combine all 10 pieces to craft this collectible

Hollowjack Motif pages or books
Pieces of the Apple-Bobbing Cauldron memento

Combine all seven pieces to craft this collectible

A Runebox containing a Witches Festival-themed mask
Witches Festival-themed recipes, including furniture and furniture recipes
Bewitching Alchemy reagents and style materials
…and an assortment of creepy and items!
Witches Festival goodies!
In addition to this, the first time you defeat each different type of boss each day (detailed below) you'll receive a Dremora Plunder Skull. This special reward contains the same kind of items in the regular Skulls, but also features a Dremora Motif style page. However, that's not all! Dremora Plunder Skulls also have a chance to contain the following new items:
NEW Glenmoril Armor Outfit Style page
NEW Glenmoril Treasure map

Use the map to find Glenmoril Weapon Style pages scattered all over Tamriel

NEW Witches Festival Writ

Complete these writs to unlock an Achievement that'll earn you a new Witch hat collectible AND the "Witch" title!
The Glenmoril armor style
Just like last year, depending on the type of boss you slay, you'll receive one of two different Dremora Motif pages:
Final Arena Bosses drop Dremora Motif pages for Bows and Legs
Dark Anchor, Geyser Bosses, and zone Dragons drop Dremora Motif pages for Daggers and Gloves
Delve Bosses drop Dremora Motif pages for Staves and Belts
Final Dungeon Bosses drop Dremora Motif pages for Helmets and Maces
Public Dungeon and Quest Bosses drop Dremora Motif pages for Shields and Boots
Final Trial Bosses drop Dremora Motif pages for Swords and Chests
World Bosses drop Dremora Motif pages for Shoulders and Axes
Finally, as part of the #SlayDragonsSaveCats campaign, we're continuing to donate $1 to animal welfare charities for every five Dragons slain. Check out our announcement article for the details.
Acquire Event Tickets
During the Witches Festival, the first time a boss drops a Dremora Plunder Skull each day, it'll also drop two Event Tickets. Don't forget to loot it! This event will be your first opportunity to collect the berries needed to evolve your Nascent Indrik into the stunning Pure-Snow Indrik mount.
The Pure-Snow Indrik mount
During the event, the Impresario will stock the following goods:
Snow Berries of Bloom
All four Indrik Feathers
Glenmoril Weapon Outfit Style pages
Glenmoril Armor Outfit Style pages
Skeleton Marionette memento
Apple Bobbing memento
Witches Festival Writ, Wrapped
Note that all of the above items, when purchased from the Impresario, are bind-on-pickup and non-tradable. The Impresario is located in Daggerfall, Davon's Watch, and Vulkhel Guard.
Don't forget, every time you spend Event Tickets you've earned by doing in-game events (and not purchased directly from the Crown Store) on Feathers or Berries, you'll earn bonus entries into the Season of the Dragon Sweepstakes, up to a maximum of 10! Check out the #SlayDragonsSaveCats page for more information on the Sweepstakes and its prizes, plus view the official rules here.
If you have yet to sign up for the Sweeps, there's still time and tons of prizes to win!
Spooky Crown Store Deals
This freaky festival also features some returning and new items in the in-game Crown Store. This includes the return of the Reaper's Harvest and Hollowjack Crown Crates, the Hollowjack and Witches' Coven furnishing packs, houses, polymorphs, and some truly terrifying new items:
The Kynbound Senche-Panther mount & Witch's Infernal Familiar pet! Aahh!
All of the above items are available for a limited time only, so be sure to check out the latest Showcase article to see when they can be picked up. Don't miss out!
A Ghoulish Gala!
The Elder Scrolls Online has no small amount of monsters, ghouls, and ghosts, but you can earn double XP and bonus rewards for hunting all the things that go bump in the night during the Witches Festival event. Are you ready to take the fright to Tamriel's most dangerous fiends? Let us know on Twitter @TESOnline, Instagram, or Facebook.
The grim spectacle of the Witches Festival returns from Thursday, October 24 at 10:00AM EDT, and runs until Monday, November 11 at 10:00AM EST.