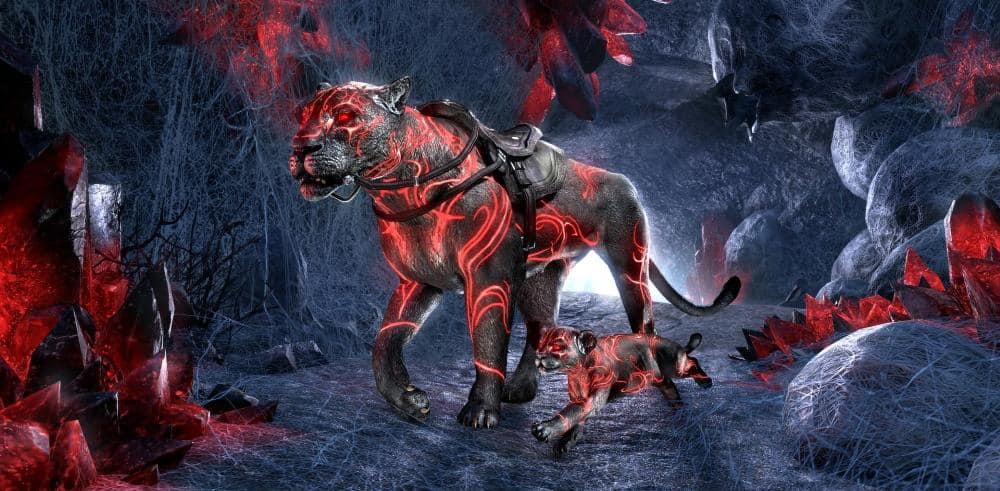 Twitch Drops are now available for Xbox One and PlayStation®4 users. Check out this article to learn about how you can set up your console ESO account and start earning rewards!
Get Drops on Console
If you play The Elder Scrolls Online on Xbox One or PlayStation®4, you can now link your ESO account to your Twitch account, allowing you to receive drops when watching drops-enabled ESO streams.
To link your account:
Log into your ESO account at https://account.elderscrollsonline.com.

Note that if you don't know your account info, you can reset your email and activate your account via the additional in-game steps below.

Click the Linked Accounts link on the left side of the page.
Click the Link Twitch Account button.
A Twitch window will appear.

If you are logged into your Twitch account already, you'll be asked to authorize Elder Scrolls Online-Live to use your Twitch account.
If you are not logged into your Twitch account, you'll be prompted to log in.

Click Authorize to link your ESO account to your Twitch account.
Now, when watching a drops-enabled ESO stream, you can earn drops that include Ouroboros Crown Crates, containing a random selection of in-game consumables such as Crown Poisons, Mimic Stones, Riding Lessons, or Experience Scrolls. They also have an extremely rare chance to contain an exclusive Senche of Scarlet Regret mount or Senche Cub of Scarlet Regret pet.
The Senche of Scarlet Regret mount and Senche Cub of Scarlet Regret pet
Note that if you initially created your ESO account on console with an erroneous email address and can't log in to your ESO account on the official website, you can now change your email address and begin the activation process from within the game.
To change your email address in game:
Log in to The Elder Scrolls Online and select a character.
Navigate to the Options menu.
Select Account.
Select Change Email.
Enter a valid email address and save.
Check your new email inbox for the activation email and activate the account.
Change your email from the Account menu
Once complete, you can go ahead and link your ESO account to Twitch as detailed above!
Watch ESO on Twitch!
Once you've confirmed your email and linked your Twitch and ESO accounts, you can receive drops from enabled Twitch streams! To see who is currently streaming ESO and discover when the next Twitch Drops campaign begins, visit our new Streamers page.
On this page, you can check out all of the ESO Stream Teams livestreams and view the Twitch Drops calendar, helping you plan out who to watch and when!
That's it! With Twitch Drops now enabled for all ESO players, regardless of platform, there's never been a better time to join the ever-growing community of ESO players on Twitch. Are you excited to earn new rewards simply by watching the #ESOFam play on Twitch? Let us know via Twitter @TESOnline, Instagram, or Facebook.