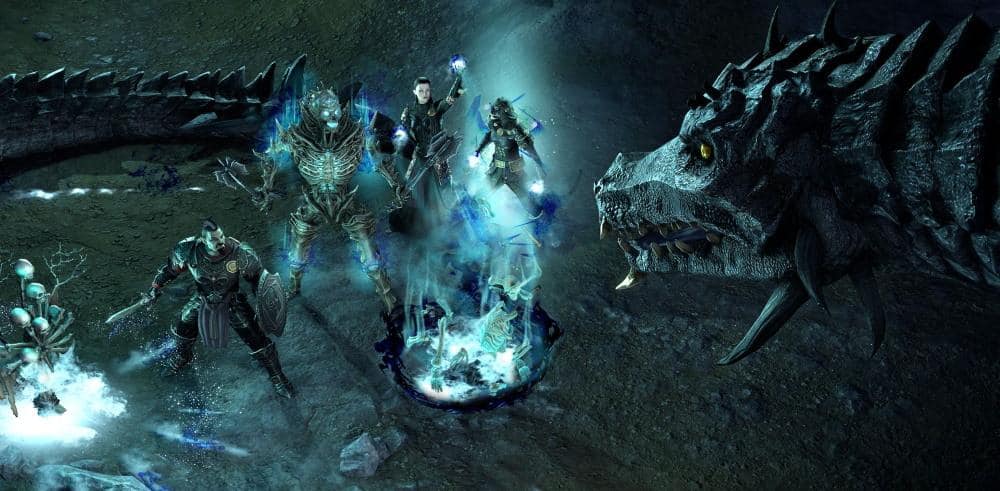 As we near the conclusion of our #SlayDragonsSaveCats charity promotion, we're doing one final push to help Best Friends Animal Society and FOUR PAWS!
Starting today and until December 8, we're running a week-long livestreaming event to support our two amazing charities, and there's still time for all interested ESO streamers to join the campaign! The more donations each campaign receives, the more you can win.
When each campaign reaches $1,000 in donations, we'll give away five Legendary Dragon Wolf pets to random donators.
When each campaign reaches $2,500 in donations, we'll give away five Legendary Dragon Horse mounts to five random donators.
When both campaigns reach $5,000, ESO's Creative Director Rich Lambert has committed to dyeing his hair whatever color you choose! Yikes!
When each campaign reaches $7,500 in donations, we'll give away three Wrathstone tablets to three random donators.
And when each campaign hits its goal of $10,000, one lucky donator will receive a Gaming Heads Breton statue!
The ESO team will also be streaming from www.twitch.tv/Bethesda on Wednesday, December 4 from 3:00-7:00PM EST and joining everyone in game to slay as many Dragons as we can.
Update: The #SlayDragonsSaveCats charity livestream will now be held Thursday, December 5 from 3:00-7:00PM EST on www.twitch.tv/Bethesda.

We'll also be doing lots of giveaways and entertaining incentives to torture our hosts (in a fun way!).
For every $25 donation, one host will suffer through a Bean Boozled jellybean.
For each $50 donation, we'll place an embarrassing cat temporary tattoo on one of our hosts and write the donators name on an Elsweyr lithograph to hang at the studio.
And for each $75 donation received, we'll randomly choose one of many gameplay challenges that includes tasks such as playing one-handed, getting blindfolded, inverting our mouse settings, and more. Bask in our suffering!
If you're an ESO streamer and would like to still sign up to join one of our teams, you can join the Best Friends Animal Society campaign here, and the FOUR PAWS campaign here. From those links, you can also see which streamers have signed up, so you can choose whom you would like to support. Any participating streamer that raises at least $100 in donations will receive a free Legendary Dragon Wolf pet, and any streamer that raises at least $500 in donations will receive a signed Elsweyr lithograph!
Finally, we'll also activate Twitch Drops for both the official ESO stream and for ALL ESO streamers throughout the entire campaign, so don't forget to link your accounts, even if you play on console!
We're looking forward to enjoying a fun week!