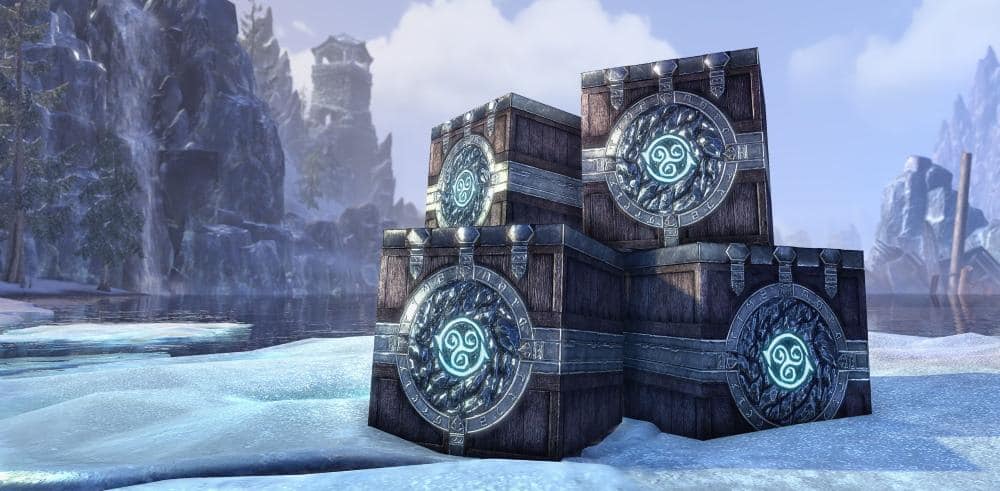 Get into the holiday spirit and gift Event Tickets to your friends and guildmates, and we'll give you four Frost Atronach Crown Crates, completely free!
Starting right now and running throughout the entirety of the New Life Festival (ending on January 2 at 10:00AM EST), if you gift Event Tickets from the in-game Crown Store, you will receive four free Frost Atronach Crown Crates in the new year!
Here's how it works:
From the Crown Store, gift five or more Event Tickets to anybody in game

You can find Event Tickets within the Events section
You can split the gifts between multiple recipients (all five don't have to go to one lucky player)

Once the New Life Festival is over, we'll send you four Frost Atronach Crown Crates

Crown Crate delivery date is TBD, but it will occur by the end of January 2020
That's it! Don't forget, you can store up to 12 Event Tickets at a time, so you may need to spend some before you can claim Event Tickets that have been gifted to you!
With Event Tickets, you can acquire many different items from the in-game Impresario event merchant. For a complete listing of what she has available during the New Life Festival, check out our announcement article. Spoiler: It includes every set of berries you could earn this year!
Within the Frost Atronach Crown Crates, you will discover a cool collection of items including unique and returning mounts, pets, costumes, and much more.
You can find these items and more in Frost Atronach Crown Crates
New Life is the time to spread holiday cheer and goodwill—so what better way to get into the spirit of the season than to give and to receive? Let us know if you'll be taking advantage of this limited-time offer via Twitter @TESOnline, Instagram, and Facebook!