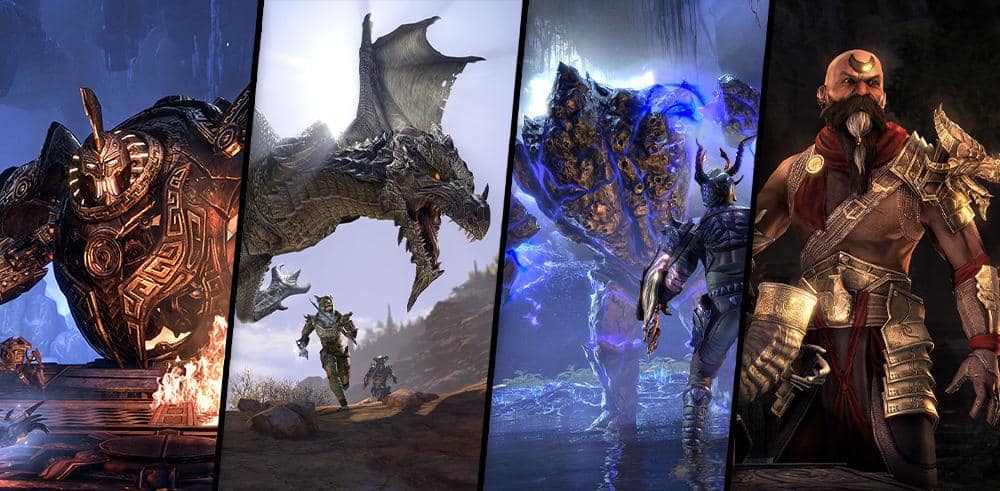 Read a letter on ESO's big 2019 from Creative Director Rich Lambert.
As 2019 comes to a close, it's hard to believe the end of the year is already here. It's been a crazy busy time for the team, and it's been one of the biggest, most challenging years for The Elder Scrolls Online too. I want to start this off with a massive thank you to the team at ZOS for all their hard work in 2019. Every year, a lot is asked of the team, but they always find a way to deliver. Four major releases over the course of 2019 is mind-boggling, and it's something that no other studios do. Thank you for everything!
As it was our five-year anniversary, we wanted 2019 to be big and memorable. It featured a massive year-long adventure that focused on the homeland of the Khajiit, Dragons, and the new Necromancer class. This was the first time we'd combined all of the year's releases (Wrathstone, Elsweyr, Scalebreaker, and Dragonhold) into a single, continuous narrative, and we're thrilled with all of the positive reactions to it.
Of course, this year was also filled with its fair share of challenges, too. We're still working to resolve some of the performance issues that have been plaguing you for too long. While we've made some strides in some areas, we've made some missteps as well. The performance roadmap we shared in July this year was a good step toward showing how committed we are to improving things. We'll continue to focus on performance in the coming year and will keep the roadmap updated monthly to ensure you are all in the loop.
One thing that has remained consistent and unwavering over all these years is our community. Your support for us has been amazing, and this year is yet another example of how great and determined our community really is. Back in January, we challenged you to show up in force for the Elsweyr announcement and get at least 90k viewers on the stream. If we hit that, I committed to getting my first-ever tattoo. It took all of three minutes to crush the viewer goal, which resulted in this:
Another great example of our community's passion was with the #SlayDragonsSaveCats charity campaign we recently wrapped up. In just under two and a half months, you all managed to slaughter over one million Dragons and raise thousands via charity streams, resulting in well over $220,000 donated for animal welfare. Unbelievable! It really is remarkable just what this community can do when it works together. Without your passion and dedication, we wouldn't be where we are today–thank you.
In 2020, we have lots of exciting things planned. We will be doing even more community events than we have previously, starting early January for our next Chapter announcement stream. That announcement will be hosted in Las Vegas with the community on January 16, and we plan to talk more about exactly what the "Dark Heart of Skyrim" means after the tease at The Game Awards. It's going to be a big event and fun stream, and we can't wait to see you all then!
-Rich