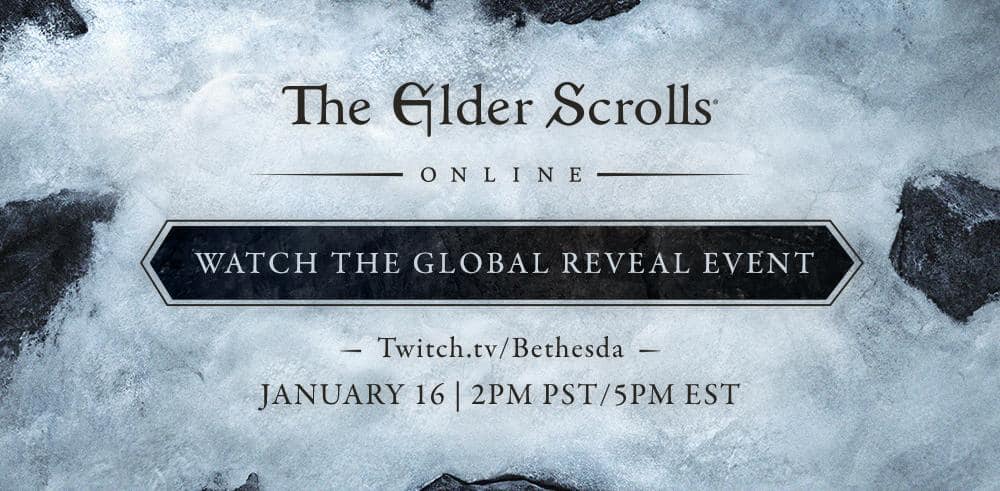 The next big Elder Scrolls Online adventure is right around the corner, and you can watch the spectacular Vegas announcement via Twitch.tv/Bethesda this Thursday, January 16.
The Global Reveal Event kicks off live from the HyperX Esports Arena Las Vegas on Thursday, January 16 at 2PM PST (5PM EST). If you're lucky enough to be attending the event in person (RSVPs are now closed), the doors will open earlier at 12PM PST.
During the show, ZeniMax Online Studio's Creative Director Rich Lambert and Bethesda Softwork's SVP of Global Marketing and Communications Pete Hines will take the stage and reveal your next big adventure in the world of Tamriel, including the upcoming Chapter and year-long saga.
Watching the stream? You and your fellow viewers can unlock exclusive rewards! In addition to Twitch Drops on Twitch.tv/Bethesda, you can unlock unique rewards that ALL ESO players can enjoy simply by tuning into the stream from various sources including Twitch, Mixer, Facebook, YouTube, VK, or Steam. As the show hits various concurrent viewer count milestones, the following rewards will unlock:
80,000 Concurrent Viewers: The Long-Winged Bat pet
150,000 Concurrent Viewers: A surprise reward inspired by community submissions
Stick around after the big announcement for the official post show, too, as Jessica Folsom and Gina Bruno from the ESO Community Team dive into more details from the big reveal with the following special guests:
Keep an eye out for special guest streams before and after the announcement from ESO community members, including a pre-show from SypherPK and livestreams from the event after the big announcement from Alcast, Ninja614, and KayPOWXD—there might even be some special dev interviews, too!
Finally, be sure to check out your local Bethesda or ESO social channels on the big day, as there will also be a host of unique streaming events and activities all across the world!
Whether you're attending in person or watching the show from home, you'll enjoy big-time reveals, excitement, and plenty of fun during our global reveal event, so be sure to tune in on Thursday, January 16 at 5PM EST, from your livestreaming platform of choice. We'll see you there!