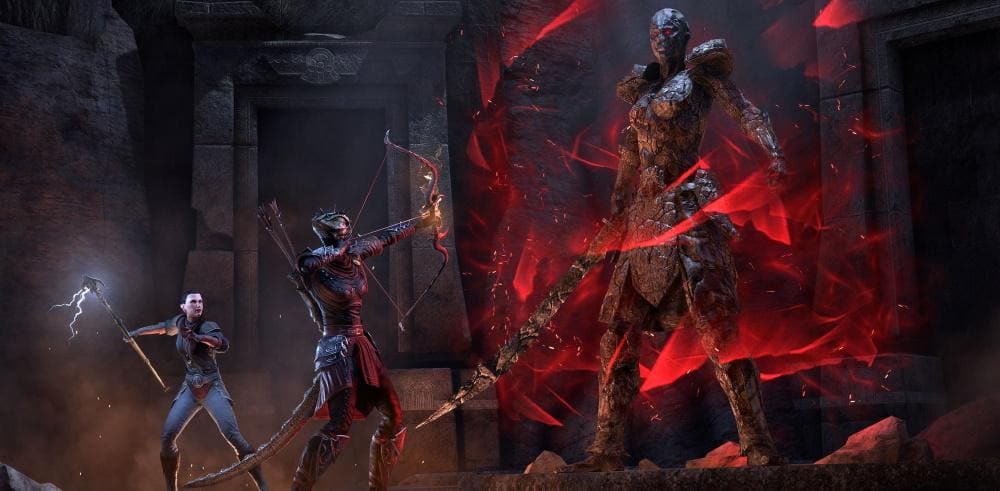 Tune in to ESO Live this Friday, March 13, as the community team recruits Dungeon Lead Mike Finnigan and Stream Team member GNARLY_NATE for a Harrowstorm dungeon run!
Kicking off this Friday at 6PM EDT, join Jessica Folsom and Gina Bruno from the ESO community team as they host ZOS' Dungeon Lead Mike Finnigan and special guest GNARLY_NATE for a Harrowstorm dungeon run of your choosing. You can tell us which dungeon you'd like to see the team tackle via this tweet.
Which dungeon do you want to see the team run on ESO Live this week? Vote now to choose

— The Elder Scrolls Online (@TESOnline) March 11, 2020
Will our brave adventurers explore the frigid home of the Icereach Coven? Or will they help the Pyre Watch expel invaders from the Unhallowed Grave? Vote now!
Throughout the show, there's sure to be tons of laughs, mostly unavoidable deaths, and kazoos (!?) in addition to giveaways and Twitch Drops (don't forget to link your accounts). This ESO Live begins Friday at 6:00PM EDT, March 13, on Twitch, YouTube, Mixer, and Steam. See you there!