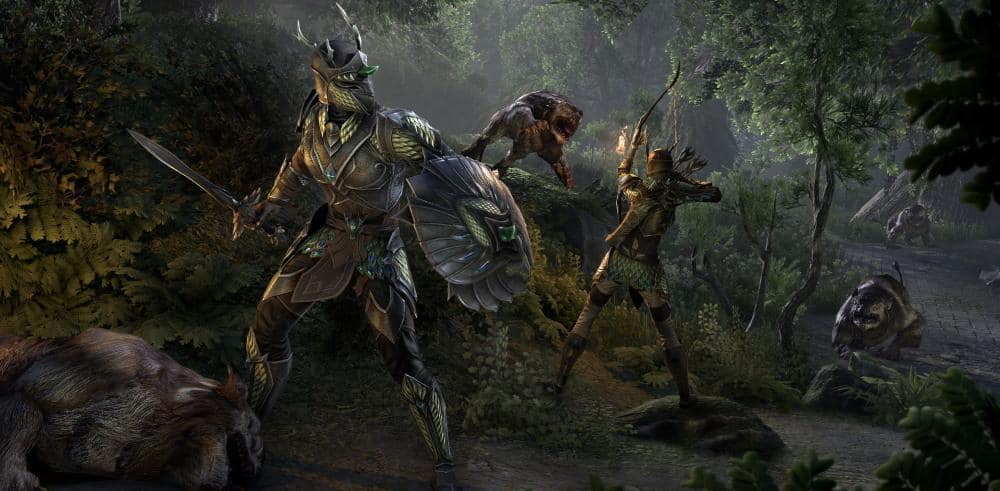 The Elder Scrolls Online is six years young, and that means you can enjoy bonus XP, special rewards, and cake during our Anniversary Jubilee event!
Happy Birthday to ESO!
ESO's six-year Anniversary Jubilee in-game event begins Thursday, April 2 at 10:00AM EDT, and runs until Tuesday, April 14 at 10:00AM EDT. To join the celebration, select the free Jubilee Cake Voucher quest starter from the Crown Store (listed under Quest Starters) to find the world-famous Chef Donolon.
Complete Chef Donolon's quest to receive the new Jubilee Cake 2020 memento, which you can use to summon the new dessert. Each time you eat a slice during the celebration, you'll enjoy a two-hour, 100% XP boost!
Eat cake and enjoy bonus XP!
Presents for All
During the event, complete any of the game's daily quests and you'll earn special Anniversary Jubilee Gift Boxes! These daily quests include but are not limited to:
Daily crafting writs
Daily Delve and World Boss quests
Daily Alliance War and Battlegrounds quests
Daily Dungeon and Trial quests
Daily Heist and Sacrament quests
Within the Jubilee Gift Boxes, you have a chance to acquire a ton of unique items, including:
Crafting Materials
Motif Pages for assorted crafting styles
Furniture Recipes
Outfit Style pages for one of the "Five Companions"
Worm Cult Motif pages
NEW Outfit Style pages for the Jephrine Paladin weapon or armor style
Transmutation Crystals
Become a protector of the wilds with the Jephrine style
Event Tickets & New Indrik
The first time you eat a slice of the Jubilee Cake 2020 each day of the event, in addition to the XP buff, you also receive three Event Tickets. Because there will be fewer events this quarter, you can also receive bonus tickets by defeating any boss in the game (Delve, World, Dungeon, etc.). You can earn two additional tickets per day from this method. This means you can earn a max of five tickets per day, for up to 65 tickets total if you play every day of the event. Don't forget, you have to loot your tickets and be credited for defeating the boss!
You can find the Impresario in Daggerfall in Glenumbra, Davon's Watch in Stonefalls, and Vulkhel Guard in Auridon, and she will have the following items in stock:
All four Indrik Feathers
Icebreath Berries of Bloom and Icebreath Berries of Budding

For an all-new Indrik evolution!

Jephrine Paladin Outfit Style pages
Group Repair Kits
Replica Jubilee Cake furnishings

Furnishing versions of all five anniversary cakes
Note: Each cake furnishing is available for purchase only if you earned their respective mementos during previous Anniversary events
The Anniversary Jubilee features this quarter's first two berries for the all-new, very cool Icebreath Indrik.
The tranquil Icebreath Indrik

For more on how Event Tickets and Indriks work, don't hesitate to check out our guide.
Eat Cake & Do Dailies
Celebrate ESO's sixth birthday with us with an amazing new cake and rewards. With dailies for almost every unique activity, how you earn your Jubilee Gift Boxes is completely up to you. Don't forget to grab a slice and enjoy that XP boost, too! Let us know how you'll be celebrating this new milestone via @TESOnline, Instagram, and Facebook.
ESO's six-year Anniversary Jubilee in-game event begins Thursday, April 2 at 10:00AM EDT, and runs until Tuesday, April 14 at 10:00AM EDT.