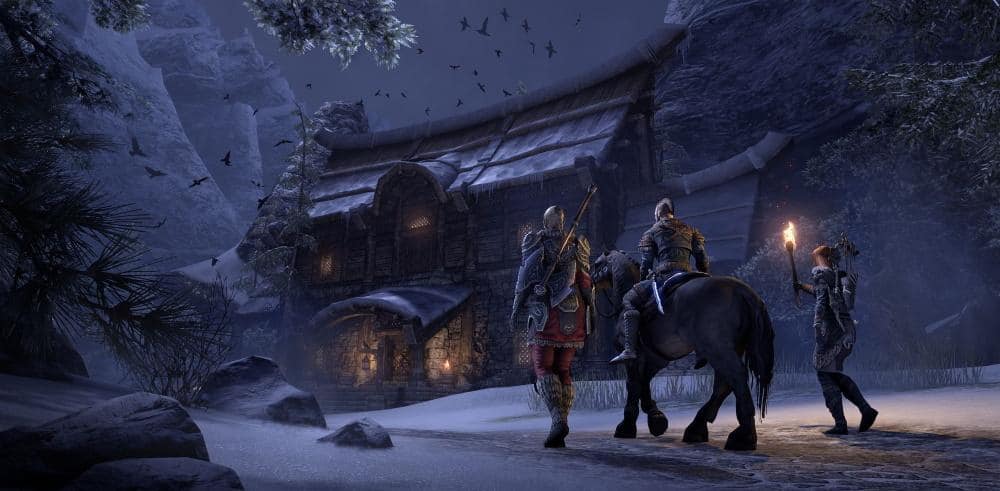 Explore the world beneath Skyrim with the Greymoor Prologue, now available free for all ESO players with The Elder Scrolls Online base game!

The Greymoor Prologue is now live for all platforms, giving all ESO players the opportunity to begin the Greymoor Chapter story and continue their Dark Heart of Skyrim year-long adventure.

To begin your Greymoor journey, use the free Quest Starter, titled "Prologue Quest: The Coven Conspiracy," from the in-game Crown Store. You must then travel to the Fighter's Guild in Daggerfall, Davon's Watch, or Vulkhel Guard (depending on your Alliance) and talk to Lyris Titanborn to accept the first of two quests, titled "The Coven Conspiracy."
Team up with the daughter of giants!
Over these two missions, you once again team up with Lyris to investigate an emerging threat targeting the leadership of Skyrim, including Skald-King Jorunn himself. This perilous journey takes you into the depths of Blackreach to confront the schemes of the nefarious Icereach Coven and progresses the Dark Heart of Skyrim storyline that will continue in the upcoming Greymoor Chapter.
Complete the Greymoor Prologue and you can earn unique collectibles as rewards, too, including the Chains of the Ice Witch memento and Windhelm Scale Tunic style page!
Skyrim's defenders should be wary of the Icereach Coven's curses
As a base-game experience, the Greymoor Prologue is free for all existing ESO players. This includes those playing during the ESO Free Play Event from Wednesday, April 1 at 10:00AM EDT, until Tuesday, April 14 at 10:00AM EDT. Note: Steam's Free Play Event will run from April 1 through April 6.
The Dark Heart of Skyrim storyline continues with the Greymoor Prologue and builds throughout the year! Are you excited to continue (or begin) your new year-long adventure? Let us know via @TESOnline, Instagram, and Facebook.