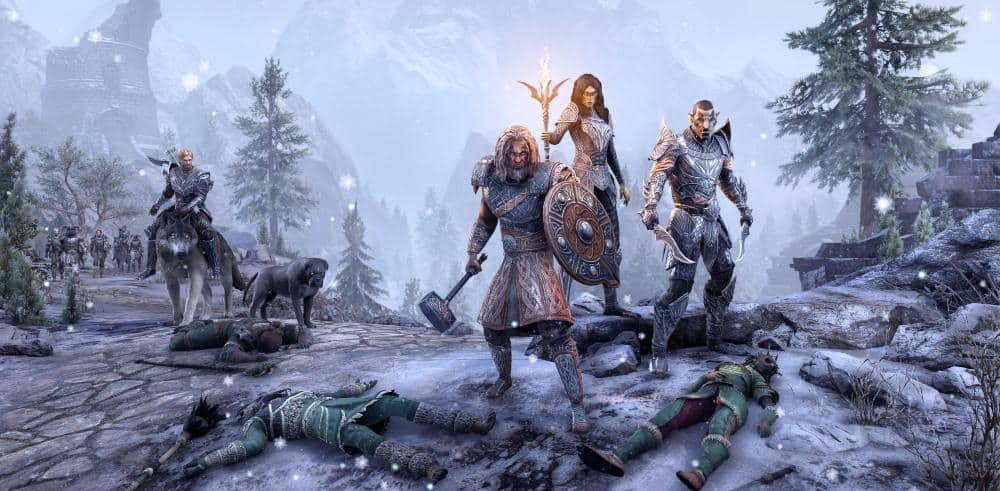 You can try The Elder Scrolls Online and save on the game and Crown Packs during our Free Play Event and April Sale!
Play For Free
The Elder Scrolls Online Free Play Event begins Wednesday, April 1 at 10AM EDT, and will run through Monday, April 13. Note: Steam's Free Play Event will run from April 1 through April 6. During this period, anybody on PC/Mac, Xbox One (Xbox Live Gold required), and PlayStation®4 can download and play The Elder Scrolls Online base game free and experience a whole world of adventure.
To participate in the Free Play Event, visit our Free Play page and select your platform. This event gives you access to the ESO base game, which includes four of the game's original classes, 23 massive unique zones, and an epic main storyline.
Because the Free Play Event includes access to the base game, you can descend into your Dark Heart of Skyrim adventure with the Greymoor Prologue. In addition to this, you can also take part in the Anniversary Jubilee in-game event, allowing you to earn double XP, gain bonus rewards, and eat cake to celebrate ESO's sixth birthday!
If you've already played ESO during a previous event, you can continue your adventures as normal. In addition to this, all new ESO accounts created will also receive 500 crowns to spend in the in-game Crown Store.
Explore Tamriel alone or with friends
That's a ton of great reasons to try out ESO during this new Free Play period, so head on over to our Free Play page now!
ESO & Elsweyr on Sale
If you want to continue your adventures in Tamriel beyond the Free Play event, you can pick up the game at a steep discount during our April Sale. Throughout the sale, you can save up to 60% on The Elder Scrolls Online Standard Edition and up to 70% on The Elder Scrolls Online: Elsweyr.
Discover the home of the Khajiit
The April Sale will run between different time periods, based on your platform:
Xbox One

Standard Edition—March 31 until April 15
Elsweyr Chapter—April 3 until April 15

PlayStation®4

Standard Edition—April 1 until April 15
Elsweyr Chapter—April 1 until April 15

PC/Mac

Standard Edition—March 31 until April 15
Elsweyr Chapter—March 31 until April 15
This is the biggest discount for the Elsweyr Chapter we've ever had, so be sure to visit our Buy Now page to make the most out of these deals.
Crown Packs on Sale, Too!
Finally, during the April Sale period, we're also putting Crown Packs on sale with the following discounts:
21,000—40% off
14,000—35% off
5,500—30% off
3,000—25% off
1,500—20% off
You can use crowns to grab many different types of items from the Crown Store, such as mounts, pets, costumes, consumables, Crown Crates, and more. These include starter bundles such as the Starter Pack, Adept, which includes three costumes, a mount, and a ton of goodies (pictured below). Even better, this bundle is on sale starting tomorrow, March 31!
There's a host of useful and fun items in the Crown Store
Check out what is currently available in the Crown Store on our website. These major savings are available only on the following dates:
Xbox One—April 1 until April 7
PlayStation®4—April 1 until April 15
PC/Mac—March 31 until April 6
April Bargains
During the Free Play Event and April Sale, you can explore Tamriel for the first time or pick up the game and Crown Packs at steep discounts. Whether you're a new, returning, or veteran player, there's something for you this April—don't miss out!