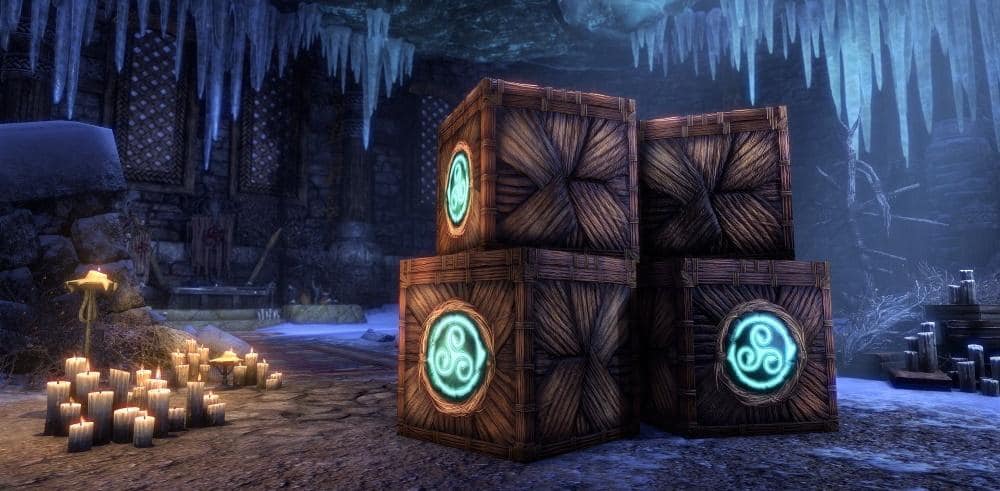 Gift Event Tickets during the ESO Anniversary Jubilee, and you'll receive four free Gloomspore Crown Crates!
Starting now and continuing until April 14 at 10:00AM EDT, when you gift Event Tickets from the in-game Crown Store, you'll receive four complimentary Gloomspore Crown Crates from us!
Here's what you need to do:
From the Crown Store, gift five or more Event Tickets to anybody in game

You can find Event Tickets within the Events section
You can split the gifts between multiple recipients (all five don't have to go to one player)

After Anniversary Jubilee, we'll send you four Gloomspore Crown Crates

Crown Crate delivery date is TBD, but it will occur by the end of May 2020
Easy! You can store up to 12 Event Tickets at a time, so if you have pending Event Tickets gifted to you, you might need to spend some before you can claim the new ones.
Event Tickets allow you to acquire many different items from the Impresario event merchant. For a list of what she has available during the Anniversary Jubilee, check out our announcement article.
Within Gloomspore Crown Crates, you will discover a dark collection of Blackreach-inspired items including unique and returning mounts, pets, costumes, and much more.
You can uncover these items and more in Gloomspore Crown Crates!
Celebrate ESO turning six during the Anniversary Jubilee in-game event by gifting your fellow players Event Tickets, and we'll give you four new Crown Crates! Let us know if you'll be making the most out of this new offer via Twitter @TESOnline, Instagram, and Facebook. Don't forget, this promotion will only last from now until the event's end on April 14 at 10:00AM EDT.