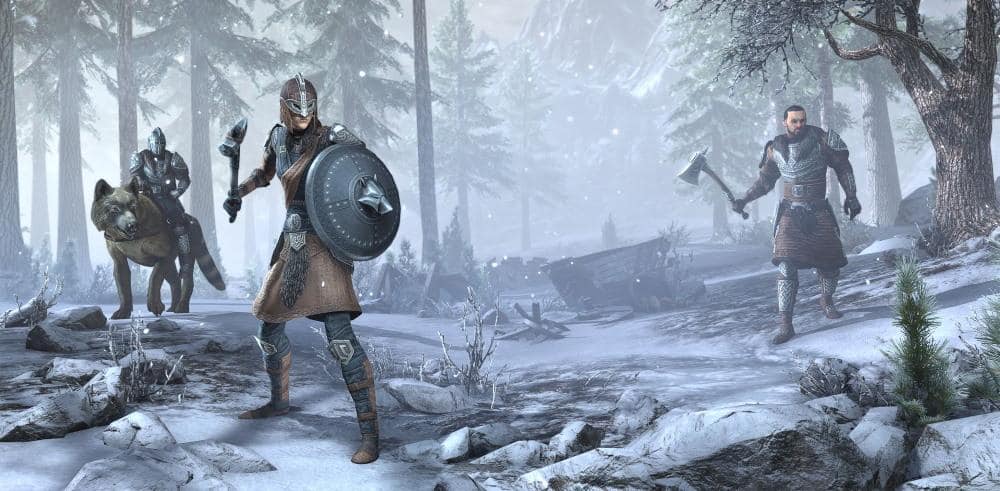 Adventure awaits within the mountainous region of Western Skyrim and the dark underworld of Blackreach. Preview some of the new locations and challenges arriving with the upcoming Greymoor Chapter!
Explore Two Realms
In The Elder Scrolls Online: Greymoor, you can explore the frozen regions of Western Skyrim and the subterranean darkness of Blackreach—combining for the largest playable space of any Chapter yet!
Western Skyrim features the holds of Haafingar, Hjaalmarch, and Karthald and locations such as the port-city of Solitude, Dragon Bridge, and the township of Morthal. Although mountainous, cold, and unwelcoming (never mind the Nords themselves), Western Skyrim is a place of great beauty thanks to its snow-capped peaks, lowland forests, and hearth-warmed homesteads. If you've previously played The Elder Scrolls V: Skyrim, much of this area and its locations might be familiar to you, with some notable differences you can discover for yourself.
Rediscover Solitude
In addition to Western Skyrim, Greymoor also allows you to venture into the underground realm of Blackreach. This vast subterranean complex contains many great treasures for would-be explorers to uncover, but also terrible dangers. Filled with giant stalagmites, bioluminescent mushrooms, Dwarven ruins, and cavern spaces both colossal and claustrophobic, Blackreach is as diverse and beautiful as the world above—just don't get lost!
Explore the wondrous and treacherous Blackreach
As you travel these two regions, you can experience amazing stories and challenges with a host of side quests, daily quests, roaming monsters, and world events. Great riches await those who delve into the zones of Greymoor, and as you explore, you'll find no shortage of treasure chests, skyshards, museum collectibles, and crafting stations (with three unique crafting sets).
Hunt Skyrim's Monsters
Skyrim is a wild, perilous place, and you can encounter many dangers within its borders. These include native beasts such as spriggans, giants, trolls, and bears, but can also include a host of monsters that stalk the world above from below. In Greymoor, you can battle six new World Bosses and explore six unique delves, so gear up and get ready to hunt colossal Sea Giants, battle deadly Vampire knights, venture into draugr-infested burial sites, and even explore dormant volcanoes!
Encounter beautiful and dangerous delves
Greymoor also features two public dungeons, and you can find large groups of monsters and even trickier bosses within the Nord barrow of Labyrinthian and the Dwarven ruins of Nchuthnkarst. While daunting at first, all of these challenges include powerful and unique rewards, including item sets and collectibles, and have their own set of associated Achievements, too. Skyrim needs heroes, and there's plenty of gold and glory to go around!
Break Deadly Rituals
For all its ancient beauty and perils, a new danger threatens the Nords of Western Skyrim, called harrowstorms. These giant supernatural confluxes now plague the region, draining the life from anything caught nearby. Similar to Dark Anchors or Abyssal Geysers, harrowstorms are group events for any number of players. In the Greymoor main story, you can discover the origin and purpose of these terrible storms. However, as you explore both Western Skyrim and Blackreach, you can run into these events live and must fight alongside your fellow players to shut them down.
Fight to destroy the harrowstorms
Of course, this is no easy task, and as you work to break the witch pikes that surround the nexus of the storm, supernatural beasts, harrowfiends, and worse assault you. Only once you have broken the pikes and destroyed all challengers can you finally stop the deadly ritual and reap your rewards: rare jewelry, crafting materials, and assorted riches.
Explore Skyrim's Dark Heart
When you discover the all-new regions of Western Skyrim and Blackreach, you can encounter two unique and varied realms filled with incredible stories, dangers, and treasures. Take note—these are just some of the experiences you can have in the Greymoor Chapter. We haven't even begun to talk about the new Trial, main story, or Antiquities system!
How you choose to explore these exciting new areas is completely up to you, but rest assured, there's no shortage of adventure both above and below the home of the Nords. Are you excited to explore the new zone arriving with the Greymoor Chapter? Let us know via @TESOnline, Instagram, and Facebook!
Part of the Dark Heart of Skyrim year-long adventure, The Elder Scrolls Online: Greymoor arrives May 18 for PC/Mac and June 2 for Xbox One and PlayStation®4.* Pre-purchase Greymoor now digitally to receive unique bonus rewards and gain immediate access to the Holdbreaker Warhorse in-game mount (digital only—conditions apply). Don't miss out!
*Release dates are currently being reevaluated. Keep an eye out for more information regarding Greymoor's launch in the future.