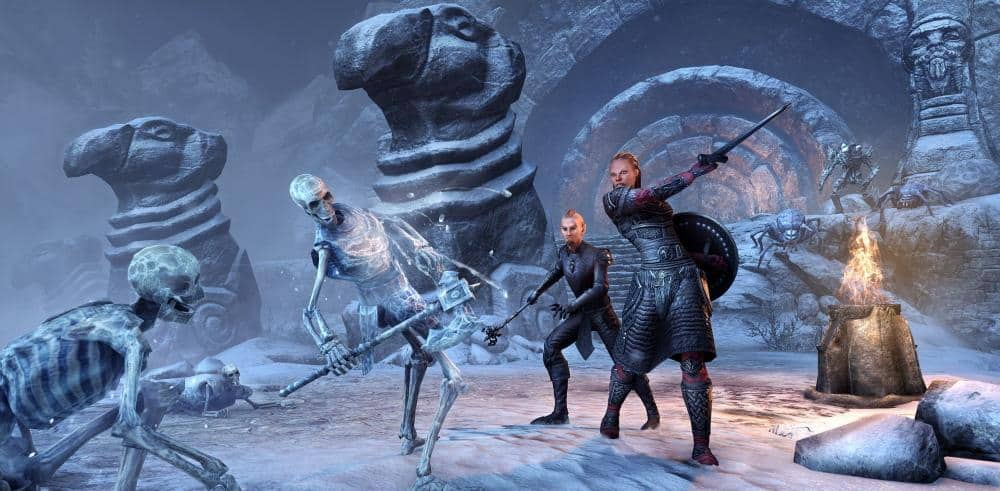 Learn everything you need to know about how to begin your adventure in the new Greymoor Chapter and how to access your pre-purchase and bonus items.
Arriving in Western Skyrim
Once you've acquired the Chapter (buy Greymoor here), you can travel to Western Skyrim in several ways.
Travel by Wayshrine
If you're exploring the new zone(s) with an existing character, the easiest way to get to the zone is to travel there using a Wayshrine. To do so, open your map, select the Western Skyrim zone, and then select the Solitude Docks Wayshrine icon (it should be the only one available).
Begin the Greymoor Main Quest
You can pick up the Greymoor main questline by navigating to your Collections UI, selecting Stories, and then Chapters. From that menu, you can select Greymoor, acquire the first quest titled "The Gathering Storm," and begin! The quest will point you toward the boat you need to take to Solitude. Note that if you're eager to begin Greymoor's main storyline, we highly recommend checking out the Greymoor Prologue first, now available for all ESO players.
Play the New Tutorial
You can also get to Western Skyrim by creating a new character and completing the new Chapter tutorial. Once complete, you will begin your adventures in the new zone.
Now that you're in Western Skyrim, you can travel to Solitude for the Chapter's main storyline, or explore as you wish. Don't forget, there are no level requirements to check out the new Chapter and zone, both new and veteran players alike can explore the home of the Nords!
Becoming an Antiquarian
If you'd like to join the scholars, historians, and archaeologists of the Antiquarian's Circle and start digging up Tamriel's hidden relics and treasures, here's how you can unlock the new Antiquities System:
Visit the Antiquarian's Circle within the city of Solitude in Western Skyrim (right next to the Bards College).

Check your map within Solitude to see the Antiqurian's Circle indicated with a unique icon.

Speak to Verita Numida to receive the Antiquarian's Eye tool, a tutorial quest, and leads.
Complete both quests available from Verita.
Begin hunting down Antiquities!
Uncover hidden relics and knowledge with Antiquities
To get the most out of the new system, check out this official FAQ guide. Happy hunting!
Journeying to Blackreach
If you're most interested in exploring the subterranean world of Blackreach, you can begin your journey into this world beneath the world in a few ways.
Find a Dwarven Lift
Three Dwarven Lifts are scattered throughout the Western Skyrim zone, granting you access into the caverns beneath. You'll likely discover these for yourself as you explore, but if you are in a hurry to travel underground, we recommend scouting out the area south of the Solitude Docks.
Find the Cave Entrance
If you're taking on the zone's main questline, you'll discover a cave entrance to Blackreach early in the storyline. While the quest takes you to this location, it is possible to find and use this entrance before that point in the story if you keep an eye out, too!
Explore a subterranean world beneath the world
Once you discover Blackreach, you'll unlock at least one Wayshrine, so you can get in and out of the subterranean realm with ease. Simply open up your Western Skyrim map and click on the rune in the upper right-hand corner to reveal the map of Blackreach: Greymoor Caverns, including all Wayshrines, Interesting Locations, and other points of interest you may have discovered.
Accessing Pre-Purchase and Bonus Items
If you pre-purchased Greymoor or the Greymoor Collector's Edition, at launch, the pre-purchase and Collector's Edition collectibles and Preview Crown Crate will be waiting for you in your Collections and Crown Crates menus, while the items will be found within your in-game mail. Open each mail and take the items to have them added to your Inventory. Here's where you can find your goods once you've acquired them:
Pre-Purchase Items
Note that anyone who purchases any digital version of the Chapter between June 9 and June 22 on PlayStation Store will automatically receive the "Gift with Purchase" rewards seen here. They shall receive these items the same way as everybody else.
Jarl Finery costume and Crown adornment

Found in your Collections menu under Appearance and then within Costumes and Major Adornments.

Sacrificial Pocket Mammoth pet

Found in your Collections menu under Non-Combat Pets.

Nightfall Preview Crown Crate

Found in your Crown Crates menu.

Western Skyrim Treasure Maps

Found in your character's Inventory (once you take it from your mail).

XP Scrolls

Found in your character's Inventory (once you take it from your mail).

Holdbreaker Warhorse

Found in your Collections menu under Mounts (the first time you log into the game after pre-purchase).
The digital pre-purchase items
Collector's Edition Items
Death Hound pet

Found in your Collections menu under Pets.

Orb of Magnus memento

Found in your Collections menu under Mementos.

Crypt Warden Death Hound mount

Found in your Collections menu under Mounts.

Swordthane Outfit Style

Found in your Collections menu under the Outfit Styles tab. You must use an Outfit Station to apply this style.

Skyrim Emote Pack

Found in your Collections menu under Emotes.
The digital Collector's Edition items
Greymoor Awaits
A world of adventure awaits those brave adventurers preparing to delve into Skyrim's dark heart with the Greymoor Chapter. What do you plan to do first when you arrive upon the Solitude docks? Which pre-purchase or Collector's Edition item do you like the most? Let us know via @TESOnline, Instagram, or Facebook.
Part of the Dark Heart of Skyrim year-long adventure, The Elder Scrolls Online: Greymoor arrives May 26 for PC/Mac and June 9 for Xbox One and PlayStation®4. Pre-purchase Greymoor now digitally to receive unique bonus rewards and gain immediate access to the Holdbreaker Warhorse in-game mount (digital only—conditions apply). Don't miss out!