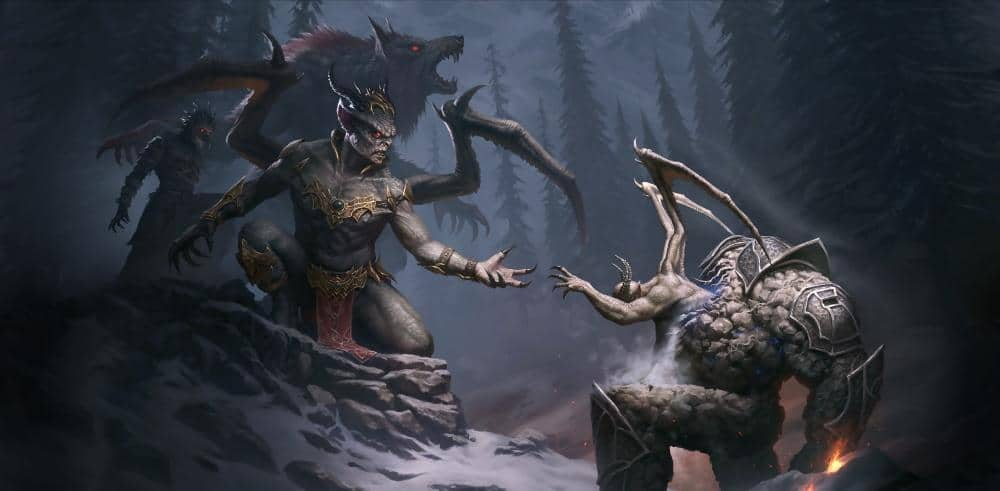 Discover Skyrim's dark heart in The Elder Scrolls Online: Greymoor, the next Chapter in the Elder Scrolls Online saga.
We are thrilled to announce that The Elder Scrolls Online: Greymoor and Update 26 are both now live on PC/Mac, Xbox One, and PlayStation®4. Note that Greymoor and The Elder Scrolls Online will officially launch on Stadia on June 16*.
This new Chapter takes you once again to the home of the Nords and features a gothic tale of monsters and mortals.
Greymoor Chapter
An ancient evil rises from beneath Western Skyrim, and monsters prey upon the local Nords, bringing ruin and horror to all they touch. Greymoor features a grim main storyline of a kingdom under siege from a supernatural threat, but it is also part of a larger adventure, called the Dark Heart of Skyrim, that began with the Harrowstorm DLC in February and continues throughout 2020.
In the Greymoor Chapter, you can discover:
Two new zones to explore: Western Skyrim & Blackreach
A gothic main storyline featuring an ancient supernatural threat
A new system: Antiquities
A new 12-player Trial: Kyne's Aegis
A huge selection of side quests, stories, and characters
New item sets, collectibles, and Achievements
Two New Zones
Greymoor allows you to explore the zones of Western Skyrim and Blackreach: Greymoor Caverns. Any true follower of Kyne will recognize the snow-capped mountains and rocky crags of Western Skyrim, and now for the first time in The Elder Scrolls Online, you can visit the city of Solitude and its surrounding holds, almost 1,000 years before the events of The Elder Scrolls V: Skyrim.
Discover Solitude nearly 1,000 years before TES:V
In addition to Western Skyrim, you can journey into the subterranean world of Blackreach. Filled with treasures and mystery, Blackreach is a colorful biome with its own unique form of life—and its own dangers!
A Gothic Storyline
In The Elder Scrolls Online: Greymoor's main storyline, you must investigate a rising darkness that plagues the Nords of Western Skyrim. Isolated and wary of strangers—even other Nords—the people of Western Skyrim face monsters emerging from its darkest reaches, as an army of vampires, werewolves, and witches attack from a hidden holdfast and conduct horrifying, life-draining rituals.
As part of the Dark Heart of Skyrim, the events of the Greymoor Chapter are an important part of this year-long adventure—while also being a strong standalone story in its own right!
A New Antiquities System
You can explore all of Tamriel and dig up its hidden relics and histories with the new Antiquities system, an in-game activity that promises great rewards for Tamriel's would-be archaeologists, historians, and treasure hunters. This system introduces two minigames: scrying, where you discern the location of dig sites, and excavation, where you unearth the relics!
With its two Skill Lines and a host of rewards (including collectibles, treasures, and long-forgotten lore), Antiquities provides a completely new way to experience Tamriel.
A New Trial: Kyne's Aegis
A monstrous army of Giants, Half-Giants, and vampires has attacked the island bastion of Kyne's Aegis, and the Nord defenders have put out the call for aid. In this new 12-player Trial, you and your allies must battle your way through this malevolent force and confront the vampire lord at the heart of the invasion. New gear sets, collectibles, and glory awaits!
You can discover and read more about Greymoor on our official site.
Purchase Details & Requirements
The Elder Scrolls Online: Greymoor is available in multiple editions, including a Standard Edition, Collector's Edition, and Upgrade Edition (for those who already own the base game). Note that to run Greymoor on PC/Mac, your machine needs to meet the game's requirements here: PC, Mac.
In addition to the Greymoor Chapter itself, the Digital Collector's Edition and Digital Collector's Edition Upgrade includes a selection of unique in-game items, including a special mount, pet, style, and more!
The Digital Collector's Edition items
For more information on Greymoor's editions, pre-purchase rewards, Collector's Edition items, and more, check out this article for everything you need to know.
Getting to Greymoor
Once you have acquired Greymoor, you can travel to the new zone(s) and begin your adventures in the following ways:
Travel by Wayshrine
If you're exploring with an existing character, the easiest way to reach the zone is to travel there using a Wayshrine. To do so, open your map, select the Western Skyrim zone, and then select the Solitude Docks Wayshrine icon (it should be the only one available).
Begin the Greymoor Main Quest
You can pick up the Greymoor main questline by navigating to your Collections UI, selecting Stories, and then Chapters. From that menu, you can select Greymoor, acquire the first quest titled "The Gathering Storm," and begin! The quest will point you toward the boat you need to take to Solitude.
Play the New Tutorial
You can also get to Western Skyrim by creating a new character and completing the new Chapter tutorial. Once complete, you begin your adventures in the new zone.
You can explore Western Skyrim and Blackreach with an existing character or a brand-new one—there are no level requirements for this zone or adventure. Check out this article for more information on getting started in the new Chapter, including how to access the new Antiquities system.
Update 26
In addition to the new Chapter, we have also released Update 26, a base-game patch that brings a host of features, fixes, improvements, and additions for all ESO players—no purchase needed!
Vampire Re-Vamp!
With Update 26, we've given one of Tamriel's most-feared monsters a much-needed rework, and now all Vampire players can make use of a redesigned Skill Line, new feeding animations, and a complete rework to how the beasts interact with the game's Justice System.
For everything you need to know about the Vampire re-vamp, check out this preview article.
Housing Precision Editing Mode
With the new precision editing mode we've added to ESO's Housing system, you can more easily ensure that furnishings in your home are exactly where you want them to be. This quality-of-life improvement takes away some of the hustle of making everything line up perfectly, including a "Straighten" keybind that snaps your furnishings to the nearest vertical right angle. With precision editing, you have everything you need to turn your house into your dream home!
Performance Improvements
This new base-game patch also continues the work we've been doing to improve the game's overall performance. This includes updates to help both server and client optimization and stability by focusing on non-combat pets, multi-threaded fixture creation, and animation set caching. For exactly what this means for you and your gameplay experience, review our monthly performance article for more information.
Russian Language Support
Finally, Update 26 also introduces Russian text language support, allowing you to enjoy Russian translations of all in-game texts, dialogue, and subtitles. Note that this addition is for the in-game text only, and does not include Russian voice-over work. You can read more about this new localization support in our announcement article.
Elsweyr and Necromancer Class Move to Crown Store
As of today, The Elder Scrolls Online: Elsweyr is no longer available in stores. Instead, Elsweyr (containing the Northern Elsweyr zone and story content) is available in the in-game Crown Store as a DLC item. This means that if you are an ESO Plus™ member, you'll now automatically have access to the Elsweyr Chapter zone and story!
In addition, the Necromancer class is now also available in the in-game Crown Store. You can find it within the Upgrades section, under the Class category.
For everything coming in Update 26, be sure to check out the Patch Notes section on our official forums.
Face Skyrim's Dark Heart
In The Elder Scrolls Online: Greymoor, an ancient evil rises from beneath, and a monstrous host preys on the people of Western Skyrim. It is time to return to the home of the Nords, discover the mystery within the subterranean world of Blackreach, and confront Skyrim's dark heart before it can threaten all of Tamriel. Skyrim needs heroes—will you answer the call? Let us know if you plan to explore this new Chapter via @TESOnline, Instagram, or Facebook.
Part of the Dark Heart of Skyrim year-long adventure, The Elder Scrolls Online: Greymoor is now live on PC/Mac, Xbox One, and PlayStation®4, and it arrives June 16 for Stadia*.

*AVAILABLE ONLY IN LIMITED TERRITORIES. VISIT https://support.google.com/stadia/answer/9566513 FOR MORE INFORMATION.