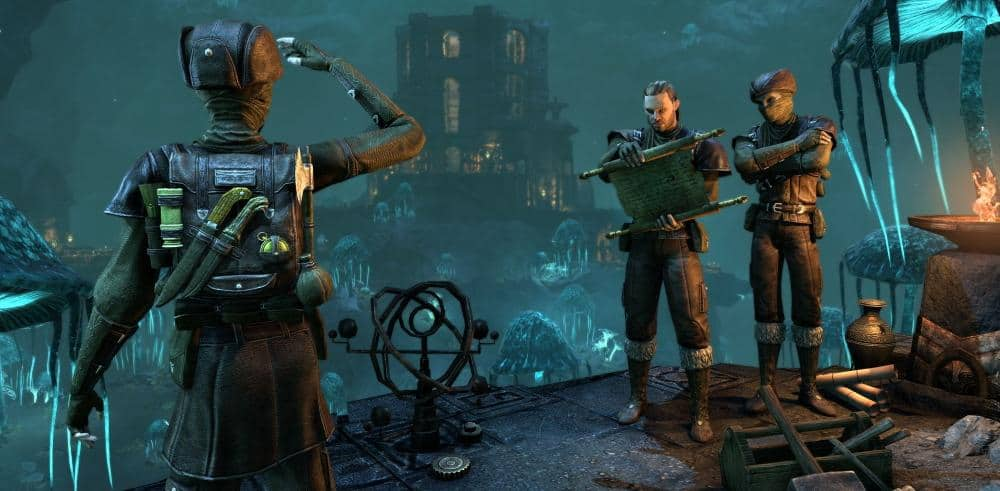 Discover Western Skyrim across different screens with The Elder Scrolls Online and the Greymoor Chapter on Stadia now!
Update: We are thrilled to announce that The Elder Scrolls Online is now live on Stadia*. If you'd like to explore Tamriel across multiple devices, visit the Stadia website and select the "Try now" button to begin (you'll be asked to log in to your new or existing Google account and complete a signup process). Even better, for a limited time, you can grab Stadia Pro as part of a free trial, giving you free access to The Elder Scrolls Online.
With Stadia Pro, you can access The Elder Scrolls Online base game free on the Stadia Store from any of your supported devices, but you can choose to buy access to the ESO base game or the new Greymoor Chapter from the store if preferred. Note that if you already play ESO and have a PC/Mac account, you only need access to the base game to continue your adventures—you'll retain access to any and all Chapters and DLCs you currently own, too.
Next, launch the game and either create a new ESO account or link to an existing one. You can do this directly from the game's main menu (simply follow the prompts), or by visiting the official site, logging in or creating a new ESO account, selecting "Linked Accounts" under Account Summary, and hitting the "Link Your Stadia Account" button. Once you've linked and verified your accounts, you're good to go—easy!
Stadia allows you to play ESO across supported devices on wired or Wi-Fi internet connections, and thanks to its PC crossplay and cross-progression support, you can continue your adventures and keep switching between (PC/Mac) platforms at will. We can't wait to see the ESO community exploring Tamriel with Stadia!
Original: As announced in our Greymoor launch article, starting June 16*, you'll be able to explore Western Skyrim and Tamriel across devices with Stadia, including your laptops, desktops, compatible phones and tablets, and even TVs with Chromecast Ultra. Wherever you have Wi-Fi or Ethernet, you can play!
Even better, with a Stadia Pro membership, you can get access to The Elder Scrolls Online Standard Edition completely free, allowing you to experience the base game's 23 zones, four classes, AND the Morrowind Chapter (with an additional zone and the Warden class) at no extra cost. Interested? You can try Stadia Pro free right now.
Thanks to Stadia's PC crossplay and cross-progression support, you can pick up and continue your adventures if you previously played ESO on PC/Mac or Steam, meaning you won't lose any progression and be able to access all your characters and continue playing with your friends and guildmates as normal on the PC NA or EU megaservers. You can even switch playing between all PC platforms (PC/Mac, Stadia, Steam) at will.
All of this arrives June 16*, so keep an eye out for more details on The Elder Scrolls Online and Stadia soon!
*Available only in select territories. Find out if Stadia is available in your region here.