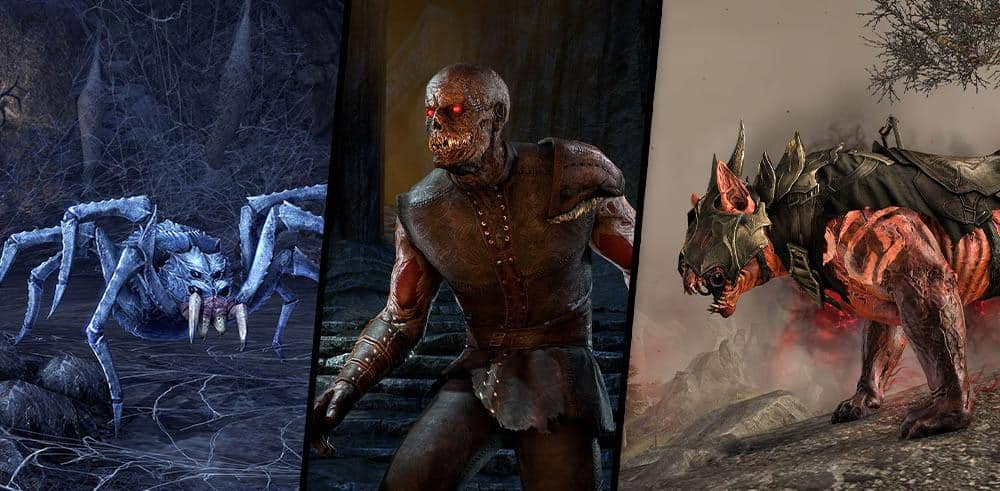 Prey on Tamriel with the sinister selection of items and consumables found within the upcoming Nightfall Crown Crates.
***
In the eternal night of Blackreach, the thirst for blood is rivaled only by the thirst for power. Within their gothic fortresses, vampires plot and conspire—seeking the ruin of meddlesome mortals and undead rivals alike. Through intrigue, murder, and worse, these dark sovereigns gather spoils beyond counting. Only the bravest (or most foolhardy) adventurers try to claim these treasures for themselves.
Do you dare gaze upon their blood-soaked plunder? Gather your courage and cunning. Nightfall draws near!
***
Nightfall Crown Crates arrive in the in-game Crown Store this Thursday, June 18. When you tear one of these new crates apart, you'll feast on a mouth-watering selection of Vampire- and monster-themed items, including stat-boosting consumables and a ton of new collectibles including mounts, pets, cosmetics, and more!
Here's a taste of some of the items you can claim when opening a Nightfall Crown Crate:
Accursed Death polymorph and Cursebound Bear mount
Frostbite Spider pet and Frosthaunt Glister skin
These vampiric vessels also have a chance to include one of these extremely rare mounts:
Cursebound Lichsteed and Cursebound Sabre Cat Prowler mounts
Cursebound Senche-raht Darkfang mount
Finally, as a nice change of pace, you can also extract some classic returning Crown Store collectibles, including:
Alabaster Jerboa pet and White Spotted Courser mount
For a complete list of everything available in Nightfall Crown Crates, check out this forum thread. Though the coming of the new Nightfall season means the old Gloomspore crates have to go, you can still pick them from the Crown Store right now—don't wait, you have only a day before they're gone!
Night Falls on Tamriel
Make all of Tamriel fear the dark with the terrifying items and collectibles found within the upcoming Nightfall Crown Crates. These new crates arrive in the Crown Store Thursday, June 18, and you'll need crowns to pick them up. Are you excited to unleash these new crown crate items? Let us know via @TESOnline, Instagram, and Facebook!