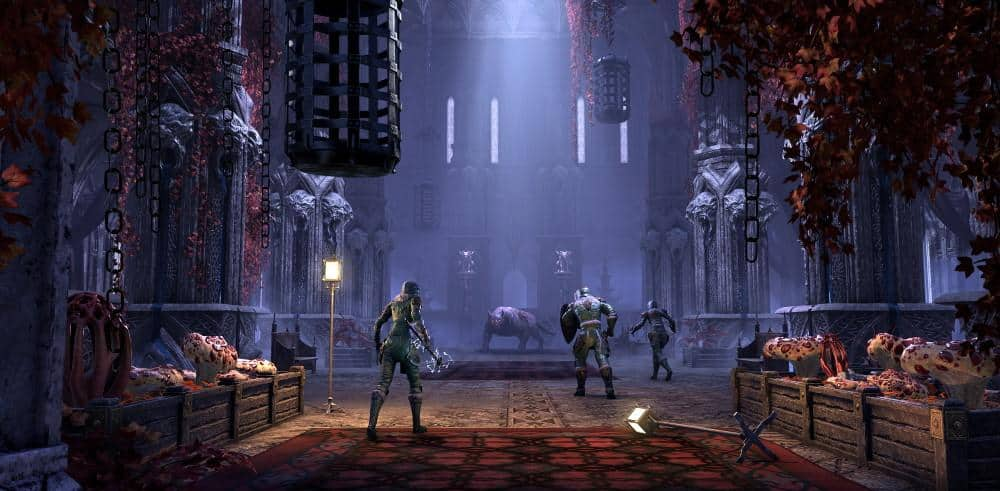 Experience more Dark Heart of Skyrim stories and challenge your team with two exciting new dungeons: Stone Garden and Castle Thorn, coming soon with the Stonethorn DLC and Update 27!
The Elder Scrolls Online: Stonethorn and Update 27 is coming soon for PC/Mac, Xbox One, PlayStation®4, and Stadia. This DLC dungeon pack and update brings all-new challenges, stories, and features, including:
Stone Garden group dungeon
Castle Thorn group dungeon
New item sets and collectibles
New Dark Heart of Skyrim storylines
Improvements to performance (Update 27)
Homestead Character Pathing for the Housing Editor (Update 27)
Various fixes and balance changes (Update 27)
Skyrim's Dark Heart Thunders
In the Stonethorn DLC, you and your team can explore two exciting new dungeons that build upon the tales from the earlier Harrowstorm DLC and Greymoor Chapter. Note that while these dungeons are part of a larger, grand narrative, you can jump in and enjoy their stories without having to complete any of the previous Dark Heart of Skyrim adventures. In fact, if you so wished, you could begin your year-long journey right now!
Face a vampiric army in Castle Thorn
A Vampire army rises from the fortified halls of Castle Thorn, led by the keep's master, the powerful Lady Thorn. Before this dread host can march on the people of Western Skyrim, you must assault the fortress, fight your way through this monstrous legion, and put a stop to their invasion!
What terrible works has the mad Alchemist Arkasis concocted from within his secret laboratory? The dark creations of the Stone Garden, found deep within the caverns of Blackreach, are like nothing you've ever faced before. You and your party must confront the evil genius and his horrifying experiments, lest new monsters rise from the depths!
Uncover the secrets of Stone Garden
These dungeons provide more exciting adventures for you and your party, filled with monstrous beasts and challenging boss battles to overcome, amazing new questlines to experience, and a huge selection of additional Achievements, item sets, and collectibles to earn.
Update 27
Launching with Stonethorn is the Update 27 base-game patch. This update brings game improvements, balance changes, and new features to all ESO players, completely free.
Performance Improvements
In Update 27, the team continues to work on in-game performance, and this patch brings improvements to the impact of certain item set abilities, fixes server task messaging, introduces a new critical memory management system, and more. These additions and updates will help game stability and reduce load times in addition to decreasing the number of memory crashes and performance drops.
Homestead Character Pathing
With the addition of Character Pathing to the Housing system, you can build paths for your abode's many residents (including pets, mounts, and assistants) to follow. You can specify many locations (nodes) for each path, and pick their walk speed, add delays, and even decide whether they loop through to their original location, ping-pong back and forth along the path, or travel between nodes at random. With this new addition, your homes will feel more alive than ever before!
Coming to PTS
Stonethorn and Update 27 are coming to the Public Test Server for PC/Mac players. If you'd like to check out this DLC and update before it all goes live, open your ESO launcher, navigate to your Settings menu, and select the Show Public Test Environment button. Once it is available, you can then download the PTS client and play. Keep an eye out for the PTS to open sometime next week!
Dark Dungeons
Expand upon your Dark Heart of Skyrim adventure with the upcoming Stonethorn DLC dungeon pack and you can experience two incredible new adventures that build upon and drive the epic narrative to its exciting conclusion later this year. Are you prepared to venture into the dark fortress of Castle Thorn or mysterious laboratory of Stone Garden? Let us know via @TESOnline, Instagram, or Facebook.
Part of the Dark Heart of Skyrim year-long adventure, the Stonethorn DLC game pack is coming soon for PC/Mac, Xbox One, PlayStation®4, and Stadia. This new DLC game pack arrives in tandem with Update 27, a free base-game update for all ESO players.