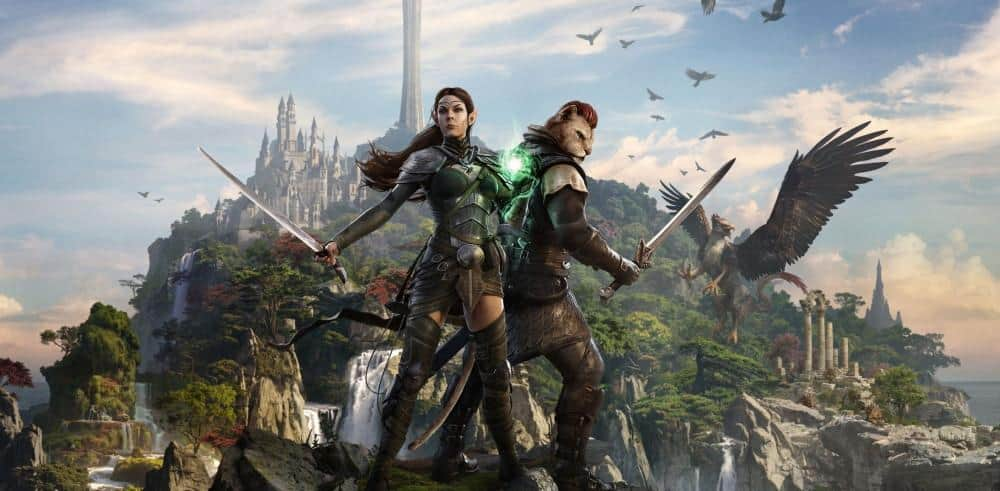 Experience the beauty and danger of the High Elf homeland during the Summerset Celebration event and you'll earn bonus rewards and collectibles.
Summerset's Bounty
The Summerset Celebration begins Thursday, July 23 at 10:00AM EDT and continues until Tuesday, August 4, at 10:00AM EDT. During the event period, you can earn bonus rewards and a new event-specific outfit style, simply by exploring and adventuring in Summerset and Artaeum!
As you venture throughout Summerset, you'll receive extra loot from all daily quest rewards, resource nodes, world, delve bosses, and Psijic Portals (only in Summerset!). Even better, the first time you complete an Abyssal Geyser, delve, world boss daily quest, or the Cloudrest trial weekly quest each day, you'll earn a Glorious Summerset Coffer in addition to your regular rewards.
These reward boxes can contain all kinds of valuable items, including set items, crafting materials, furnishing recipes, and pages of the brand-new Snowhawk Mage outfit style!
Even if you have already received and opened your daily Glorious Summerset Coffer, you can keep earning the more-common-but-still-stylish Summerset Coffers by continuing to take on the island's many threats. These additional boxes might not have quite the same volume of luxuries as their Glorious cousins, but they can be earned from even more activities, including via safeboxes, Psijic Portals, resource nodes, and more—AND you can continue to earn them all day. All the reason you need to keep exploring the isle of Summerset!*
Start Earning Your New Indrik
Indriks are native to the Summerset Isles, so no better event introduces an all-new evolution: the Mossheart Indrik! To acquire this mount, you need to have a Nascent Indrik and all four Mossheart berries. The first two berries are available from the Impresario during this event, and the rest will arrive in later to-be-announced events.
Begin your Mossheart Indrik berry collection
Of course, to acquire these new berries, you need Event Tickets. During the event period, you can acquire three as an additional reward for the first delve, world boss, Abyssal Geyser, or Cloudrest trial quest you complete each day—the same activities you were already doing for the event!
Here's a list of everything the Impresario will have in stock throughout the Summerset Celebration:
All four Indrik Feathers (to get a Nascent Indrik)
The first two Mossheart Berries of Bloom and Budding
Group repair kits
Summerset furnishings

Alinor Wall Mirror, Ornate
Alinor Archway, Tall
Alinor Monument, Marble
Painting of Summerset Coast, Refined
Alinor Pergola, Blue Wisteria Peaked
Display Case, Specimen
Psijic Lighting Globe, Small
Alinor Winerack, Polished
Display Case, Standing Arched
Alinor Desk, Mirrored

Snowhawk Mage outfit style pages (bound to your character on purchase)
Summerset on Sale!
If you don't own or have access to the zone, you can pick up the Summerset DLC from the in-game Crown Store at 50% off throughout the event. Don't forget, because it's a DLC, you also gain access to the zone if you have an ESO Plus™ membership.
That's not all you can get from the Crown Store during the event period, however, since you can also grab the Summerset Collector's Pack at 50% off, acquire returning Psijic Vault Crown Crates, and even snag the brand-new "Music Box, Enigmas of the Elder Way" furnishing for your home.
All of these deals, returning items, and brand-new goods are available only for a limited time, so don't miss out!
Save Summerset, Get Bonus Rewards
Explore the island home of the High Elves during the Summerset Celebration in-game event and you'll get bonus rewards from drops, daily quests, and more. Whether you're mer, man, or beast, there are plenty of reasons to hop on that ship to Shimmerene and explore one of Tamriel's most beautiful and mysterious locations. Are you excited to visit Summerset? Let us know via @TESOnline, Instagram, and Facebook.
The Summerset Celebration in-game event begins on Thursday, July 23 at 10:00AM EDT, and will end on Tuesday, August 4 at 10:00AM EDT.
*Y'know, aside from the island's pristine sandy beaches, majestic local wildlife, and dastardly Daedric conspiracies.