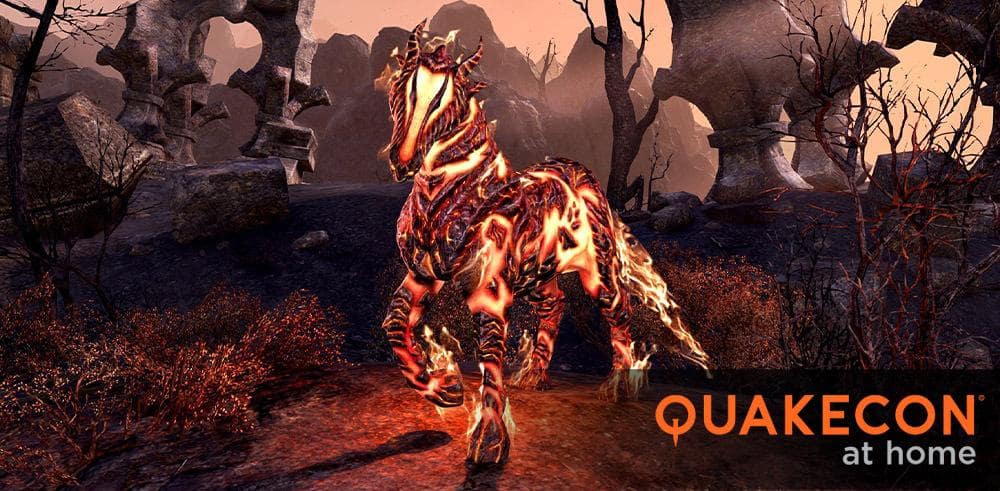 We've got livestreams, giveaways, Twitch Drops (including a free pet), and an exciting new Stonethorn trailer lined up for QuakeCon At Home. Here's everything you need to know about ESO's presence at this year's special three-day virtual event.
Welcome from Matt Firor
Studio Director Matt Firor takes part in the QuakeCon Digital Welcome and talks about the year so far, discusses the Dark Heart of Skyrim, and even shares a new Stonethorn gameplay trailer! The Digital Welcome (and QuakeCon itself) begins Friday, August 7 at 12:00PM EDT, on twitch.tv/Bethesda—don't miss it!
Giveaways & Twitch Drops
During the event, we're giving away a host of goodies, including Reliquaries, a Razer peripheral prize package, Steel Series mouse pads, and several digital goods during the streams and on social media (Instagram, Twitter), so keep an eye out for your chance to win.
Even better, watch any of the official ESO streams each day (listed below) and you will receive a QuakeCon Twitch Drop, which includes the Flame Atronach Pony pet and an Ouroboros Crown Crate. Make sure you link your ESO and Twitch accounts ahead of time to qualify.
While pretty, we recommend NOT petting the Flame Atronach Pony
Don't forget, you can now get Twitch Drops for all platforms, including Xbox One and PlayStation®4, so don't miss out!
ESO Livestreams
Throughout QuakeCon, the Community team is hosting a series of fun livestreams with members of the ESO development team and special guests. Check out everything we've got planned below:
ESO Voice-Over Chat—Featuring Jennifer Hale & Robbie Daymond
Friday, August 7 at 1PM EDT at twitch.tv/Bethesda
Voice actors Jennifer Hale (Lyris Titanborn) and Robbie Daymond (Fennorian), plus ZOS's Senior VO Supervisor Becky Ichnoski, join the ESO Community team to talk about how they give their voice to some of the game's most-beloved characters.
ESO Developer Interview—Featuring Encounters Lead Mike Finnigan
Saturday, August 8 at 12PM EDT at twitch.tv/Bethesda_DE
German Community Manager Kai Schober talks to Encounters Lead Mike Finnigan about the game, the Dark Heart of Skyrim, and the upcoming Stonethorn release!
ESO Gearless & Fearless Dungeon Run—Featuring Nicole Savoy
Saturday, August 8 at 8PM EDT at twitch.tv/Bethesda
Pro wrestler and ESO fan Nicole Savoy squads up with The Elder Scrolls Online team to try to tackle one of ESO's perilous dungeons while wearing no gear—what they pick up along the way is what they can wear!
Pete and Rob Whittaker Take on ESO
Saturday, August 8 at 11PM EDT at twitch.tv/Bethesda
Uncle Pete from Bethesda Softworks and MMA champion Rob Whittaker (Aussie Aussie Aussie!) team up to explore Western Skyrim from The Elder Scrolls Online: Greymoor.
ESO Live Art Creation & Chat
Sunday, August 9 at 7PM EDT at twitch.tv/Bethesda
ZOS Concept Artist Mike May and Art Director CJ Grebb drop in to talk about ESO's art process AND produce a brand-new piece of ESO-inspired art live on stream. One lucky viewer will win the completed piece, so don't miss out!
In addition to the above, there are a ton of amazing streams to check out from the community team, ESO streamers, and community members:
Phew! That's a ton of great ESO action and fun throughout the entire event from all over the world. Remember, you can earn a QuakeCon pet and a Crown Crate just for watching!
Together At Home
QuakeCon brings people together like no other event in the world, so we're thrilled to bring you three days of ESO fun, give out unique rewards, and support more than a few great causes with our charity drives. Let us know if you're looking forward to all the reveals, streams, and the chance to earn that fiery new pet on social via @TESOnline, Instagram, and Facebook. Don't forget—it all kicks off Friday, August 7 at 12PM on twitch.tv/Bethesda!