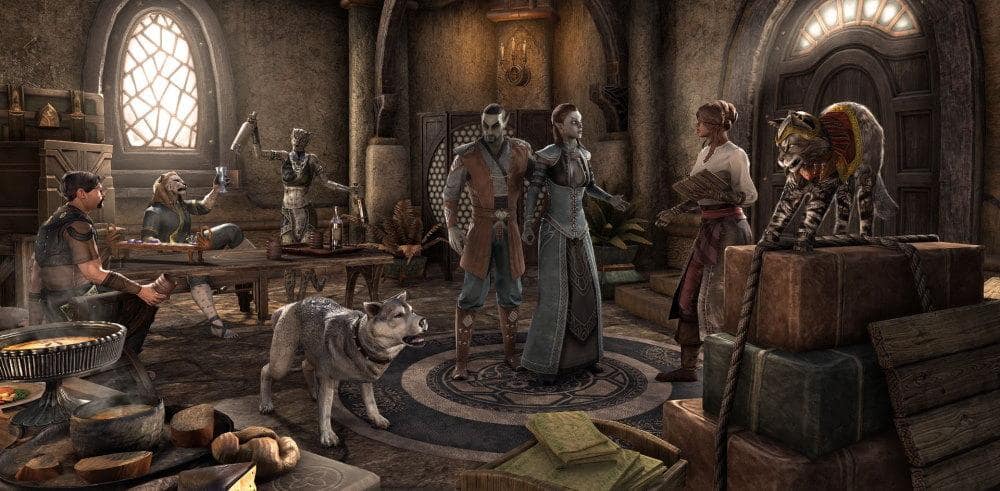 Guide your assistants, mounts, and pets through your house and make it feel more alive than ever with the new Character Pathing tool, coming with Update 27.
A Living Home
Arriving with the free Update 27 base-game patch, Character Pathing allows you to specify unique paths for almost all your collected assistants, mounts, and pets to follow throughout your house. With this update to the Homestead system, the team wanted to help make your homes feel more alive than ever in a way that was both accessible and that encouraged creativity.
"With Character Pathing, we want you to be able to hop in and start messing with paths quickly and easily, and we want you to have fun doing it," explains Cullen Lee, one of ESO's Systems Designers working on Homestead additions. "Ultimately, our goal is to add an additional layer of creative freedom to how you decorate your house, while still keeping it accessible and fun to use."
How does it work? It's simply a matter of placing a character in your home, and then using the new tool to assign them paths.
"As an example, let's say you already have Pirharri the Smuggler placed in your home. With this update, you now have a new option when targeting her in the housing editor to 'Create Path.' Once you press that button, you'll see a path node beneath Pirharri, and another path node held in your hand like a furnishing."
For each individual character (each assistant, mount, or pet in your home), you can place up to 30 of these nodes anywhere you like in your house, and once you've confirmed the path, they'll walk to each one automatically. You can even add wait times for them to pause at each node, from three seconds to three minutes, and you can also choose how fast they approach them, from a leisurely walk to a fast sprint.
When a character reaches the end of the path, they'll turn around and walk back through in reverse, but you can also choose for the path to form a loop, or even have them walk between nodes chosen at random. Easy!
Simple, Yet Powerful
When designing this new addition, the team wanted to ensure that the new tool was easy to pick up and experiment with, but also maintained a high degree of customization and depth.
Examples of this include making the placing of path nodes very similar to the placing of furnishings, updating the UI so that actions taken on a furnishing are more centered, and giving different paths their own color to help distinguish them from each other.
Set paths for your assistants and mounts
Once you've got the hang of the basics, there's some more complex tricks you can try with the new tool, too.
"You can place nodes wherever you want, and this even includes floating in the air, or going straight through solid objects if you so choose," says Cullen. "This was important to us because it maintains the freedom that our housing editor is built around, but it does mean that you can have some… unusual behaviors."
Floating, all-powerful Alfiq? Sure! However, with a little creativity, you could also use this ability to "direct" some unique scenes.
"This can be fun to play with, but it also means that if you've built a stage, you could have a character exit behind some curtains to stage left, pass under the ground or behind the wall, and then reappear from stage right. Our housing community is incredibly creative, and I'm confident that they will come up with all sorts of impressive ways to use Character Pathing!"
With this new tool, you can make Tythis Andromo scurry between your storage coffers, have your Abecean Ratter Cat stalk your Jackdaw Daedrat, or finally create that Guar free-range zoo you've always wanted.
Be Creative!
The team can't wait to see how the community uses this tool to create all-new experiences in their homes.
"My hope is that people will try it out for themselves, and share their thoughts and creations," says Cullen. "There is no right or wrong way to use it, so have fun! We at ZOS may have built the system, but it's what you all do with it that gives it meaning. Seeing what you build is the best part of my day."
Are you excited to try out the new Character Pathing tool? Let us know via @TESOnline, Instagram, and Facebook.
Arriving in tandem with the Stonethorn DLC, Update 27 is a free base-game patch coming August 24 for PC/Mac and Stadia, and September 1 for Xbox One and PlayStation®4.