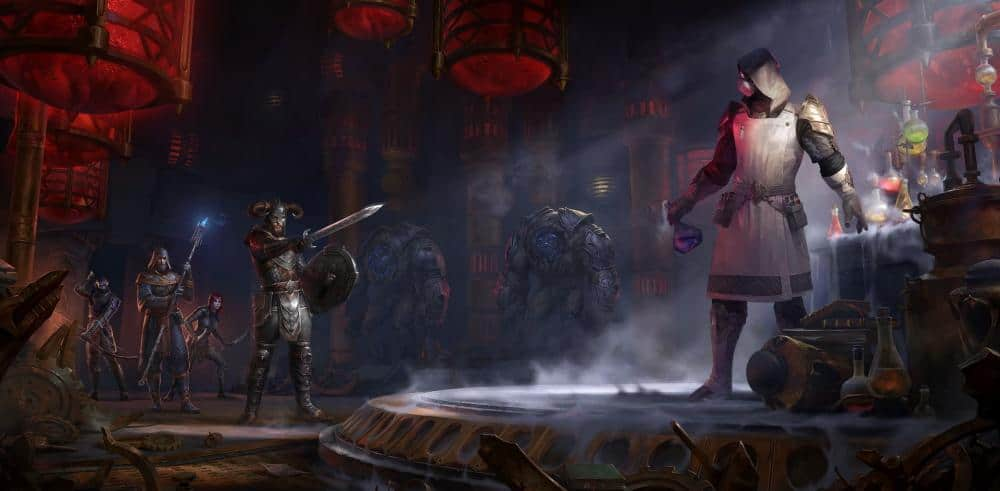 Continue your Dark Heart of Skyrim adventure with The Elder Scrolls Online: Stonethorn. Explore Castle Thorn and the Stone Garden in this all-new dungeon DLC.
The Stonethorn DLC game pack and Update 27 is now available on all platforms and brings a host of new stories, challenges, tools, and improvements to ESO, including:

Two new four-player dungeons: Castle Thorn and Stone Garden
The continuation of the Dark Heart of Skyrim year-long storyline
New rewards, including unique gear sets, Achievements, and collectibles
The new Character Pathing tool for the Housing System
Performance improvements and bug fixes
And more!
This DLC game pack is available free for all current ESO Plus™ members or available for purchase with crowns from the in-game Crown Store. Read the patch notes for both Stonethorn and Update 27 on our official forums.
Stonethorn DLC Game Pack
The threat of the Gray Host did not end with the events of Greymoor, and new dangers arise from ancient holds and deep, hidden places. In The Elder Scrolls Online: Stonethorn, you can challenge yourself and your team with two exciting new dungeons: Castle Thorn and Stone Garden. As part of the Dark Heart of Skyrim, Stonethorn leads into the events of the upcoming Q4 DLC and final part of this year-long adventure!
Stone Garden
What horrifying new evils is the mad alchemist Arkasis crafting within the hidden laboratory of Stone Garden? Venture into Blackreach, discover the terrible creations of this twisted genius, battle your way through his empowered minions, and put a stop to his dread experiments before he births a new terror for the people of Western Skyrim. Check out our Stone Garden preview for more.
Battle your way through empowered beasts in Stone Garden
Castle Thorn
Isolated within the mountains of Western Skyrim, Lady Thorn raises a fearsome new vampire army behind the strong walls of her keep and prepares to march on Tamriel. You must infiltrate Castle Thorn, seek out the horrifying secret behind this rising force, and confront the ancient Vampire Lord at its heart. Discover more about Castle Thorn in our preview.
These two new dungeons will challenge your team in exciting ways and provide rewards in the form of unique gear sets, monster masks, collectibles, and Achievements.
Earn brand-new rewards
Both can be completed in Normal and Veteran Difficulties, and should you truly wish to challenge your party's skills and teamwork, Stone Garden allows you to attempt a Hard Mode version of each of its three bosses—good luck!
How to Get Stonethorn
The Stonethorn DLC game pack is free for all ESO Plus members and available for purchase for 1,500 crowns from the in-game Crown Store (listed under DLC).
Note that if your ESO Plus membership lapses, you lose access to the DLC dungeons until you renew or purchase the DLC with crowns. You won't lose any items or rewards you earned while you had access.
Stonethorn Collector's Bundle
The Stonethorn Collector's Bundle is also available for 4,000 crowns. This includes access to the DLC game pack, the Frostborn Durzog Mangler mount, the Snowsnarl Durzog pet, and five Crown Experience Scrolls. You can find and purchase the Stonethorn Collector's Bundle from the Featured section of the in-game Crown Store.
The Stonethorn Collector's Bundle
Take on Stonethorn & Get a Unique Pet
Once you have access to the Stonethorn dungeons, you can continue your Dark Heart of Skyrim adventure by the following methods:
By teleporting directly into the two dungeons from your map
By using the Dungeon Finder tool
By walking up to the dungeon entrances in Western Skyrim (Castle Thorn) and Blackreach (Stone Garden)
By simply entering these two new dungeons, you receive the Energetic Dwarven Shock-Spider pet!
The perfect companion for Tamriel's adventurers!
Update 27
Releasing with Stonethorn, Update 27 brings new features and improvements for all ESO players, free!
Character Pathing
With the new Character Pathing tool added to the Homestead System, you can now give your pets, mounts, and assistants unique paths for them to follow throughout your home, helping it feel more alive than ever. By simply assigning your companions nodes, you can have them move all around your home along a set path. You can even define speed, set wait times, and choose whether you want them to return along the same path or loop. For more on this new tool, check out our preview.
Create unique paths for your pets, mounts, and assistants
Performance Improvements
The team has been working hard on various performance improvements in this update. These include improvements to how persistent AoEs work (starting with the Dragonknight Standard), an item set scripting update, new Critical Memory systems, physic engine improvements, server load handling improvements, database caching, and some intermittent load screen fixes—phew! With these updates, you'll see fewer crashes, improvements to overall server stability/performance, and fewer random load screens.
For everything arriving in Update 27, check out the Patch Notes section on our official forums.
Delve into Skyrim's Dark Heart
Continue your Dark Heart of Skyrim adventure with Stonethorn and put a stop to two deadly new threats before they are unleashed upon the Nords of Western Skyrim. Shut down a terrible experiment and defeat an unholy army with two exciting and challenging dungeons that expand upon the year-long narrative that began with Harrowstorm and will continue throughout the rest of 2020! Are you excited to enter Castle Thorn or the Stone Garden? Tell us via @TESOnline, Instagram, and Facebook.
Part of the Dark Heart of Skyrim year-long adventure, the Stonethorn DLC game pack is now live for PC/Mac, Stadia*, Xbox One, and PlayStation®4. This new DLC game pack arrives in tandem with Update 27, a free base-game update for all ESO players.

*Available only in select territories. Find out if Stadia is available in your region here.