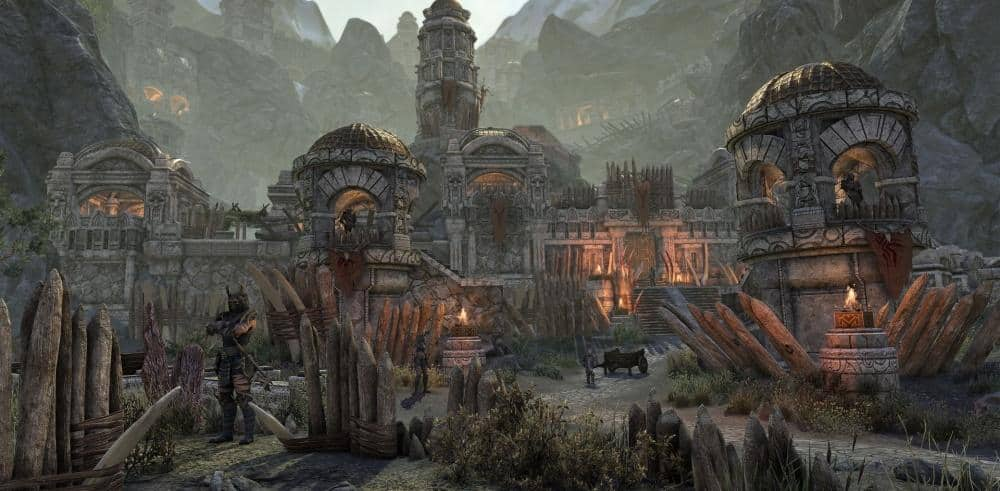 Check out the big news from the recent Dark Heart of Skyrim Year-End Preview and prepare for all-new adventures, events, and prizes!
The Elder Scrolls Online: Markarth
We were thrilled to announce the conclusion to the Dark Heart of Skyrim epic during the recent digital event with The Elder Scrolls Online: Markarth. In case you missed the big announcement, you can check it out below:
This new DLC will take you to the area of Skyrim known as the Reach with an all-new zone, a compelling storyline that ties into the Dark Heart of Skyrim year-long adventure, and introduces a new solo arena. This new DLC will release on November 2 for PC/Mac and Stadia* and November 10 for PlayStation®4 and Xbox One, and it will be available free as part of an ESO Plus™ membership or available from the in-game Crown Store.
For a deeper dive into Markarth's new solo arena and some of Update 28's upcoming features, check out the ESO Live post show with special guests from the ESO development team:
This new DLC (and Update 28) will be coming to the Public Test Server this Monday, September 21, and we'll be previewing more of Markarth in the weeks to come, so visit our DLC page and stay tuned to elderscrollsonline.com for more.
Markarth Prologue Questline Now Live!
If you can't wait to continue your Dark Heart of Skyrim adventure, you can pick up the Markarth Prologue questline right now from the in-game Crown Store, completely free! These quests will take you on an adventure that leads directly into the main storyline of the Markarth DLC and the conclusion to the year-long epic.
Get ready for Markarth with a new prologue questline
To jump in, simply visit the in-game Crown Store and pick up the quest starter. Anybody who owns the ESO base-game can experience this new adventure, so check out this article for all the details.
Lost Treasures of Skyrim
In addition to Markarth, we are very happy to introduce a new in-game event starting next week. The Lost Treasures of Skyrim challenges you and the ESO community to unlock three tiers of collectible rewards that include new cosmetics, a pet, an astonishing new house, and the first of a new type of collectible: houseguests!
How do you unlock these rewards? Simply use the Antiquities system to dig up Tamriel's lost treasures. The more treasures you unearth, the quicker you and your fellow Greymoor players will unlock the goods!
In addition to this challenge, the event also brings bonus rewards to all players who adventure and complete daily quests in Western Skyrim. For more on the Lost Treasures of Skyrim and these bonus rewards, check out our announcement article and web page. Note that this event and its rewards are only available to those who own the Greymoor Chapter.
Of course, this isn't the only event to come in 2020. Here's the lineup and dates (note that some dates may shift) for all of the year's remaining in-game events:
Lost Treasures of Skyrim (September 23-October 5)
Witches Festival (October 22-November 3)
Undaunted Celebration (December 3-December 15)
New Life Festival (December 17-January 5, 2021)
Unlock Community Rewards during the Lost Treasures of Skyrim Event
Each of these events features their own rewards and challenges and allow you to collect Event Tickets and acquire the final Indrik evolution: the Crimson Indrik. That's right, this is the final Indrik evolution available since we first introduced them back in 2018—we'll have more information later about what will be replacing them.
#TamrielTogether is Coming!
Finally, we're thrilled to announce our end-of-year promotion, #TamrielTogether! Throughout the rest of this year, we'll be celebrating everything you do as a community to make Tamriel of The Elder Scrolls Online the remarkable world it is today. This promotion will include an amazing sweepstakes to enter, a guild-based contest, and more, so keep an eye out on elderscrollsonline.com for more information in the coming weeks!
Team up for adventure during #TamrielTogether
A Year of Adventure
With the upcoming Markarth DLC, the year-long Dark Heart of Skyrim epic comes to its incredible conclusion. We can't wait to show you more, but until then, be sure to check out the Markarth Prologue questline live right now in addition to the upcoming Lost Treasures of Skyrim event AND #TamrielTogether promotion—it's going to be an exciting end to another amazing year for The Elder Scrolls Online!
*Only available in limited territories