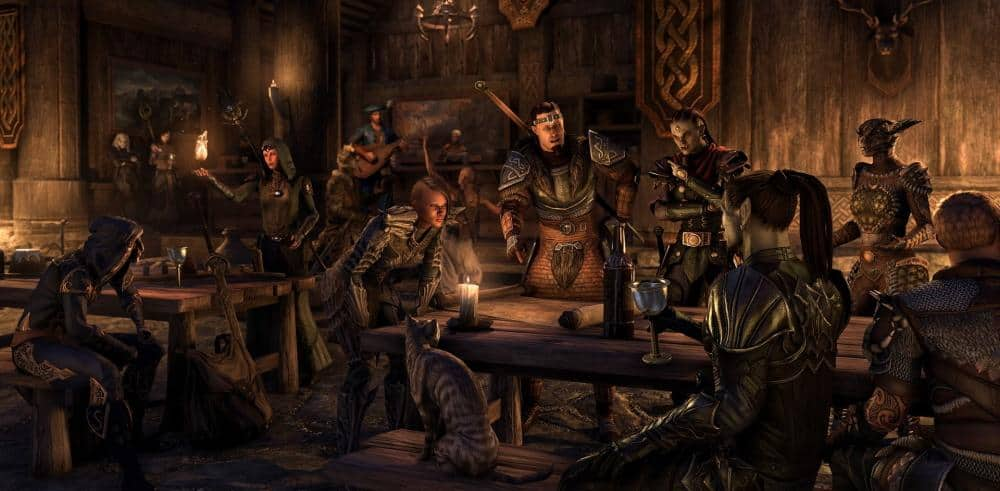 Share your tales of camaraderie with your fellow players using #TamrielTogether and enjoy three months of fun in-game events, amazing prizes, and more during this celebration of ESO's diverse and ever-growing communities.
During #TamrielTogether, we're showcasing and celebrating our community and the way we play together by sharing your stories, hosting a series of fun in-game events, launching a new sweepstakes, and more—what better way to bring the Dark Heart of Skyrim year-long adventure to an end?
Tales of Togetherness
Whether you enjoy exploring perilous dungeons like Castle Thorn or Stone Garden, storming the battle-worn ramparts of Chalman Keep and claiming it for the Pact, challenging your Guild with a veteran Kyne's Aegis run, or simply making a house a home with your partner, there's something special about the living world of the Elder Scrolls and the players that inhabit it.
There's no shortage of activities to enjoy with others in Tamriel, and we want you to share your epic tales of your community (whether it be your friends, guildmates, or random players thrust together by the wiles of the Group Finder tool) working to overcome a challenge or create something truly unique in the world of ESO using the #TamrielTogether hashtag on Twitter, Instagram, and Facebook.
What you share with us could be a story of companionship or group adventure, a screenshot that captures your most-recent victory, or even a short video celebrating the people you love to play with. We'll showcase our favorites with the rest of the ESO community, and we might even have more than a few in-game goodies to give away to those we highlight, too!
Enter the Sweepstakes
#TamrielTogether kicks off with a brand-new sweepstakes* that gives you a chance to win a host of in-game prizes, including:
A houseguest and statue made in your likeness
Crown Store collectibles packs (such as pets, mounts, and houses)
Crown Crates
And more!
To enter the #TamrielTogether Sweepstakes, simply fill out the form found here.
Once you've submitted your form, you'll be in the mix to win any of the above prizes to be drawn in January 2021.
The #TamrielTogether Sweepstakes is limited to select territories, so be sure to check out the official rules for more information and a complete list of all the prizes. Good luck!
In-Game Events
Throughout the rest of 2020, we have four in-game events for almost every kind of ESO player, including the brand-new Lost Treasures of Skyrim event that has already begun!
Unlock collectibles in the Lost Treasures of Skyrim event
Explore Western Skyrim, slay the monsters of Blackreach, challenge your team with the game's newest dungeons, and immerse yourself in Nord culture during their most-festive celebration—the Dark Heart of Skyrim's zones and adventures bring all-new ways to experience these classic events!
Here's a complete lineup and dates (note that some might change) for 2020's remaining events:
Lost Treasures of Skyrim (September 23-October 5)
Witches Festival (October 22-November 3)
Undaunted Celebration (December 3-December 15)
New Life Festival (December 17-January 5, 2021)
Each of these events features their own rewards and allows you to collect the Event Tickets you need to acquire the final Indrik evolution: the Crimson Indrik—more on that and these events in the future!
Guild Contest
During #TamrielTogether, you'll also get the opportunity to be creative and celebrate your favorite Guild during our upcoming community contest. To enter, you'll need to craft a poster or short video that celebrates or promotes your guild. Should your entry be selected as a winner, you'll receive special in-game prizes for both you and your fellow guildies, including a grand prize pack that features a unique mount and furnishing that bears your guild's crest! That's right, two lucky guilds shall be forever memorialized in Tamriel with their own exclusive collectibles!
Get ready for a new Guild-based contest
Stay tuned for more information, prizes, and rules and conditions (including specific entry requirements for the video and poster) for this exciting contest soon.
Tamriel, Together!
Communities that play together, stay together, and this has never been truer than in The Elder Scrolls Online. As this promotion progresses, we'll highlight different group activities and encourage you and your friends or guildies to join in and share your stories with #TamrielTogether. Keep an eye out on @TESOnline, Instagram, and Facebook, and have fun!
#TamrielTogether is an end-of-year promotion that runs from now until January 2, 2021. Win amazing prizes, take part in exciting in-game events, and share your stories of comradery with us as we celebrate the ESO community playing together in The Elder Scrolls Online.
*NO PURCHASE NECESSARY. Open to legal residents of the 50 United States & D.C.; Belgium, Canada, (ex. Quebec), Czech Republic, Denmark, Finland, France, Germany, Hungary, Ireland, Mexico, the Netherlands, New Zealand, Norway, the Russian Federation, Spain, Sweden, Switzerland, or the United Kingdom, 18 years or older (or age of majority if older). Residents of Canada & Belgium must correctly answer a skill testing question. Free entry method available, see Official Rules. Sweepstakes period Sep. 28, 2020 – Jan. 5, 2021. VOID WHERE PROHIBITED. Significant conditions apply; For Official Rules including entry limitations and prize descriptions, visit https://www.elderscrollsonline.com/en-us/tamrieltogether. Sponsor: Bethesda Softworks LLC, 1370 Piccard Dr., Rockville, MD 20850 U.S.A.