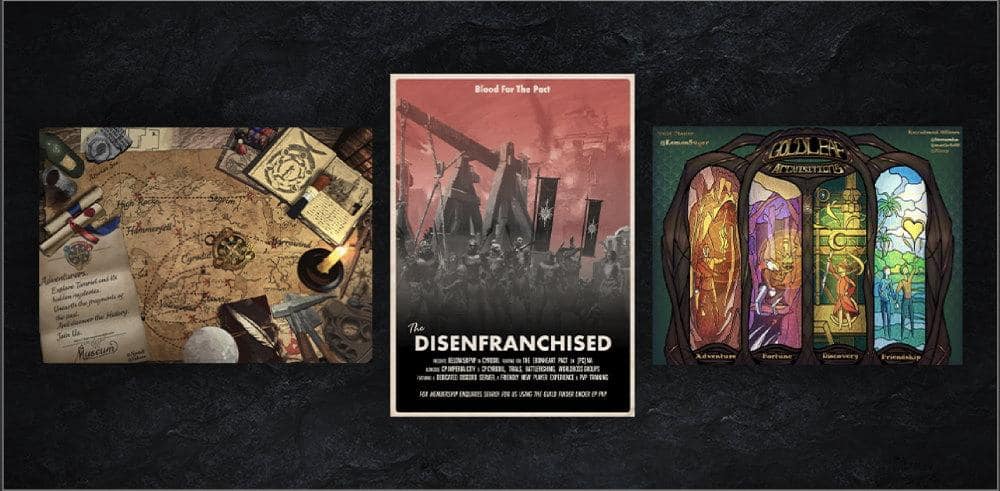 Check out the winning submissions for the massive #TamrielTogether Guild Contest. 
With over 270 unique videos and over 370 unique posters submitted, we were overwhelmed with the volume and creativity of the ESO community's submissions. We reviewed and enjoyed entries from almost every type of guild, with many focused on PvP, dungeons and Trials, new-players, trading, and many more.
That's a lot to go through, and one thing rang true in all the videos we watched: Guilds are family in ESO. It was incredibly difficult to select winners from all the amazing entries we received, but after much cajoling and debate, we are very happy to now congratulate the following Guilds:
Grand Prize Winners
Dauntless Bananas
Runners Up Winners
Nomads of Nirn
Amazing! These winners will receive some amazing prizes for their efforts, including Crown Packs and unique, guild-specific collectibles.
If you'd like to see more, visit this poster gallery and this YouTube playlist that feature many more of the #TamrielTogether Guild Contest entries, and once again, congratulations to all the winners and thank you to everyone who entered and gave us a chance to get to know your Guilds!
#TamrielTogether is ESO's end-of-year promotion, celebrating all the ways the ESO community jointly experiences the world of Tamriel. During this period, you can participate in in-game events, share your stories of camaraderie using the #TamrielTogether hashtag on Twitter, Instagram, or Facebook, and sign up for our massive sweepstakes—have fun!