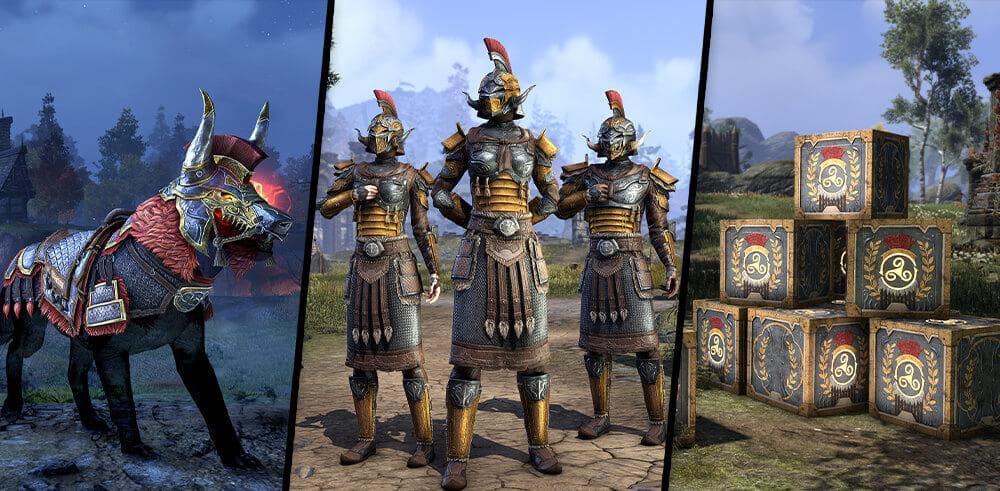 Dress like the tyrants of old with items from the new Akaviri Potentate Crown Crates, coming soon to the in-game Crown Store!
***
Conceived in treachery and secured by bloodshed, the Akaviri Potentate ushered in the Second Era, along with a new chapter of Imperial rule. For four-hundred years, the Tsaesci, Versidue-Shaie, and his heirs ruled a fractious continent. Over time, the snakemen's classical refinement merged with stubborn Reman values to create something completely new—a civilization built on the fault line of Tamriel and Akavir, blending the virtues of both into an unlikely whole.
Despite the roiling chaos of the Interregnum, Potentate relics still find their way into hands of collectors. Will you herald the Second Empire's return? The grace of Akavir and pride of Cyrodiil are yours for the taking!
***
The new Akaviri Potentate Crown Crates arrive in the Crown Store on Thursday, December 10 at 10AM EST. When you capture one of these courtly containers, you'll have a chance to acquire goods and items that carry the likeness of the ancient Akaviri Potentate, an Imperial dynasty like no other.
These goods include powerful consumables and unique collectibles, such as these rare and exquisite items:
Akaviri Potentate Outfit Styles & Akaviri Potentate Charger mount
Dusklight Luna Moth pet & Tawny Lambent Guar pet
In addition to the above goods, these regal receptacles also have a chance to include these extremely rare mounts:
Potentate Aphotic Wolf & Potentate Cloudracer Courser mounts
Potentate Halcyon Senche mount
Once again, this new Crown Crate will also bring back some classic, fan-favorite Crown Store items, too:
Ghostly Housecat pet & Dungeon Explorer Costume
This is just a small preview of some of the items you can acquire when opening an Akaviri Potentate Crown Crate, so be sure to check out this forum thread for the complete list. Note that when this new Crown Crate season kicks off, the Sovngarde Crown Crates will no longer be available, so don't forget to pick some up via the Crown Store page before they return to the glorious afterlife.
Regal Relics
Dress like the glorious tyrants of old with the Akaviri Potentate Crown Crates. These commanding cartons will be delivered to the in-game Crown Store this Thursday, December 10, so be sure to stock up your own imperial coffers with crowns! Are you ready to claim these new items? Let us know via @Twitter, Instagram, and Facebook!