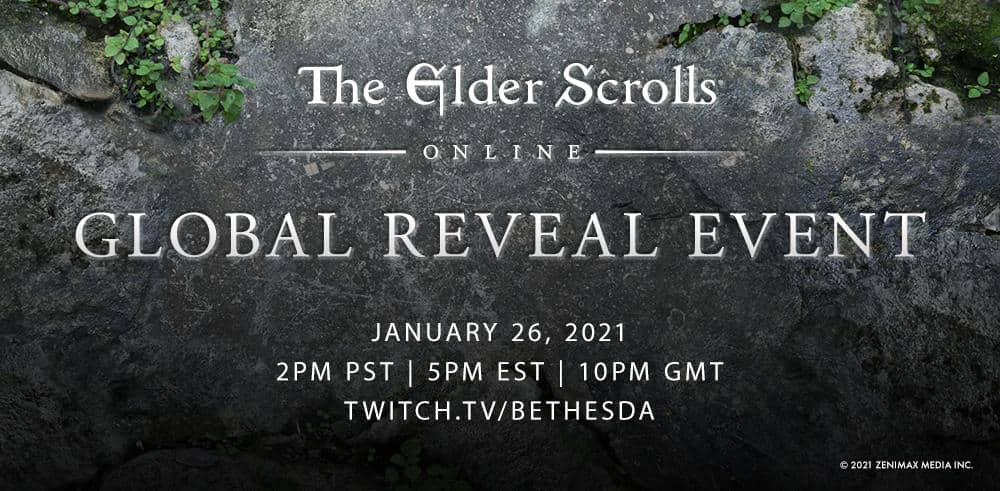 Uncover Tamriel's doom during the upcoming Global Reveal Event, live via Twitch.tv/Bethesda on Tuesday, January 26!
Update: Due to Inauguration Day in the United States falling on Jan. 20, we are moving our Global Reveal Event for Gates of Oblivion from Thursday, Jan. 21 to Tuesday, Jan. 26 at 5PM EST/10PM GMT. Thank you for your support and we will see you soon!
The Elder Scrolls Online
's 2021 Global Reveal Event kicks off live via
Twitch.tv/Bethesda
on Tuesday, January 26 at 5PM EST. Tune in as ZeniMax Online Studio's Director Matt Firor and Bethesda Softwork's Senior Vice President of Marketing and Communications Pete Hines introduce 2021's new Chapter and the year-long adventure teased during The Game Awards.
They'll be joined by ESO's Creative Director Rich Lambert and other special guests from the ESO development team to talk about the Gates of Oblivion's new worlds, challenges, systems, and adventures—all coming in 2021!
Join us live on Twitch with a linked account, and you'll also receive Twitch Drops and the Viridescent Dragon Frog pet, completely free.
Earn this pet simply by watching!
Finally, stick around after the presentation for an official ESO Live Special, as Jessica Folsom and Gina Bruno from the ESO Community Team dive deeper into some of the big reveals and discuss everything you need to know about the year's upcoming releases.
There'll also be more fun before and after the announcement, so keep an eye on our social channels and elderscrollsonline.com for more information closer to the big day.
Destruction besets Tamriel in 2021, so tune in January 26 at 5PM on Twitch.tv/Bethesda and get ready to learn about ESO's exciting future—we'll see you there!