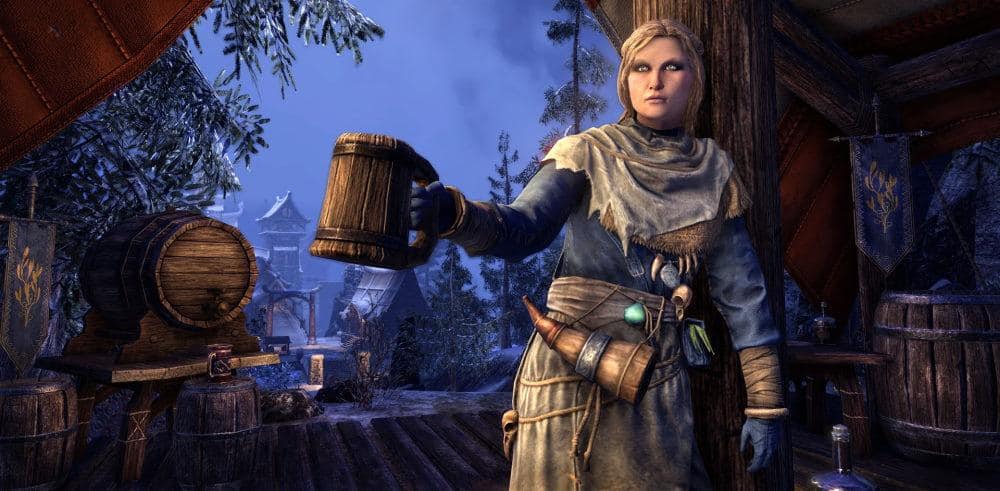 Earn bonus XP and rewards during the New Life Festival in-game event and celebrate another year of adventure in Tamriel!
Complete Quests & Be Merry!
The New Life Festival in-game event begins this Thursday, December 17 at 10AM EST, and runs until Tuesday, January 5 at 10AM EST. To take part in this cross-cultural celebration, pick up the New Life Festival quest from the in-game Crown Store and use it to locate the New Life Herald Breda, found south of the city of Windhelm, Eastmarch. You can teleport directly to the New Life festival tent via the portal found at Impresario locations.
Celebrate New Life together
Once you have completed the intro quest, you'll unlock 10 special New Life-themed daily quests that send you all over Tamriel. These include a brand-new quest titled "Old Life Remembrance," available from Petronius Galenus in the New Life Festival tent, that allows you to memorialize the year in true Imperial style.
New Life, New Rewards
When you complete one of Breda's New Life Festival daily quests, you receive a New Life Festival Gift Box. Tear open your gift (don't worry about saving the wrapping!) to receive some of these New Life-themed items:
Skinchanger Motif chapters
New Life recipes
New Life collectibles (packaged in Runeboxes and tradeable):

Sword-Swallower's Blade memento
Juggler's Knives memento
Fire-Breather's Torches memento
Mud Ball Pouch memento
Nordic Bather's Towel costume
Colovian Filigreed Hood hat
Colovian Fur Hood hat
NEW Snowball Buddy pet

A selection of lights, lamps, and lanterns for your home to celebrate the Signal Fire Sprint
Draughts of Stealth and Escape to celebrate the Trial of Five-Clawed Guile
In addition to the above, when you open a New Life Festival Gift Box, you may also receive one of these two different types of Charity Writs.
Deep Winter Charity Writs—Complete to unlock pages from the Skaal Explorer outfit style.
NEW Imperial Charity Writs—Complete to unlock pages from the Rkindaleft Dwarven Weapon Style.
Unlock these new weapon styles
Finally, complete any 12 of the above writs and you can also unlock the "Newly Charitable" Achievement and Crystalfrost skin.
Impresario & Event Tickets
The first time you complete a New Life Festival quest each day, you'll receive three Event Tickets in addition to your Gift Box and other rewards. With Event Tickets, you can purchase the following goods from the Impresario:
All four Nascent Indrik Feathers
ALL 2020 Indrik Berries for the Spectral, Icebreath, Mossheart, and Crimson Indriks

Allowing you to complete any evolutions you might have missed this year!

The Rosethorn Indrik pet
The Snowball Buddy pet
Pages for the new Rkindaleft Dwarven Weapon Style

These are bound to your account

Group Repair Kits
The Crimson Indrik will be ESO's final Indrik evolution, so don't hesitate to snatch up this striking red mount!
The Crimson Indrik mount
Celebrate Together
Enjoy bonus XP, complete New Life quests, and receive unique holiday-themed rewards as the people of Tamriel come together to reflect on the year that has passed and look forward to the future. How are you planning to celebrate New Life? Share your plans with us on Twitter, Instagram, or Facebook.
The New Life Festival begins Thursday, December 17 at 10:00AM EST, and runs until Tuesday, January 5 at 10:00AM EST. Part of our #TamrielTogether celebration, the New Life Festival is ESO's final 2020 event. For more on #TamrielTogether, including the massive Sweepstakes competition and information on how you can join us in our celebration of ESO's many amazing communities, check out this article.