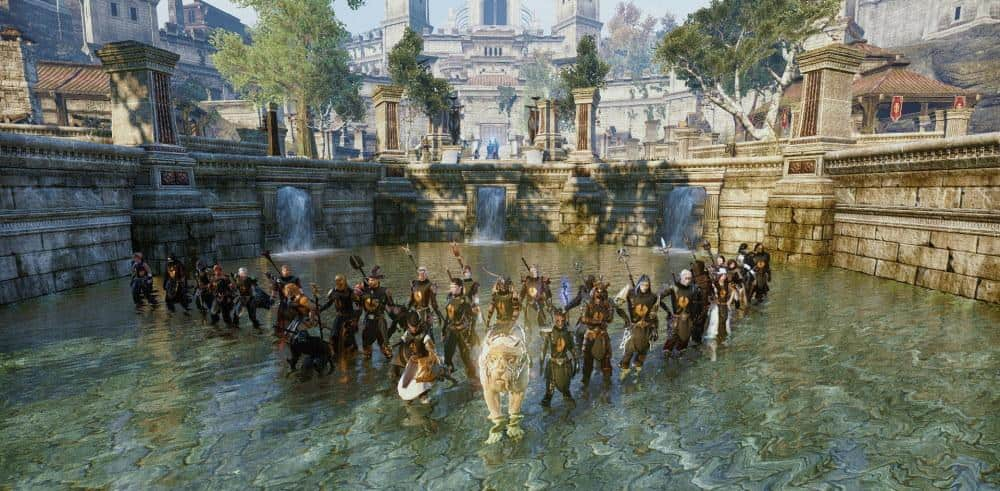 One of the winners of the #TamrielTogether Guild Contest, the Dauntless Bananas fight for the Aldmeri Dominion in Cyrodiil. Learn more about this up-and-coming Guild here!
First, congratulations! What was your Guild's reaction to finding out they were one of the winners?
Thank you! We were so excited to hear that people liked our video. We had such a great time filming, and while we were rooting for a good video to win, we didn't expect it to be ours! We had a huge party on our Discord server on the day the winners were announced. We have also noted the date as the "Tamriel Banana Day," so next year we will be sending banana greetings to all.
Tell us about your Guild. What is your primary area of focus?
The primary area of focus for the Dauntless Bananas is PvP. We play exclusively CP-Cyrodiil in the Gray Host campaign for the Aldmeri Dominion, and we have a Guild run every day. We have an amazing community of Guildies from all over the world that join us on voice chat to coordinate, hang out, and sing our war chants while we fight for the Queen. Once a month, we also have a Guild event where we dress up for a theme or coordinate our builds.
Apart from the daily PvP-fun, there is a large social aspect to the guild that has really started growing over the past six months, too.
War chants!? Could you share one of them with us?
Well, they are different every time because we make them up as we go along. They are often about the next Keep we are going to siege or defend. For example, Brindle becomes Brindella, Drakelow becomes Castle Dracula, Nickel is Nigel, Carmala becomes Carmalala Ding Dong (don't ask, we've forgotten how that happened), and we sing "Row Row Row Your Boat" every time we go to Roebeck. The little songs are great for morale, and it makes the Alliance War more fun.
Here is our rendition of "Row Row Row Your Boat":
"Roe, roe, roe your boat gently down the stream,
If you see an enemy, throw (insert Guildie name here) in!"
Defenders of the Dominion
How did your Guild first form?
We are fairly new actually. It started in Spring of 2020 as a Guild for players who would regularly group up using the LFG call in zone chat. A lot of the same faces ran together every day, so we thought, why not make it official and form a Guild?
After just three months, we had a group of over 50 people playing regularly. We have kept growing at a steady pace and have become a great place for players to come have fun while also learning the ways of warfare in Cyrodiil. We make guides and tutorial videos and take players of all knowledge bases under our wing. Everyone is always welcome if they want to learn and have fun doing it (some showtune knowledge is also beneficial for voice chat).
What kind of activities do you engage in as a Guild?
Every evening, we gather in Cyrodiil for a minimum three-hour run. Besides that, we have our monthly events that usually include themed nights during which we coordinate our builds and/or outfits. It's a nice group-building exercise and a lot of fun!
We are very active in our pets and food channels on Discord but also our creative channel where Guildies regularly post their amazing ESO-inspired artwork and videos, our screenshots channel for game screenshots, where we show off our houses or landscape shots, and of course our channels to discuss new ideas for PvP-builds or to ask for help with dungeons or trials.
What kind of monthly activities do you have lined up for 2021?
We usually plan about two months ahead, but we have a few fun things lined up. Our activities often include dressing up our characters for a run. We take some nice pictures before and we have some fun. In 2021 we plan to have an event called "AD Pride" wherein we dress up to make Grand Warlord Sorcalin proud, all golds and yellows and eagles.
After that we will repeat our werewolf event because the last one was so great. We had a group of 30+ werewolves all transform at the same time and we spent the evening howling at each other in the voice chat.
We might also try out a vampire event too. We're also planning to do some for different Classes and Races as we go. These kinds of events are great for people to try their hand at other builds.
The Dauntless Bananas ride to war!
Does your Guild make use of a house/lodge? What's it like?
Of course! Although we move around a lot, our favorite houses are Arrius Keep and Fort Glademist. But our forever home is of course Faregyl, as the lyrics of our Guild Anthem state: "Together we stand on Faregyl wall, Bananas unite, hear the Dauntless Call!"
How do you manage your Guild both in and outside the game?
Endless amounts of Excel sheets. It all started with a short spreadsheet detailing who was leading a Guild run on which day of the week, but from there it just kept spreading. Now we even have our own website (dauntlessbananas.com), built by one of our talented officers.
This is really what it comes down to when managing a Guild. No one person can do it alone. Currently there are eight officers and it's barely enough to keep up with everything. But the skills you learn as a Guild admin are so beneficial, and we get to try out all kinds of crazy things.
Another one of our officers built a spreadsheet and Python script that works with the eso-chat-log to enable us to check who joined us for the run at the end of the night. In the heat of battle this is often difficult to keep track of. Of course, no team functions without regular meetings and meetings about meetings. That's why once a week the officers meet to discuss all things Bananas, while having a nice breakfast together and maybe run a dungeon or two.
Ready to fight for the Queen
Share some of your fondest Guild memories with us!
One thing we all hold very dear in our hearts is our cookie time! Hear me out: We have a set "cookie time," when we all pause what we are doing in Cyrodiil to go and have a cookie. Honestly, it's great for morale and more importantly, sugar levels! We need to have buff food active in the game, so we should in real life as well, right?
Another awesome thing we like to do is re-word show tunes to have Cyrodiil-themed lyrics and then serenade each other with them. All the Castles, Forts, Keeps, and Outposts get a dedicated name (such as Castle Brindle which is called "Brindella") and a small song that helps us to pass the riding time and keeps the battle spirits high! We sing "Brindella—eh eh" to Rihanna's "Umbrella" song (but don't tell her—we haven't sorted out the royalties yet).
The Alliance War can be daunting for newer guilds. Do you have any PvP-specific tips for Guilds that want to fight for Cyrodiil?
What we found very important are the siege basics. Make sure that you and your Guild understand the different siege weapons and what they do. It's also good to coordinate who has quick-slotted what. That way you will always have something of everything on hand.
After that I'd say: don't be discouraged if it doesn't go well. You can't be a sour loser in Cyrodiil because you will lose a lot. But that's the fun! You get to try again over and over. And at some point, you'll win more and die less. It's all practice and group work. You can't win an Alliance War by yourself. It's important to keep up morale and encourage new players to try things out. Cyrodiil changes quickly so flexibility is key.
And the most important thing to remember is to have fun. Always have fun.
Thank you to our Dauntless Bananas for taking the time to answer our questions about their noble organization, and once again congratulations on winning the Guild Contest! We look forward to seeing your banners rise over the battlefields of Cyrodiil for years to come!