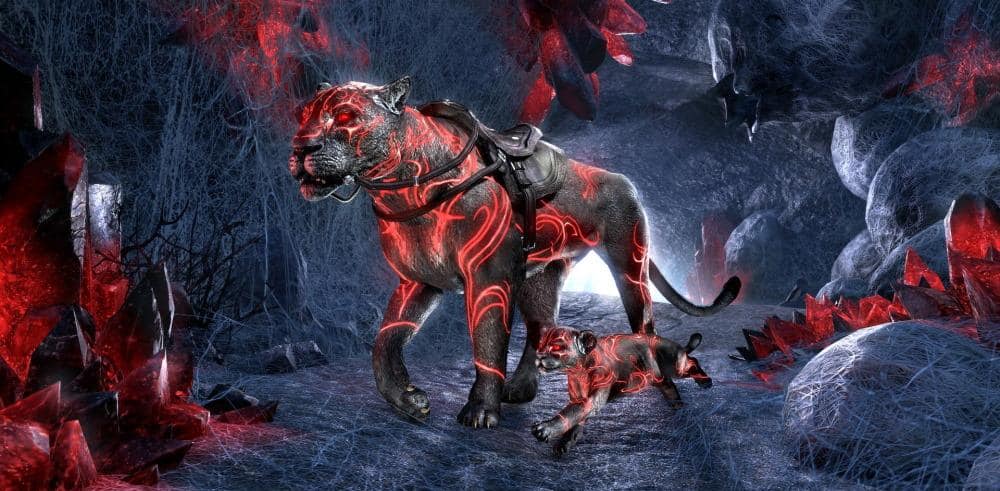 We've updated the way you can earn Twitch Drops when watching your favorite ESO streams. Find everything you need to know to keep earning Drops here!
With Twitch's changes to the way Drops are now earned and delivered, there are some things you need to do to ensure that you continue (or begin!) to earn Drops when watching a Drops-enabled ESO stream.
For starters, you still need to link your ESO and Twitch accounts. This process hasn't changed:
Log into your ESO account
Click "Linked Accounts" on the left of the page
Note that if you don't know your account info, you can reset your email and activate your account via the additional steps found here.
Click "Link Twitch Account"
A Twitch window will appear
If you are logged into your Twitch account already, you'll be asked to authorize Elder Scrolls Online - Live to use your Twitch account
If you are not logged into your Twitch account, you'll be prompted to log in
Click "Authorize" to link your ESO account to your Twitch account
Once you're sure your accounts are linked, there's a few things you need to be aware of to ensure you get your goodies:
When a stream is Drops-enabled, you'll get a notification popup letting you know they are live, in addition to a tag on the streamer's page
Per Twitch's guidelines, you must watch a Drops-enabled stream for at least 15 cumulative minutes
You are guaranteed a Drop once you meet the 15 minute requirement
Once you earn a Drop, a chat notification will appear that you must select to claim the Drop

Alternatively, you can claim the Drop via https://www.twitch.tv/drops/inventory
Note that if watching on console, you will need to swap to PC or Mobile to visit this page and claim your rewards
Important: In some cases you may have a limited time to claim your Drops, so be sure to grab them as soon as you see the notification

Once claimed, the Drops will be added to your account and you can find them in game as usual
Drops for The Elder Scrolls Online can include Ouroboros Crown Crates, which contain a random selection of in-game consumables such as Crown Poisons, Mimic Stones, Riding Lessons, or Experience Scrolls. They also have an extremely rare chance to contain an exclusive Senche of Scarlet Regret mount or Senche Cub of Scarlet Regret pet.
The Senche of Scarlet Regret mount and Senche Cub of Scarlet Regret pet
During special events or streams, there might be additional drops rewards, too!
That's it! Make sure you're linked, watch a stream, then claim your Drops—easy. Be sure to keep your eye on the Twitch Drops Schedule at the bottom of our Streamers page for upcoming scheduled Twitch Drops and pay attention to the latest news on elderscrollsonline.com.