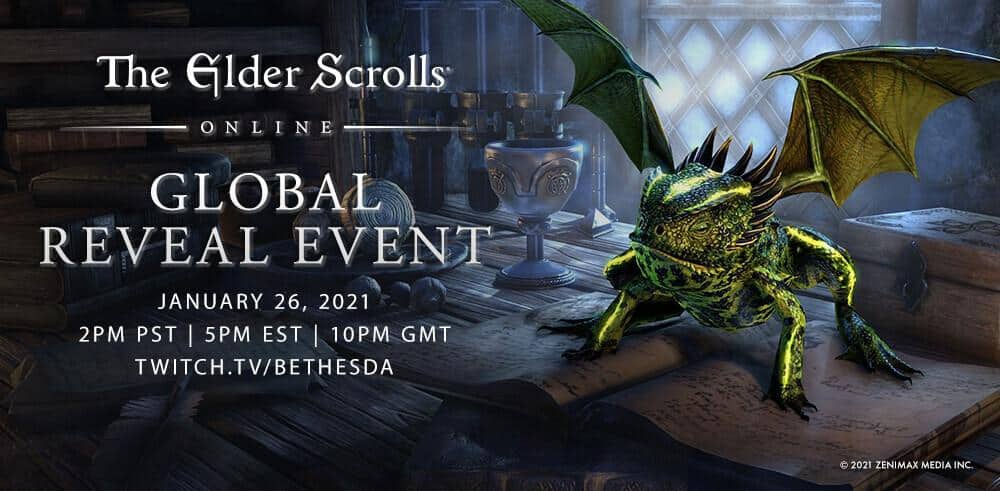 Discover the future of Tamriel and The Elder Scrolls Online by tuning into the Global Reveal Event on Twitch.tv/Bethesda!
You can watch the 2021 Global Reveal Event live via Twitch.tv/Bethesda on Tuesday, January 26 at 5PM EST. Tune in to see ZeniMax Online Studio's Director Matt Firor and Bethesda Softworks' Senior Vice President of Marketing and Communications Pete Hines introduce 2021's next big Chapter and year-long saga!
Throughout the show, you'll get a first look at the year's new adventures, stories, systems, and characters. We'll be joined by members of ZeniMax Online Studios' development team (including Creative Director Rich Lambert, Art Director CJ Grebb, and Loremaster Leamon Tuttle) to break it all down.
Tune into the show live, and you'll also receive Twitch Drops, including an Ouroboros Crown Crate and the all-new Viridescent Dragon Frog pet, completely free.
Watch the show to earn this free pet!
Don't forget that we recently updated the Twitch Drops system, so be sure to link your accounts and be ready to claim your rewards!
Once the main presentation is over, stick around for the official ESO Live Special as Community Managers Jessica Folsom and Gina Bruno recap the big news and take a deep dive into some of the new features and adventures coming in the first half of 2021. They'll also be joined by members of the ESO development team and host a number of amazing giveaways that'll include both digital items and brand-new physical goodies and merch.
Finally, tune in during the days after to catch our post-show streams from some of our international Community Managers:
Destruction comes to Tamriel in 2021 with the Gates of Oblivion year-long adventure, and you can learn all about it on Twitch.tv/Bethesda this Tuesday, January 26 at 5PM EST—don't miss it!